The Quest

Wimbledon is just a scant few days away, which means there are draws to dissect, predictions to be made, and questions to be asked. One of the most prevalent among those questions is whether or not this slam will be the one where Serena Williams captures her elusive twenty-fourth major singles title to tie Margaret Court's record for most overall. It is a question that has been asked multiple times over the last few years, and one that Williams would dearly love to be able to answer in the affirmative by the time she leaves London this year.
The good news for Williams is that Wimbledon is among her most successful of the four major tournaments, having been crowned singles champion at this venue on six occasions. It is not hard to figure out the reason for her success either. The grass simply rewards her aggressive brand of tennis. It enhances the advantage she already typically enjoys on serve. It boosts the effectiveness of her powerful groundstrokes from the baseline and her ability to transition from the baseline to the forecourt. More often than not, grass results in shorter points as well, and while Williams has shown that she can still come up with the goods in the lung-buster rallies, at this stage in her career, a greater number of short points can only increase her odds for success.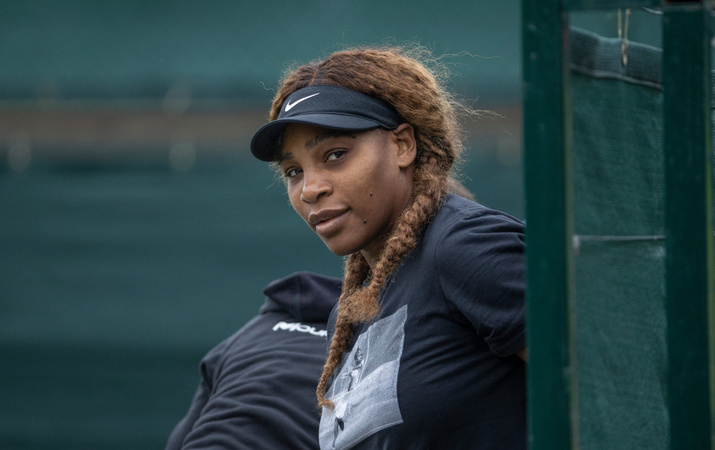 The hallowed lawns of the All England Lawn Tennis Club are not the only factor that could help the American in her quest, however. A relatively wide-open field could also work in her favor. The results among many of the other title contenders during the tune-up events have in many cases been spotty. With no clear-cut women heading into London with an abundance of confidence, there is ample opportunity for someone with Williams's level of experience to step up and seize the moment. Furthermore, top seed Ashleigh Barty, arrives in London with questions about their fitness and no grass play under their belts, and Naomi Osaka is absent altogether.
Of course, the field could also provide several challenges to Williams. If Barty can play her way into form in the first week, she is more than capable of posing a problem for her. Similarly, Angelque Kerber is starting to find her form again, and as someone who has twice defeated Williams in a major final – including at Wimbledon – she could be a hurdle. The same goes for Petra Kvitova, a two-time major champion at Wimbledon capable of matching the power of Williams. These will not be the only women that could challenge Williams, however. The truth is that while the entire field is apt to have a healthy respect for the American, Williams no longer commands the same aura of invincibility she once did. More and more players take to the court against her believing they can win, and that in and of itself could be one of the most difficult barriers to her breaking through to win major title number twenty-four.
Lastly, Williams's own form could be an issue. She has not had a lot of match play, and that lack of preparation shows itself in her ground game. The way in which she was outplayed in Paris will have done little to instill confidence in her coming to Wimbledon, and with no matches on the grass during the transitional period, there has been no chance to grab any type of momentum either. She has historically demonstrated that she can win a major with precious little match play, but pulling off that feat has also grown more difficult in the latter stages of her career.
So does the American's quest for major singles title number twenty-four come to a close at the end of the next fortnight or will it frustratingly linger on to New York? Only time will tell. At this juncture, the rest of the field looks like a better bet than Williams, but it is impossible to count out such a decorated champion. Wimbledon is arguably her best look at tying Court, and with a long list of potential victors, there is no reason why Williams can't be the last woman standing.