Quarterfinal Quest: Novak Djokovic, Andy Murray, Tomas Berdych Star on Tuesday

Tennis View columnist Nick Nemeroff breaks down what we can expect from three of the four men's fourth-round matches on Tuesday. Readers can find a detailed preview of the fourth match, pitting Mikhail Youzhny against Lleyton Hewitt, elsewhere on this site.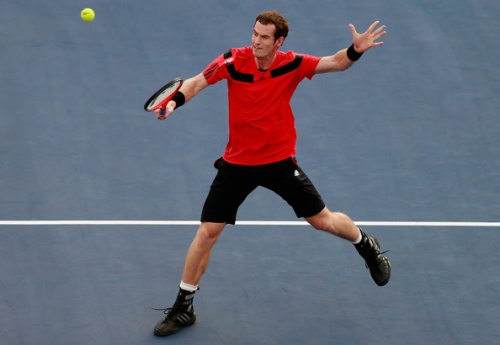 Andy Murray (Great Britain) vs. Denis Istomin (Uzbekistan)
Denis Istomin was the verge of blowing a two-sets-to-love lead against Andreas Seppi in the third round Sunday. After dropping the fourth set to his Italian nemesis, Istomin's energy reserves appeared to be depleted. The impassioned Uzbek called the trainer early in the fifth set with what seemed to be a breathing problem. Istomin fought through the pain and with a set of spectacular shot-making, put himself in the fourth round of the US Open.
Unfortunately for Istomin and his supporters, his hard work is rewarded with a fourth-round encounter with the defending US Open champion, Andy Murray.
If Istomin wants any chance of beating Murray, he must raise his level of aggression far beyond anything seen in the Seppi match. Seppi and Istomin put themselves through five sets of physically taxing, counterpunching tennis. Istomin owned the best shot on the court, his backhand down the line, but he was extremely hesitant in using it during certain portions of the match.
There is no hope for the Uzbek, especially over five sets, if he expects to out-grind Murray. From the onset of the match, Istomin must show his readiness to take command of the match, much as he did several weeks ago in Montreal against Novak Djokovic. The top guys simply will not give away enough points throughout the duration of a best-of-five match to allow a counterpuncher to beat them.
Murray's last three hard-court defeats have come at the hands of Juan Martin Del Potro, Ernests Gulbis, and Tomas Berdych. See a pattern? If you want to take out Murray on a hard court, you have to take it to the Brit.
Prediction: Murray in three sets
Marcel Granollers (Spain) vs. Novak Djokovic (Serbia)
Djokovic's US Open draw has panned out quite ideally for the Serb. With Grigor Dimitrov, Juan Martin Del Potro, and Tommy Haas eliminated in his quarter of the draw, his path to the semis seems almost guaranteed. Djokovic's fourth-round opponent, his fourth consecutive unseeded opponent, has also avoided facing a seeded player in the first three rounds.
Granollers is an opponent who should not inflict much damage upon the world No. 1 but is one that the 2011 US Open champion will be wary of. The Spaniard has absolutely zero chance of competing with Djokovic from the baseline—that we know.
What is less certain is how much of an impact Granollers' forecourt prowess can make on Djokovic. Remember, he makes up one-half of the world's third-ranked doubles team. With this said, the Spaniard's strategy becomes glaringly obvious: stampede the net on any given chance. Not only does it shorten the points but it allows Granollers to approach the match knowing that he is throwing his most confident punches at the Serb.
Another important tactical maneuver for Granollers will be to get Djokovic moving forward. Djokovic's transition and net game have improved, but it remains the only liability that Granollers will be able to exploit. In fact, Djokovic's smash is assuredly one of the weakest shots in the top 10.
If Granollers can coerce Djokovic into moving forward, his doubles prowess should give him belief that he can handle the pressure of a player charging forward since he is so accustomed to seeing it in doubles. And it might even be easier than usual for Granollers because he is normally dealing with players charging the net off a serve rather than a groundstroke.
Although Djokovic is the heavy favorite, if the Spaniard plays his cards correctly, he has a solid chance of giving the Serb more of a test than most would expect.
Prediction: Djokovic in four sets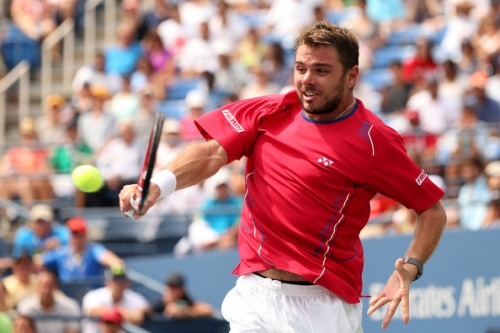 Stanislas Wawrinka (Switzerland) vs. Tomas Berdych (Czech Republic)
This is an absolute cracker of a fourth-round battle. Of the 11 matches that these two have contested, only four have ended in straight sets. Wawrinka leads their head-to-head 6-5, including a stellar three-set victory in the semifinals of Madrid earlier this season.
Both Wawrinka and Berdych recorded impressive third-round victories over Marcos Baghdatis and Julien Benneteau, respectively. Berdych's victory over Julien Benneteau was one of the more commanding performances recently seen from the Czech. Conceding only five games throughout the match, including a bagel in the opening set, Berdych was blasting winners from all parts of the court and really never gave the Frenchman a glimmer of hope.
The surface, a fast hard court, favors Berdych. Wawrinka will want to take full advantage of the backhand-to-backhand exchanges in this match. It pits his best shot against Berdych's weaker wing. Anything taken to the Berdych forehand without adequate depth or pace will be devoured, as Benneteau learned the hard way.
If Stan can keep Berdych constantly on the move and minimize the amount of time that Berdych has to set up for his shots, his chances of winning this match increase significantly. What makes it tough for Stan is that he does not generally play first strike tennis. If he allows Berdych to delivers the first strike, he will find himself in serious danger.
Prediction: Berdych in four sets