Q&A: Former 2011 US Open Champion Sam Stosur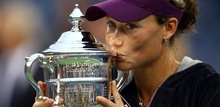 Three years have passed since Sam Stosur smashed her way to the sole Grand Slam title of her career in Flushing, NY.
Earlier in her career, the two-time doubles Slam titlist with a stalling singles career was deemed mentally vulnerable. But her run to the
finals of the 2010 French Open, showed promising form as she toppled Justine Henin, Serena Williams and Jelena
Jankovic in succession. At the last and simplest hurdle of her run, however, she fell away losing to Francesca Schiavone.
Just as it appeared that Stosur's one great opportunity to scribble her name into the history books had eluded her forever, she responded
by once again defeating Serena Williams in the title match of US Open a year later. In the years and months since,
Stosur's drive has never eluded her but she has struggled to rediscover the form that powered her to the pinnacle of the sport.
The same, however, can't be said of the personality she carries with her away from her high-kicking serves and nuclear forehands. Stosur is widely characterized as the calm, understated and relaxed jock of professional tennis but this doesn't fully illustrate the woman behind the shades who is so refreshingly earnest. Such
qualities were present as she chatted to Tennis View Magazine ahead of another attempt to partner her sole US Open trophy with a second.
TVM: When was the last time you polished your US Open trophy?
SS: Ooh, I've actually never polished it. It's getting rather tarnished.
TVM: Do you look at it much?
SS: I've got it sitting on a little shelf by the front door at my home, so every time I
walk through the front door I end up seeing it.
TVM: That's very convenient.
SS: Yes, it is! (Laughs)
TVM: How often do you go back home?
SS: I went back during the middle east tournaments in February, then again during
April for Fed Cup. But now I won't be back until after the US Open.
TVM: What has been your worst travel experience?
SS: When that volcanic ash [from the eruption of Iceland's volcano, Eyjafjallajökull]
was going on a few years ago. We deliberated between "Do we go to the airport?
Do we not go to the airport"? But it wasn't that bad in the end.
TVM: Where do you see yourself after tennis?
SS: I don't know. Doing something in Australia. It's obviously where I'm from and I
think that's where I'll end up when I'm done playing. I don't know, I still would like
to be involved in tennis in some way but I'm not too sure yet.
TVM: What motivates you to keep on going? We saw Marion Bartoli win Wimbledon
and then retire almost immediately. Have you ever had any temptation to do
the same?
SS: (Laughing) No, no. I still love playing. I love training. I like everything that you do
to be a tennis player. For me, just keep trying to improve. Now that my ranking has
gone down I'd love to get it back up to where it was.

This article is from the Sept/Oct 2014 - US Open issue

SOLD OUT

Subscribe now and you'll never miss an issue!