Previewing the Wimbledon Final: Djokovic vs. Federer

For the first time this century, two former Wimbledon men's champions meet in the championship match at the All England Club. Nick Nemeroff breaks down what to expect from just the second major final between Novak Djokovic and Roger Federer.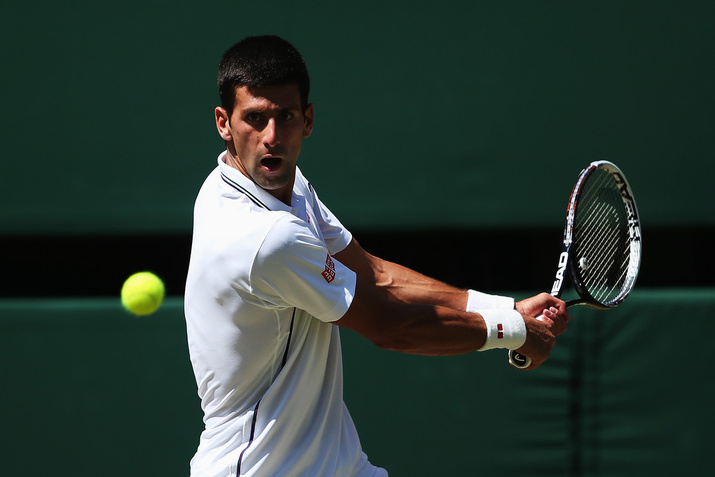 Storylines
In 2011, Novak Djokovic was an unassailable force. He responded with jaw-dropping cogency to nearly every question asked of him. Going 70-6 on the year, Djokovic won three majors and amassed an inconceivable 10-1 record against Roger Federer and Rafael Nadal.
Since 2011, Djokovic has won two majors—both at the Australian Open. He's been very consistent following his breakout year but has been unable to reproduce his 2011 level of play in major finals. The Serbian has lost five out of his last six major finals, including a four-set loss to Rafael Nadal at last month's French Open.
Make no mistake, Djokovic is ready to buck this trend of losing in major finals. He expects only greatness out of himself, and he'll be the first to tell you that second place is as far from greatness as the first round is.
For Federer, the motivation is elementary. He loves playing tennis, and as long as his body and mind are syncing coherently with one another, he'll keep going after titles and majors. Federer has described himself as someone who loves winning more than he hates losing.
Being well out of his prime, it's no secret that the winning is coming less often for the Swiss. Between 2004 and 2007, Federer won 11 majors. Since 2010, he has won two majors. Will this be the final opportunity for Federer to win a major? The evidence would seem to signal no, but anything can happen in this sport. Knowing this as well as anyone, Federer will not take this type of opportunity for granted.
Head-to-Head
Federer leads the head-to-head 18-16 and has won two of their three meetings in 2014. They've met in two semifinals (Dubai and Monte Carlo), which Federer won, and one final (Indian Wells), which Djokovic won.
The last time Federer and Djokovic contested a Grand Slam final was back in 2007 at the US Open. To provide perspective for how long ago this was, Djokovic had not won a Grand Slam when this match was played, and Federer had just turned 26 years old. Federer won this match in straight sets but needed to save set points in both the first and second sets to do so.
The only time they've met on grass was in the 2012 Wimbledon semifinal. Federer subdued Djokovic in four tight sets before going on to win his seventh Wimbledon title.
Tactics
Federer's primary weapon throughout this tournament has been his serve. He's been virtually untouchable on serve, which has allowed him to quickly put the onus back on his opponents. If Federer expects major title No. 18 to come his way tomorrow, his serve will need to be equally as potent as it has been all tournament. Federer has raced ahead in a vast majority of his service games, but if Djokovic is seeing a lot of second serves, it will spell more rallies and more trouble for Federer.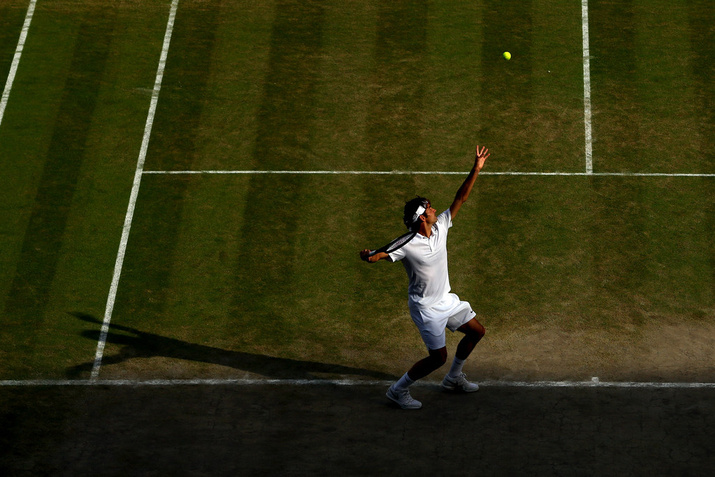 Look for Federer to mix up his serve placement, use a variety of spins, and throw in the occasional serve and volley to keep Djokovic honest. When a returner of Djokovic's caliber enters a rhythm and can feed off continuous streams of predictable serves, they flourish.
Federer's willingness to end rallies early and move forward must not change. Djokovic's defensive prowess and baseline fortitude favors him in lengthier rallies. On grass, Djokovic's capacity to slide, defend, and come up with absurd passing shots is reduced. The ball is moving quicker and lower through the court, and it's inherently more difficult to get a clean strike on it when an opponent hits a deep, well-struck approach.
One tactic that may pay massive dividends for Federer is baiting Djokovic into the net with slice backhands. In his match against Dimitrov, Djokovic struggled at the net and looked very uncomfortable moving forward off low balls hit to his forehand side.
Djokovic's goal in this match should be to maintain steady depth and pace. Federer's first-strike style of tennis is limited when he is pinned behind the baseline and constantly forced to play deep balls. It will also be crucial for Djokovic to stay out of the forehand-to-forehand rallies. Whether this means taking his forehand up the line, going backhand-to-backhand, or playing inside-out forehands to Federer's backhand, the Serb cannot afford to pit his weaker wing off the baseline against Federer's stronger wing. Serving and volleying was not a ploy that worked well for Djokovic against Dimitrov, but it may be worth trying a few times here and there against Federer's chip returns, which can float into a volleyer's strike zone from time to time.
Djokovic's kick serve is one of the most underrated shots around and easily the most overlooked aspect of his game. He generates a ton of action and when played to Federer's backhand, it can do some damage—even on grass. Milos Raonic possesses a lethal kick serve but was steadfast in drilling flat serves against Federer during their semifinal, a strategy that did not work out.
Prediction
This is a classic 50/50 tossup. The surface clearly favors Federer, and the crowd will undoubtedly be on his side. With that said, Djokovic has had Federer's number for the most part in the last couple of years and knows he may be the only player capable of neutralizing Federer's serve when it's on.
Djokovic was dealt serious tests in his quarterfinal and semifinal matches by Marin Cilic and Grigor Dimitrov, respectively, while Federer only experienced one minor hiccup when he was overpowered by Wawrinka in the first set of their quarterfinal match.
If the match is played under the roof, the advantage would seem to go to Federer, but it's worth mentioning that Djokovic has won their last three matches played indoors.
This one is a stumper, but the nod goes to Djokovic on the basis of his returning and defense, levels of which Federer has not been forced to serve and hit through during this tournament.
Prediction: Djokovic in five sets