Previewing Friday's Matches at the ATP World Tour Finals

With Rafael Nadal already having clinched a semifinal berth, Stanislas Wawrinka and Tomas Berdych will be vying to join the Spaniard in the semifinals. Wawrinka will be taking on David Ferrer, who has been eliminated from contention, while Berdych faces Nadal.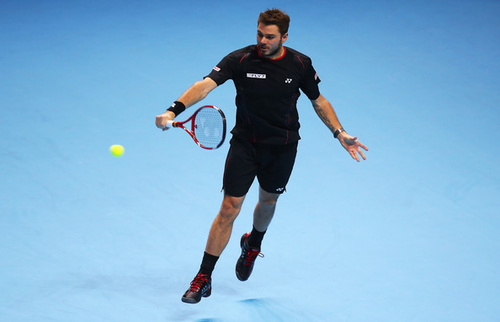 Stanislas Wawrinka (1-1) vs. David Ferrer (0-2)
Ferrer's fantastic 2013 campaign is nearly over. After losing to a formidable Berdych in straight sets on Wednesday, he has been mathematically eliminated. All that remains is one match against Wawrinka.
Although there is only one scenario for Wawrinka to qualify, it is the scenario most likely to come to fruition. In order to qualify, regardless of score, Wawrinka must defeat Ferrer, and Nadal must defeat Berdych. After defeating Berdych on Monday, Wawrinka gave Nadal a run for his money on Wednesday while losing in two tiebreaks.
Ferrer leads the head to head 7-4 and won their only previous meeting on an indoor hard court, which came last year at the Paris Masters 1000 tournament. The most recent meeting between Ferrer and Wawrinka came in the final of the 250 event in Oeiras earlier this season, which Wawrinka won 6-1 6-4.
What cannot be understated in this matchup is that this is a golden opportunity for Wawrinka. If he wins and Rafael Nadal beats Tomas Berdych, a very likely scenario, he will qualify. Moreover, his opponent has nothing to play for and has been far below his peak physical capacity throughout the week.
While this is obviously the ideal situation, the Swiss must be careful. He must avoid falling into one of two traps. One of these involves being overly confident. Wawrinka is still playing the third-ranked player in the world, one against whom he has struggled and one whom he knows will make him fight to the end. Wawrinka must approach this match as if he were playing a fully functioning Ferrer. He also must be careful not to overhype this match. While it is good to embrace the moment, putting unnecessary pressure on himself would hinder him.
Ferrer is one of the most physically superior tennis players on this planet. That said, his final reserves of energy were exhausted last week in Paris. Wawrinka does not need to be hyper-aggressive, as he was against Nadal. Testing Ferrer's legs and mobility should suffice.
Ferrer's key strategy will be to run around his backhand and go inside-out into Wawrinka's backhand, using his heavy topspin forehand and the high bounce of the court to force Wawrinka to take a high quantity of balls off the rise. That is the same strategy that Rafa has used to attack Wawrinka with great success for years. Unfortunately for Ferrer, an immense amount of footwork and fitness is required to consistently go inside-out, a level of footwork and fitness the Spaniard probably will not have.
Prediction: Wawrinka in two sets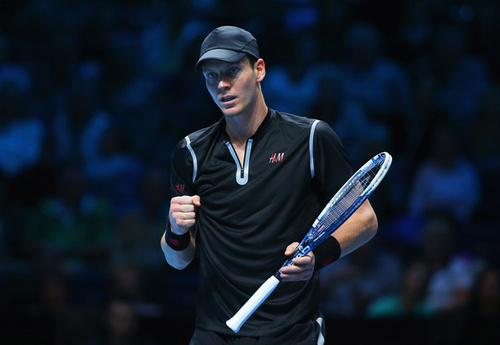 Rafael Nadal (2-0) vs. Tomas Berdych (1-1)
With his 7-6 7-6 win over Wawrinka on Wednesday, Nadal not only clinched the top spot in Group B but also cemented the year-end No. 1 ranking.
After his 6-4 6-4 victory over Ferrer, Berdych still has a chance to reach the semifinals. But he must overcome Nadal on Friday evening. If he does not defeat Nadal, he would need Ferrer to defeat Wawrinka.
Nadal leads the head to head 16-3. Berdych and Nadal split their two previous meetings on indoor hard courts. Their last meeting on an indoor hard court was in the round-robin stage of the 2010 World Tour Finals, which Nadal won in straight sets. The last time that these two met came in the semifinals in Beijing just over a month ago. Nadal led 4-2 in the first set when Berdych retired with a back injury.
Crucially, Berdych has lost 15 consecutive matches to Nadal dating back to 2006. In these 15 matches, Berdych has won just two total sets. Berdych thus lacks any momentum from his previous matches against Nadal. But, if he does want to look back, the 2012 Australian Open would be an ideal place to go.
Since the last time Berdych beat Nadal, this was by far the closest that he has come to replicating the feat. Berdych won the first set in a tiebreak and held a set point in the second-set tiebreak before losing that breaker 8-6 and the match in four sets. Berdych served brilliantly throughout the first two sets, which allowed him to dictate with his forehand. He also succeeded in neutralizing Nadal's cross-court forehand with his backhand. The other aspect of Berdych's game that shone in that match was his transition game. He picked his spots well to move forward and made Nadal engineer difficult passing shots.
Fortunately for Berdych, he needs only to win two sets tomorrow. On the other hand, this court is significantly slower than in previous years. What this means is that Berdych will not only need to dictate, but he will need to inject more power and decrease his margins further than he usually would. For the Czech, engaging in protracted baseline rallies is essentially a death sentence in this match.
Prediction: Nadal in two sets
Nadal, Wawrinka advance to semifinals as Group A winner and runner-up, respectively