Preview: Wimbledon Ladies' Singles Final

At a Wimbledon that has been plagued by pre-tournament withdrawals, retirements due to injury, and just some good, old-fashioned upsets, Ashleigh Barty and Karolina Pliskova have managed to successfully navigate their way to the Ladies' Final. Both of them are worthy of being crowned this year's Wimbledon Ladies' Champion, but in the end, only one of them will have that honor.
As someone who currently has the dubious distinction of being considered one of the best players to have never won a slam, it would not be entirely surprising to see Pliskova enjoy a breakthrough here on the lawns of the All England Lawn Tennis Club. She possesses one of the most imposing games on tour that when firing on all cylinders is capable of defeating anyone on any given day. She has a booming serve that rivals that of Serena Williams in terms of the number of aces it garners her over the course of a season, and her groundstrokes are exceptionally flat and penetrating, traits that should only be enhanced on the grass. Her transitional game and hands at the net are also underrated. The only glaring weakness in her game is her movement, but her long and lanky form coupled with her ability to anticipate the moves of her opponents often helps to hide her lack of mobility. All told, she has the kind of skill set that could see her through to a major title.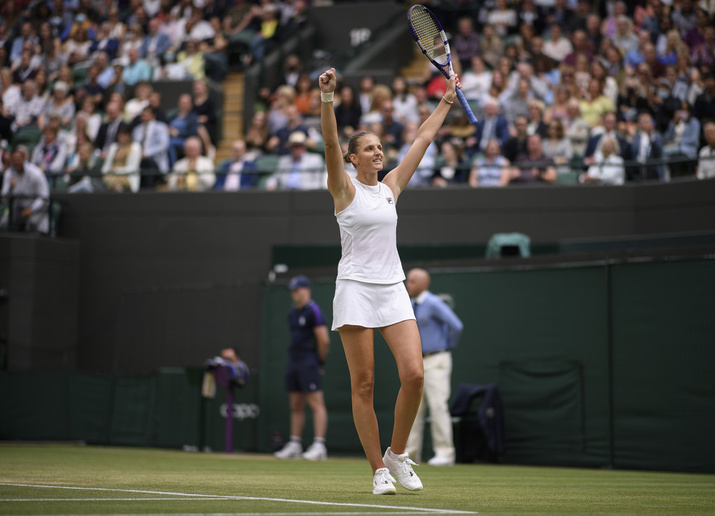 The same statement can be made of the Czech's opponent, Barty, who has already proven she has what it takes to go all the way following her victory at Roland Garros in 2019. There is plenty to like about what the top seed brings to the table, too, and what it could mean for her odds of success in Saturday's final. She might stand eight inches shorter than Pliskova – in fact, at 5'5" she is among the shortest on tour – but make no mistake, her serve will be a weapon in this match. It is deceptively effective and frequently earns her aces on the pressure points. The Australian also boasts some of the greatest variety in the sport, able to hit over the ball and slice and dice from the baseline and then just as easily chip and charge and work her way to the forecourt to put her opponent under pressure and finish off the point. That variety could be very important against Pliskova as well. It allows her to give the eighth seed a lot of different looks to keep her off balance, and it also affords Barty more avenues to victory if any other aspect of her game is not working.
Aside from the superior variety, Barty will also take to the court enjoying the psychological advantage. She leads her rivalry with Pliskova 5-2, which includes winning their last three encounters, the most recent of which came this spring in Stuttgart. Her form has also been demonstrably better than the Czech's in recent months, and perhaps most crucially, she has that precious experience of having already secured a slam singles title.
None of that is to say that Pliskova is entering this contest lacking in belief, however. Although she trails in their head-to-head, over half of their matches have been three-set affairs and have featured a number of tiebreak sets. She is also a former Number 1, a rank that is not achieved unless a player has won some big matches and prestigious titles, and although she has yet to win a major, she does have the experience of having played a major final, doing so in New York in 2016. There may have been little to suggest coming into this year's Wimbledon that she was poised to make a run, but if she believes she has rediscovered that form that took her to the top, she could be ready to take that next step and earn her first major.
Again, all things considered, whatever the result in Saturday's final, it will not be a stunner. That said, Barty has to be considered the favorite. Pliskova, with the firepower to bully Barty, undoubtedly has the tools to get across the finish line, but a lot more has to go right for the Czech than Barty. That is a big ask in a major final for someone who has yet to win one of those coveted titles. Barty is better equipped to make necessary adjustments and weather any storm Pliskova can throw at her, and she already knows she is capable of going all the way. Before the tournament even began, a number of pundits believed that if Barty could stay healthy and work her way into the event, she would be a favorite. She has thus far lived up to that billing, which is why it is difficult to bet against her come Saturday.
(photo credit: Getty Images)