Preview: Wimbledon Ladies' Final

It has been a Wimbledon full of surprises, and yet when all is said and done, it is two former Number 1 players who have reached the final. Of course, both of those competitors might say they are indeed, to some degree, a surprise as well. Although she was labeled the favorite by many coming into Wimbledon, Serena Williams, who missed the majority of 2017 on maternity leave and suffered a few hiccups earlier this season, is probably a little stunned at how quickly she has dialed in her game these last few weeks to find herself in the final. Her opponent, Angelique Kerber, is likely similarly stunned at her own good fortune. After a career year in 2016, her game all but deserted her in 2017, which by her own admission is a season she would like to forget. There have been multiple signs of a resurgence for her in 2018, however, and none bigger than her run here. It is a rematch of the 2016 final with one woman hoping the outcome will be the same and the other looking to turn to the tables.
As alluded to, most will be looking to Williams as the favorite to repeat her victory over Kerber just as she did two years ago. She should certainly be the one in a better position to control the outcome. She is naturally the more aggressive of the pair and will be the one looking to make things happen rather than reacting. She frequently goes bigger than Kerber off the ground, and her phenomenal foot speed means the German is going to have to work very hard to create space if she hopes to hit any winners. Williams's return is also apt to cause problems for Kerber on her second serve. Then there is the American's biggest weapon, which is her serve. It is the most lethal in the history of women's tennis, and if she is having a good serving day, it may not matter how good of a day Kerber is having if she cannot put enough returns back in play.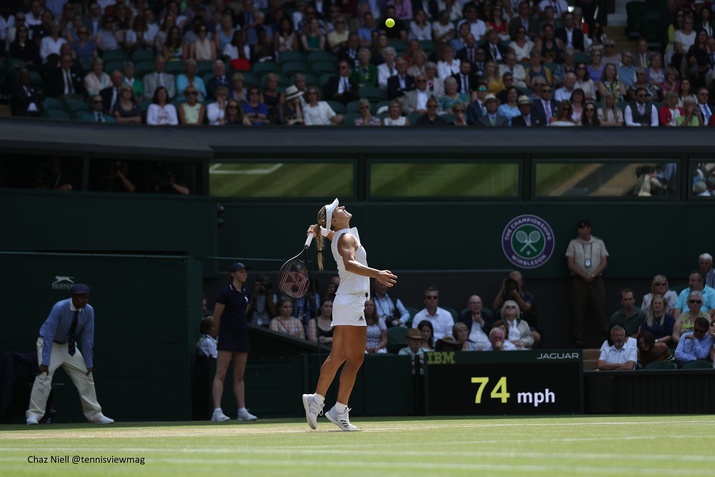 None of this is to say that all hope is lost for Kerber. On the contrary, most agree that when at her best, the German has the kind of defensive skills that can rival that of Williams and that allows her to hang with Williams from the baseline. She is currently fitter than the twenty-fifth seed as well, so if she can turn this into a track meet, her odds for success increase. But as comfortable as Kerber is playing defense, the onus is going to be on her to go out of her comfort zone and show a little more aggression than she did in her previous match, as Williams is unlikely to give her as many unforced errors as Jelena Ostapenko did. That means staying up on the baseline and be willing to rip the ball up the lines to get Williams on the move. Coupled with that, not only does she need to have a good serving day, but she has to commit to taking some chances on the serve. The last thing she wants is for Williams to be allowed to tee off and get into a confident rhythm.
The other component Kerber needs in this match is the belief that she can win it, and she might be one of the few women facing this situation who has it. Not only has she been to the Wimbledon final before, but she has already secured two major titles to her name. Saturday's match should not see her looking like a deer in headlights. Furthermore, her first major win at the 2016 Australian Open came over Williams in the final, so she knows she can beat this decorated champion at this juncture. She, also, has to be thrilled that she seems to be rediscovering the form that brought her so much success in 2016 and might feel confident she is due for another slam win.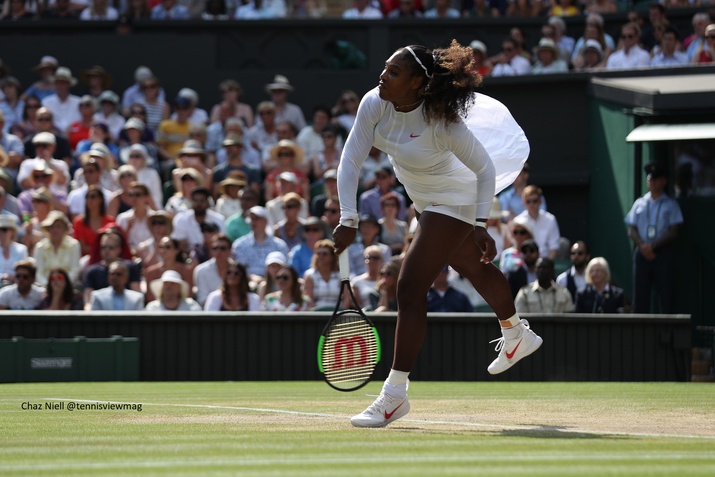 As for Williams, fans have come to expect that she is money in these situations, and as such, it is natural to assume that she is going to rise to the occasion. She definitely has plenty of reason to feel assured that she can complete a title run here. She has already won this title seven times along with countless other majors. She is well aware that her aura of invincibility is quickly returning, and she holds a dominant 6-2 lead in her rivalry with the German. The X-factor in all of this though is how Williams will react to playing what is the biggest match for her in well over a year. She could approach it as old hat and icing on the cake if she felt this was something that came even sooner than she expected. Or, she could remind us all again that she is human and feel the nerves that are not quite as familiar to her at the moment following maternity leave.
Regardless of which woman walks away the victor, they will hopefully produce a fitting end to what has been a crazy women's tournament. Both have made for great stories this fortnight and both would be a fitting champion. Kerber should hardly be counted out, as her two major titles – including the title over Williams – were no fluke. But the odds-makers named Williams the favorite for a reason, and odds are she will live up to it on Saturday.