Preview: Wimbledon Gentlemen's Singles Final

Two weeks ago, 128 men came to Wimbledon seeking to win this coveted title, and now only two remain. Not surprisingly, one of those two is named Novak Djokovic, the man who has been the most dominant player for the last decade and certainly the one to beat this season. Standing in his way is the fast-rising Italian star Matteo Berrettini, who is making his debut in a major singles final. On Sunday, they will face off to determine if it will be business as usual for Djokovic or if Berrettini can strike a blow for the next generation.
Whether it be a casual tennis observer or a diehard fan, one would be hard-pressed to find a member in either category willing to bet against Djokovic's game seeing him through to victory in the championship match. That is because, aside from the occasional hiccup in his overhead, there are no holes in the top seed's game. His serve is a weapon, and his consistently effective return is thought by many to be the greatest in the history of the sport. He possesses plenty of versatility, can produce impeccable offense from either wing and from anywhere on the court, and his defensive skills are second to none, making it extremely difficult to hit through him. If he has a good serving day and avoids drifting too far behind the baseline and relying too heavily on his defense, he is a very tough out, particularly in a best-of-five format.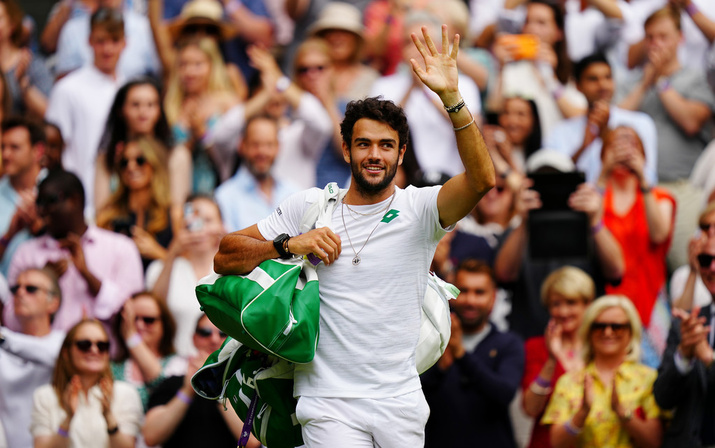 Berrettini will be well aware of the challenges posed by Djokovic, but both he and Djokovic should be equally aware that the Italian presents a genuine threat to the current Number 1. Taller and broader than Djokovic, he is definitely the more physically imposing of the pair, and it shows in his serve and ground game. He gets greater pop on his first delivery and owns more firepower on his groundstrokes. His defense may not be as impressive as his opponent's, but Berrettini should not be looking to turn this into a war of attrition with Djokovic anyway. His game is all about first-strike tennis, and it is big enough to bully the Serb and take him out of his comfort zone. If the seventh seed saw any of Djokovic's semifinal against Denis Shapovalov, he will have seen that his similar brand of power tennis can put him in the position to win sets and potentially the match.
Of course, if Berrettini did catch that semifinal, he will have also seen how hard it is to red-line a higher-risk game of power tennis consistently enough to put Djokovic away. He is also facing the daunting challenge of trying to bring his absolute best in his first-ever major final appearance. Furthermore, he has only secured one in six sets in his two prior meetings with the Serb, his most recent encounter ending in a loss a few weeks ago in the quarterfinals of Roland Garros. That said, Berrettini, has played some tight sets with the top seed, and there is no telling how well he may play with the freedom to swing away that comes with being the clear underdog.
Pressure in Sunday's final could help be a kind of equalizer in favor of the Italian, too, as Djokovic is not simply playing with the pressure that comes with being the higher-ranked and more experienced player. He presently sits just one major title behind chief rivals Roger Federer and Rafael Nadal, and a win on Sunday would see him tie those two legends of tennis with twenty majors each. Equally, if not more significantly, a win on Sunday also keeps him securely in the hunt for the calendar-year Grand Slam, a feat no male player has achieved since Rod Laver in 1969. With that kind of pressure coming from all angles, Berrettini will hardly be the only challenge that Djokovic faces when he takes to the court in the final.
Even with all of that pressure, however, Djokovic has to be considered the obvious favorite. Savvy fans know that Berrettini is a dangerous foe with potent weapons that could certainly garner the upset, but if last month's conclusion to Roland Garros proved anything, it is that Djokovic is difficult to put away, no matter the circumstances. His plethora of big-match experience coupled with his ability to go into "lock-down" mode makes for a devastating combination. Barring a poor performance from him or a special one from Berrettini, look for Djokovic to earn the victory and keep the quest for the calendar-year Grand Slam alive and well.