Preview: Roland Garros Men's Final

When will the Next Generation take over the sport? How long can the Big 3 hold off the young guns? When will there be a changing of the guard? The question may be asked in a variety of manners, but the
sentiment is all the same. With one of the most promising upstarts in Stefanos Tsitsipas facing off against one of the legends in Novak Djokovic, that question will once again be on the minds of many with one
match left to determine if the Serb ensures that the old guard continues to keep their firm grip on the top of the game or if the Greek can take a definite step towards loosening it.
Their respective games would suggest that folks are in for a feast of fantastic shot-making. Tsitsipas is one of the flashiest players on tour. He possesses formidable weapons off the ground from both wings,
and his backhand in particular has a lot of variety. The fifth seed moves exceptionally well for a man standing 6'4", making it very difficult to hit through him. He has more pop on the serve and firepower
from the baseline, meaning if he is playing at his best and remaining offensive minded, he is the competitor better equipped to take control of the greater share of the rallies.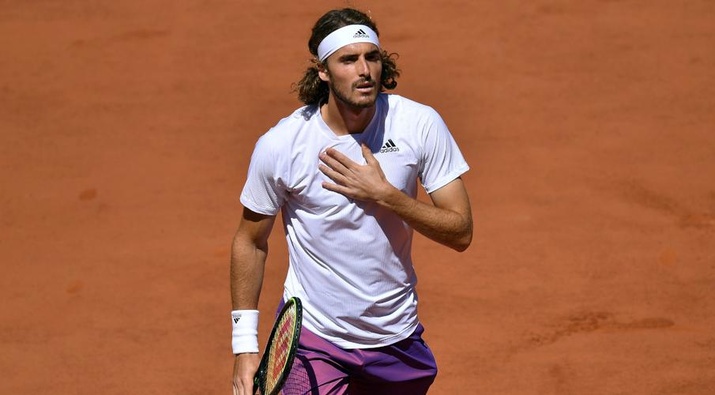 None of that is to say that Djokovic is going to be a spectator primarily reacting, however. Yes, his defensive skills are among the best in the sport, and he has proven time and time again that it is virtually
impossible to hit him off the court. But he has his share of tools in the bag, too. His return is arguably the greatest in tennis, and especially if Tsitsipas is having to throw in too many second serves, the top
seed could make it a very long day for the Greek. The Serb is also plenty capable of playing offense of his own, but it is imperative that he remain committed to playing it. He has to stay up on that baseline to
move the ball around the court and strike the angles to get his opponent out of position, because if he drifts too far behind baseline, Tsitsipas will be the one to take it to him and make him pay.
The ability to execute their game plans boils down to whether or not they have the requisite belief in the crucial moments. On Sunday, the bigger question mark pertaining to the mental component of the final
will undoubtedly concern Tsitsipas. Sunday marks his first appearance ever in a major singles final. On the plus side, he has won the ATP World Tour Finals, which is just a step below the majors, so he can
draw confidence from that. He trails Djokovic 2-5 in their rivalry, including losing their last four encounters, but he did play him close a few weeks ago in Rome and nearly came back from 2 sets down at
this venue against the Serb last year. And while he did nearly squander a two-set lead of his own against Alexander Zverev in the semifinals, it was encouraging that he was ultimately able to right the ship to
book his spot in the championship match. Additionally, he has enjoyed a better clay season than Djokovic coming into Roland Garros, so though Sunday's championship presents him with a different
kettle of fish, he has plenty of positives to draw from if he wants to garner the upset and capture his first major crown.
Djokovic has been here multiple times before, so he has shown he can more than handle the occasion. Having played Tsitsipas seven times prior, he is familiar with the fifth seed's game and can take comfort
in the knowledge that he does have a solid lead in their head-to-head, knowing that more often than not, he has been the one to come up with the goods when their matches got tight. That said, their close
scorelines make it clear to the top seed that the Greek is more than capable of turning the tables on him, and he will be aware that Tsitsipas has an arsenal that can hurt him, which brings its own pressure.
Furthermore, although Djokovic is experienced enough to recognize there is still one match to go, he could be left a little emotionally flat after his epic win over Rafael Nadal in the semifinals. And aside
from Tsitsipas, Djokovic is also playing for history. A victory on Sunday would put him just one major title behind Roger Federer and Nadal before heading to Wimbledon and later the US Open, two slams
where barring any surprises, he is apt to be considered the favorite. If that were not enough, a title in Paris would distinguish him from Federer and Nadal as the only one to complete the Career Grand Slam
twice with the door still firmly open to complete a calendar-year Grand Slam. He must guard against allowing any of those tantalizing opportunities to enter his frame of mind to avoid them hampering his
own game.
In truth, a strong case can be made for the title hopes of both men, and regardless of which one is crowned the victor, the outcome would not be shocking. Tsitsipas unquestionably has the kills. He has been accumulating the impressive results, and as such, he is has been building the belief that could see him ready for this moment. There is certainly a sense that it is a matter of "when" not "if" he is going to
win that first slam title. He knows the old guard cannot hold on forever, and he might just be ready to take that next step in his career. Even so, old habits die hard, and it is simply difficult to bet against the
top seed on Sunday. Djokovic has already bagged eighteen of these major titles, and after some ups and downs coming into Paris, he looks to be piquing at the right time. He came ready to put the Next
Generation in their place when he faced Daniil Medvedev in the Australian Open Final, and he will be keen to do the same in this one. Both are deserving and capable of winning, but the tip of the hat goes to
Djokovic.