Preview: Australian Open Women's Singles Final

By the time play comes to a close on Saturday night in Melbourne, an announcement will have been made. The only question is, will it be the announcement of an arrival or a comeback? Sofia Kenin and Garbiñe Muguruza will battle against each other to determine the answer to that very question.
Naturally, Kenin will be hoping it is the announcement of an arrival. The twenty-one-year-old American captured the first three titles of her career last season and was rightfully named the WTA's Most Improved Player. In short time here in 2020, she is showing the potential she exhibited last year was no fluke. She has been stellar in her ability to step up to the occasion, most notably with the way she proved the mentally stronger of the pair in her win over Ashleigh Barty in the semifinals. Clearly, this is a woman who is a threat to any opponent.
Of course, Muguruza is a threat to any opponent on any given day as well. The Spaniard arrived this year in Melbourne unseeded at a major for the first time in six years. But tennis fans know that Muguruza's career is one that has had its peaks and valleys and what she is capable of producing when her game is in one its "peak" phases. It is a game that has already secured her major titles in Paris and London, and one that has seen her knock off seeds in her last four rounds, three of which were seeded in the Top 10. Thus, she, too, arrives at Saturday's final in prime form.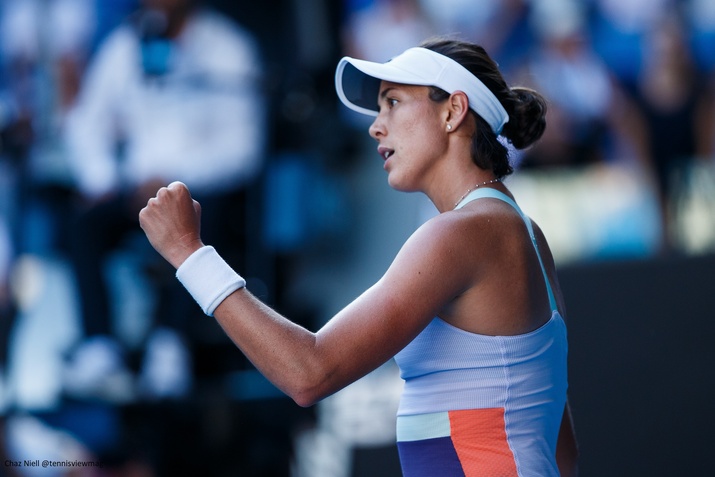 Whose form will prevail is up for debate. The Spaniard is theoretically in a better position to control proceedings. She boasts greater firepower on serve and off the ground. She has a little more variety off the ground, and a decent transition game as well. That all said, Kenin has already demonstrated that she is good at absorbing and redirecting power, and when presented with the opportunity, she can step into the court and take it to her opponents. The American also owns the superior set of wheels, and she might end up testing the consistency of Muguruza, particularly on the key points.
How each of them handles the pivotal moments will undoubtedly play a crucial role in the outcome of this final. It is so tempting to assume that Muguruza should have the mental edge. Unlike Kenin, she has been here before and won two majors, so she already enters this match knowing she has what it takes to win one of these prestigious titles. She also has the comfort of knowing she has the more imposing arsenal and therefore more in control of her own destiny.
But although Muguruza has the experience, only a fool would discount Kenin's chances of being the player to rise to the occasion. She has been doing it all tournament long, be it overcoming a first-set loss against Coco Gauff that she should have won or twice coming back from double-set point down to defeat Barty in straight sets in the semifinals. Although seeded, as the debutante at this stage of a major, she arguably has the freedom of being able to swing away as the underdog – the luxury that was afforded to Muguruza in her own two major victories – and she did defeat the Spaniard in their lone meeting just a few months ago in Beijing. In short, there is ample reason for her to believe she will live up to her seeding to earn her first major singles crown.
So how will this one end? Honestly, it has a very even feel about it, meaning neither would be a shocker. Kenin looks like she has the gumption and the poise. She is battle-tested, and she already has the belief that she can get the better of Muguruza having done so in the past. Still, the edge feels like it has to go to Muguruza. She has the more powerful tools, she has been here before, and most importantly for her, she looks like a woman on a mission. It could be an entertaining and tight affair, but the scales feel like they are tilting more towards a comeback than an arrival in this one.