Preview: Australian Open Men's Final

The men's final is set, and it comes as no surprise to anyone that one of the combatants is second seed, Novak Djokovic. His opponent, however, is not another member of the Big 3 but instead fifth-ranked Dominic Thiem. Just because his last name is not Nadal or Federer though, Djokovic knows Thiem is more than capable of making this a hard-fought, blockbuster final. The stage is set to determine if this will be business as usual for the Serb or the breaking of new ground for the Austrian.
As alluded to, it is hardly a shocker that Djokovic finds himself in this position, and he will be the clear favorite in Sunday's final. It may not be in Serbia, but many would label Rod Laver Arena as Djokovic's house. He has won sixteen major singles titles, and nearly half of them have come right here in Melbourne. Minus a blip in the opening round, he has been devastatingly locked and loaded since, with an eighth Australian Open title looking nearly inevitable.
But no one should be counting out Thiem. True, the Austrian has yet to lift a major singles trophy, but he has been on the cusp. He has reached the final of Roland Garros the last two years running, and he very nearly hoisted the trophy at the ATP World Tour Championships in 2019. There is a growing sense that it is a matter of "when" not "if" he will break through at the majors, and there is no reason why he cannot come good on that potential Sunday in Melbourne.
So much in determining the outcome of this match comes down to game execution, and more importantly, who can get ahead in the points first. Thiem is the biggest ball-striker on tour, and if given the opportunity, he can slug the second seed off the court much the way he managed to bludgeon his way past Rafael Nadal in the quarterfinals. He can couple his firepower off the ground with an imposing serve, and he also can produce some underrated defense thanks in no small part to the versatile backhand slice he possesses. It is going to be imperative, however, that he continue to stay up on the baseline and shorten his back-swing as he looks to grip and rip, or Djokovic will rob him of time and make it harder for him to dictate play.
As for Djokovic, it is going to be important for him to strike the right balance between offense and defense, perhaps erring on the side of offense. He is well aware of the weapons the Austrian brings to the table, and if Djokovic relies too heavily on his defense, dropping too far behind the baseline, Thiem can take the match out of his hands. Instead, he has to remain committed to staying up on the baseline, robbing Thiem of time and pushing the Austrian around the court to remain ahead in the majority of the points.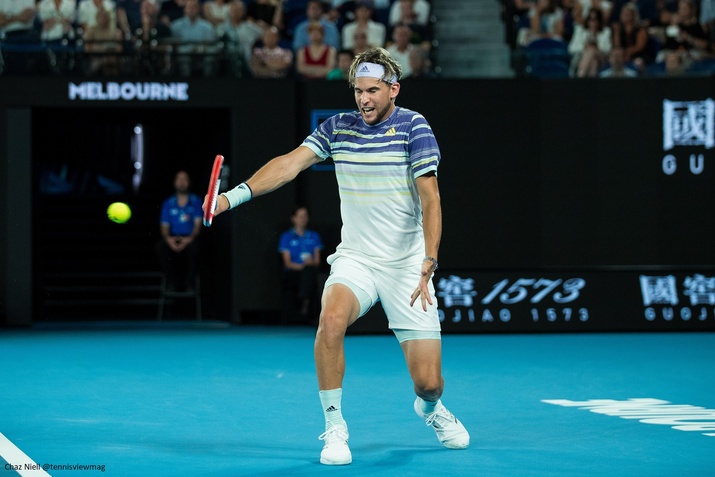 Naturally, as important as the battle for court-positioning will be, the ability to bring their best in the crucial moments will also be key. Here again, it is easy to look to Djokovic as the obvious favorite to come good in these situations. He not only has been here so much more than Thiem, but he has already bagged sixteen major titles. Melbourne is the site of his most successful slam, and he does lead Thiem in their rivalry 6-4.
That all said, Thiem is apt to come into this contest with at least a decent measure of belief that he can garner the upset. He may trail in this rivalry, but he did defeat Djokovic in their last two meetings, which came on the quick indoor courts at the ATP World Tour Finals as well as the semifinals of Roland Garros last season. He therefore knows he can defeat the Serb on the faster surfaces and over the course of a best-of-five match. Thiem has also shown himself to be exceptionally clutch this event, prevailing in three tiebreak sets against Nadal as well as a final set tiebreak in the semifinals over Alexander Zverev to book his place in this final. All told, there is no reason why he cannot be expected to come good to earn the upset and every reason for Djokovic to be wary of the threat he poses.
Yes, despite it not being another showdown between members of the Big 3, this match still has all of the trappings to make it an exciting and competitive classic. Thiem has the tools and seemingly the belief to cause the upset, and if he executes his game plan, it is more than within the realm of possibility. Even so, the smart money has been on Djokovic to come good Down Under for the better part of a decade, and this Sunday's final will be no exception. He is the more complete player with more experience at this level. If he continues on with the fine form that has grown more clinical with each passing round, then expect him to ultimately succeed in securing his eighth Australian Open crown.