Petkovic Shocks Stephens In Washington

Andrea Petkovic, a former top ten player, stunned the reigning US Open champion Sloane Stephens 2-6, 6-4, 6-2 in the 4th round at the Citi Open in Washington, DC. Petkovic, from Darmstadt, Germany, had only beaten Stephens once in four matches and that was 7 years ago on a hardcourt in Carlsbad. That same year, she reached a career-high ranking of #9 and is currently ranked #91. The soon to be thirty-one-year-old has struggled with numerous debilitating injuries over the course of her career and is determined to climb back up the rankings.
This was Stephens' first match since losing to Donna Vekic in the opening round at Wimbledon. The world #3 and 2018 French Open finalist appeared to be in total control as she broke Petkovic in her first service game and once again in the fifth. The twenty-four-year-old American never faced a break point and won the opening set 6-2.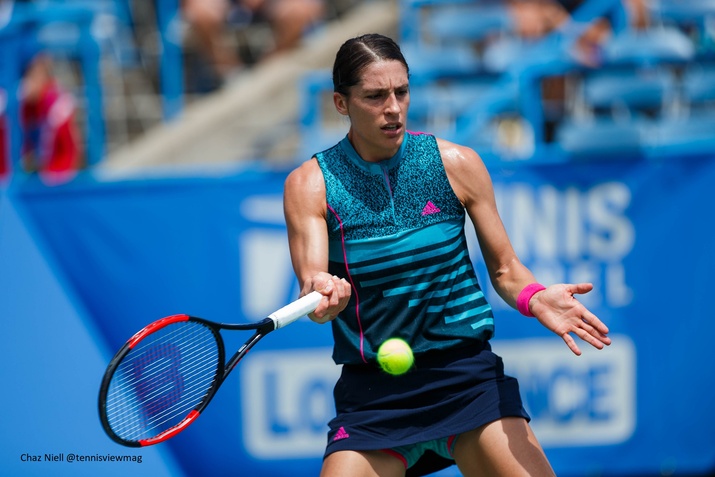 Petkovic served first in the second set and faced a double break point following two double faults. Stephens converted when Petkovic's cross-court forehand sailed wide. Serving up 2-1 with a break, Stephens took her foot off the gas and with a slew of unforced errors, found herself down triple break point. Petkovic converted and was back on serve following another overcooked groundstroke by Stephens.
They remained on serve through the 9th game. Petkovic had significantly upped the ante this set while Stephens at times appeared disinterested. Her body language seemed to mirror the score and serving to level the set at five games apiece, immediately faced triple break and set point. The German was eager to convert and did so on her second break point and secured the set 6-4.
Petkovic served first in the final set and with a monstrous forehand in the corner, held at love. She continued to play aggressively and inside the baseline while Stephens often appeared rushed and off-balance. The German's strategy continued to pay dividends as her weight of shot drew a litany of errors from the American while her well-placed serves immediately put Stephens on the defensive.
On serve trailing 2-3 in the final set, Stephens could no longer conceal the doubts and dejection. Following a plethora of unforced errors, she quickly faced double break point and lost serve. Petkovic held for 5-2 and found herself just four points from the quarterfinals.
The player that had so convincingly won the first set was no longer on court; Sloane Stephens had mentally checked out and following three poorly struck groundstrokes faced triple match point. Her fourth and final error ended a disappointing and lopsided third set but for Petkovic, it was a hard-fought, well-earned victory and her first over a top ten player in 2 ½ years.
Next up for the German, either Belinda Bencic of Switzerland or Nao Hibino of Japan.