Original 9 Honored With Hall Of Fame Rings At US Open

Original 9 honored with Hall of Fame rings at US Open
Fifty-one years ago, nine far from ordinary women did the extraordinary; ties were severed with the women's pro-circuit while unchartered territory was forged. Billie Jean King, along with eight dedicated and determined professional female tennis players, embarked on a perilous journey to establish a rival tour – the newly created Virginia Slims Series – where women would be paid on par with their male counterparts.
The Original 9, as they would come to be known, included Valerie Ziegenfuss, Kerry Melville Reid, Peaches Bartkowicz, Kristy Pigeon, Judy Tegart Dalton, Julie Heldman, Nancy Richey, Rosie Casals, and Bille Jean King. Each unwaveringly committed to establishing a tour where they would be accorded comparable opportunities and prize money for the discrepancies were numerous and substantial. In 1970, BJK earned just $600 for winning the Italian Open while Ilie Nastase was awarded $6,500 !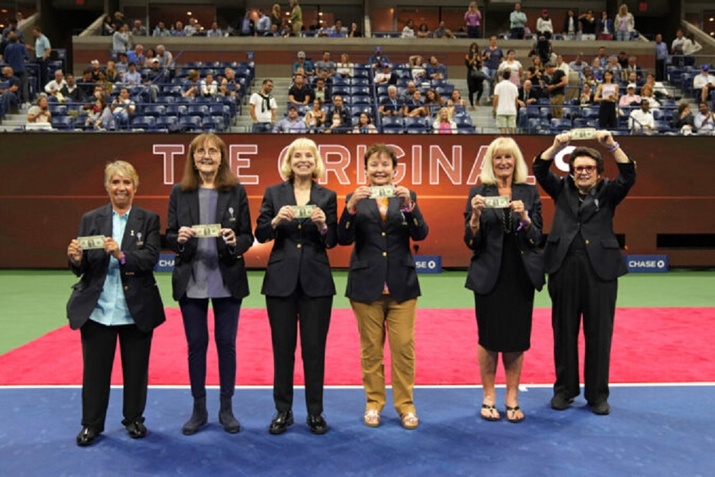 Last evening, between the US Open women's semifinals, the Original 9 were honored for their foresight, bravery, and commitment to advancing and promoting women's tennis. On Arthur Ashe Stadium Court, these trailblazers were presented their official International Tennis Hall of Fame rings in recognition of their induction in the Contributor Category this past July in Newport, Rhode Island.
Nancy Richey, Kristy Pigeon, and Judy Tegart Dalton, unfortunately, were unable to attend the ring presentation ceremony. The custom-made rings, memorializing their receipt of the sport's highest honor and membership into its most elite club, were presented by ITHF President Stan Smith and CEO Todd Martin. Also present were USTA representatives, Mike McNulty, chairman of the board and president, and Stacey Allaster, chief executive of women's tennis, who thanked the O 9 for inspiring her endeavors and facilitating her achievements.
On September 23, 1970, they each signed a $1.00 contract with Gladys Heldman, publisher of World Tennis publications, to launch the first women's pro tennis tournament. Two years prior to the enactment of Title IX which sought to eradicate gender inequality in athletic and academic programs and activities earmarked for federal funding, these rogue athletes set out to revolutionize women's tennis and in so doing, inadvertently brought much needed attention to this landmark federal legislation.
Billie Jean King, though pressured not to form a rival tour by what is now the USTA, remained steadfast. The O 9 never questioned their decision but nonetheless, were cognizant of the risks. Through grit and persistence, they successfully advanced their faith in the marketability and profitability of women's professional tennis.
In 1973, the year the WTA was founded, women's professional tennis was united into a single tour, and equal prize money for men and women was awarded for the first time at the US Open. The current players on the WTA tour continue to reap the benefits of their tireless efforts and resolute commitment as the US Open champion will receive 2.5 million dollars. Prize money has certainly come a long way baby!
Rosie Casals affirmed, "It's great to be back and to see what 50 years has brought to women's tennis. It's been a terrific journey with these Original 9. They were all so brave, and I'm proud to be part of it."
The O 9 also brought attention to Title IX which addressed other inequalities between the sexes. This landmark federal legislation passed in 1972, extended opportunities for women, not just in college sports, but also in academia.
"There were three reasons that we wanted to do this for future generations. Number 1, that any girl born in this world would have a place to compete. Number 2 that we would be appreciated for our accomplishments, not only our looks. And Number 3 that we would finally be able to make a living playing the sport that we were passionate about," said Billie Jean King, to rousing applause from fans in the stands.