Ones to Watch: Nic and Tristan Puehse
From skateboarding star twins to tennis' new kids on the block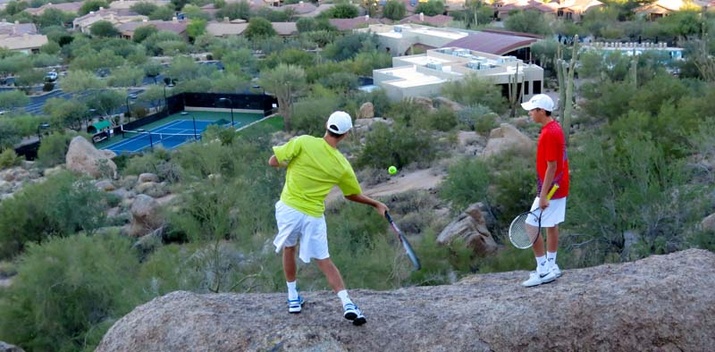 By the age of 12, Nic and Tristan Puehse had it all. The twin brothers, who currently reside in Carefree, Arizona, were being pinned as the future of skateboarding, and their talent had already provided them with international recognition and millions of fans.
"We began making skateboarding videos, and our dad started posting them on YouTube, which became very popular. Now have almost 14 million views," reflected Tristan, who is 23 minutes older than his fraternal twin brother. "This led to appearances on the Ellen DeGeneres Show, CNN, World Evening News with Katie Couric, Nightline, the New York Times and our feature film, Nic & Tristan Go Mega Dega."
The sizeable publicity the twins received opened many doors, including travelling the world and sponsorships with Nike and Gatorade.
For Nic and Tristan, skateboarding was always something they loved, so when they decided to give up the sport that had given them so much to start playing tennis, the decision was surprisingly simple.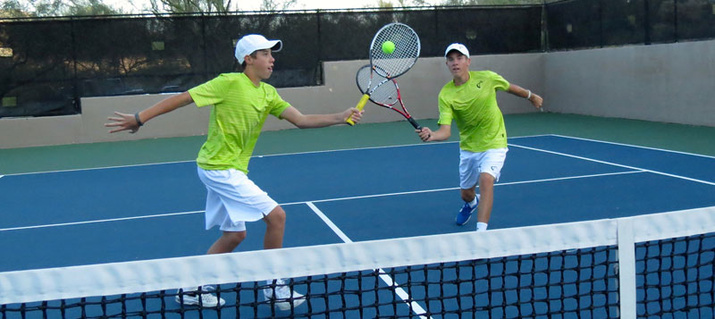 Twin telepathy kicked in nearly three years ago when Tristan asked Nic if he wanted to drop skateboarding to give tennis a chance. The two had previously only hit around tennis balls for fun in between filming, but Nic had the same thought and the two agreed to switch sports.
Tristan described how their initiation into tennis was just a trial process: "We agreed to try it out for six months. If we still loved it after six months, we would commit to it 100 percent. If we didn't, we'd go back to skateboarding. Needless to say, we fell in love with tennis."
After announcing their decision on YouTube, the twins received a mixed response from their fans. "It was more of a 50-50 reaction from our fans," Nic stated. "Half of them supported our decision, and the other half hated us for it."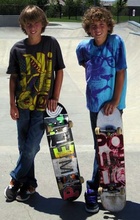 And do the brothers ever regret giving up skateboarding?
"Sometimes, when we are at a tournament grinding it out, we think of how we could be skating in the X-Games in Brazil or Germany," Nic continued. "The feelings of regret don't last long though, and we get excited to get into the next match."
Having begun their tennis training at the Van der Meer Tennis Academy at age 13, the brothers now train under their father and private coaches. And though the boys had essentially started from scratch with a new sport, they said they welcomed the new challenge.
"It definitely is interesting going from where we were in skateboarding to starting at the bottom of an entirely different sport," admitted Tristan. "For us, it's an awesome challenge. We feel good about our progression in these first three years."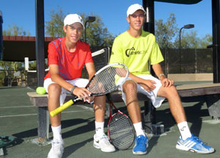 The twins have climbed into the top 25 in the Southwest region junior rankings and are looking to finish inside the top 100 nationally by the end of 2014. Though they have already met each other several times in tournament finals, one of their primary goals is more match play, as well as improving their footwork, strength and conditioning and their mental game.
Now at age 16, the brothers look to another set of tennis twins for inspiration: the Bryan brothers, whom they have met and are followed by on Twitter. "Our ultimate goal would be to play doubles professionally and win some Grand Slams" Nic said. "There are not too many careers out there where you can play alongside your brother and share in the success."
This article is from the Jan/Feb '14 - Maria Sharapova issue

SOLD OUT

Subscribe now and you'll never miss an issue!