Norrie Subdues Opelka To Clinch Delray Beach Open

Norrie subdues Opelka 7-6, 7-6 to clinch Delray Beach Open
While they reside on opposite sides of the pond, these two rising stars of the ATP tour have much in common. They are currently ranked one spot off their career-best and excel on hardcourts. This was their third meeting having split the previous two both at the Masters 1000 level (Paris & Cincinnati) and with the same winning score (6-3, 6-4).
The twenty-four-year-old American is full of confidence having won this third career title last week at the Dallas Open. Opelka, who lives in Palm Coast, Florida, won his second career title at the Delray Beach Open and was looking to add to his title haul. In addition to his title last week, Opelka reached the semis in Sydney (l. Murray) and the third round at the Australian Open (l. Shapovalov).
Norrie, who has represented Great Britain since 2013, won two titles last season including his maiden Masters 1000 title at Indian Wells. The twenty-six-year-old, who was born in South Africa and then relocated to New Zealand, struggled at the start of the season.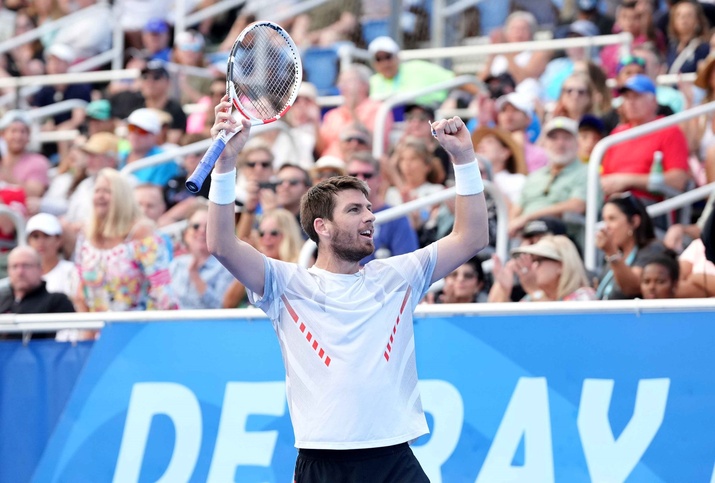 He was 0-3 at the ATP Cup and lost in straights to twenty-one-year-old American Seb Korda in the first round of the Australian Open. He found his groove, however, in Rotterdam where he dispatched Ugo Humbert and Karen Khachanov before losing 5-7, 6-7 in the quarters to eventual champion, Felix Auger-Aliassime.
It was lefty vs righty, #1 vs #2 seed with an ATP 250 title up for grabs. Opelka won the toss and elected to serve. The American struck two aces out wide on the last two points to hold at love for 1-0. Norrie opened with a huge serve up the tee and held to 15 for 1-1 when his opponent netted a backhand.
Opelka donated a double fault and faced break point but held for 2-1 with his third ace and a fantastic inside-out forehand. Although he missed 4/5 first serves, the Brit held to 15 to level at 2-2. The American opened with an ace and though he faced two deuce points, struck three additional aces, the last on game point for 3-2.
Norrie opened the sixth with a deft forehand drop volley and with his first ace, held at love for 3-3. Opelka faced a double break point as the errors accrued yet held for 4-3 with his ninth ace and a blistering backhand down the line.
Norrie, serving with new balls, held easily to 15 to level at 4-4 while Opelka, behind two winners, held to 15 for 5-4. Norrie, serving to stay in the set, struck his second ace and held to 15 for 5-5 with a monster serve out wide.
Opelka missed makeable shots and faced two deuce and break points but managed to hold for 6-5 with an ace up the tee and a well-struck crosscourt forehand. Norrie served to stay in the set and force the breaker. The world #13 leveled at six games apiece when his opponent's crosscourt backhand went wide.
Opelka served first in the breaker and lost the opening point when he butchered a forehand. The American would win only one point as the Brit quickly raced out to a 6-1 lead and converted his first set point when Opelka overcooked another forehand.
Opelka, clearly having difficulty serving in the tiebreak, took a medical time out after the conclusion of the first set. World #20 grimaced in pain while the trainer manipulated his right arm and at that point, it was unclear if he would be able to continue.
Norrie served first in the second and opened with an ace and with another out wide on a second serve, held easily to 15 when Opelka netted a backhand. The #2 seed opened with two consecutive errors but regrouped nicely striking three consecutive winners including an ace to level at 1-1.
The #1 seed opened with a brilliant backhand down the line and held at love with a massive serve out wide. Opelka returned the favor, blasting a backhand down the line to open the 4th and closed with an ace up the tee. Norrie missed 6/8 first serves including a double fault yet managed to hold for 3-2 with a spectacular forehand down the line.
Opelka held at love for 3-3 with three aces and an incredible inside-out forehand while Norrie held to 15 for 4-3. Opelka quickly faced 0-30 then a break point but battled and held with three consecutive aces!
Norrie maintained his composure as the set drew to a close. Although he committed two unforced errors, he struck three huge serves on the last three points including his 6th ace to lead 5-4.
Opelka, serving to stay in the match, hit three additional aces and held to 30 for 5-5. Norrie held his nerve and with his 7th ace, held at love for 6-5. Opelka once again served to stay in the match and force the tiebreak. Although he missed a backhand volley long, he struck his 23rd ace on game point to level at 6-6.
Norrie served first in the breaker and when he trailed 1-2, struck a remarkable overhead smash to level and reached double match point with a crisp backhand volley winner. The British #1 needed just one as he secured the match and trophy when Opelka overcooked a backhand.
Cameron Norrie was most impressive claiming his first title of the season. He struck 7 aces to 1 double fault, won 86% of first and 70% of second serve points, and did not face a break point. This victory should afford him a great deal of confidence as he attempts to defend his title at Indian Wells in two weeks.