Is Nick Kyrgios Turning Over A New Leaf?

With the tennis offseason being so short, it is never too early to start looking ahead to the following year. Storylines concerning players to watch will be popping up in the days to come, and one that has already arrived concerns the mercurial Nick Kyrgios. The Australian recently stated that he has been seeing a couple of psychologists to improve his mental health. One of his hopes in seeking therapy is that it will translate to greater success on court, but only time will tell if that hope comes to fruition.
No one doubts Kyrgios has the talent and the game to win a major. He has already made a few deep runs at the slams and dealt some stunning defeats to the sport's legends. He is a natural athlete who moves exceptionally well for his height. His serve – both first and second delivery – is a formidable weapon, he can give his opponents all kinds of different looks from the back of the court, has good feel and great improvisational skills. The issue for him has repeatedly been between the ears and the reason many consider him to be his own worst enemy.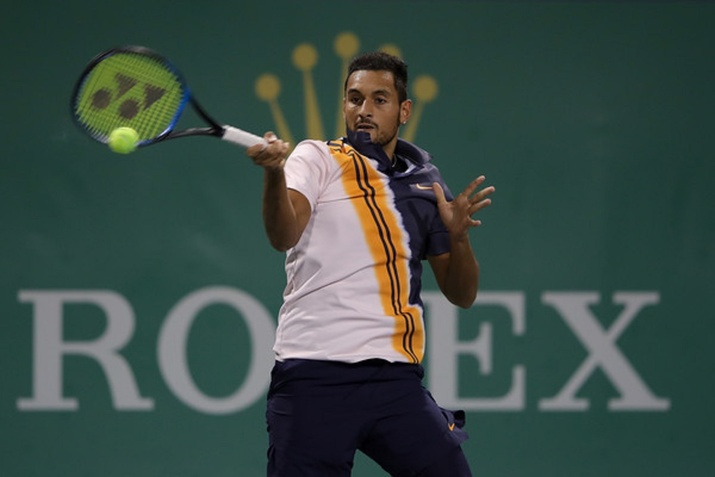 Kyrgios has made no apologies for blasé demeanor or tanking in the past. Nor has he kept it a secret that he does not love tennis. It has been evident on multiple occasions that he was not invested in the outcome of a match, which is why it hardly came as a shock when he copped to the fact that he found it difficult to really get up for those matches that were not against the big guns or the marquee match-ups on the schedule. But as any fan or most fellow professionals would tell him, none of that is an excuse for the kind of controversial behavior he has exhibited far too often is in his young career.
Kyrgios's words and decision to start seeing a couple of psychologists is certainly encouraging that he is coming to realizes exactly that. He has acknowledged that he has been blessed with a privilege to travel the globe playing tennis. There is also recognition of the fact that he has to be smarter about his scheduling, which should not only help him avoid the number of injuries that have plagued him of late but should also hopefully help him be more mentally engaged when he does opt to compete.
Of course, Kyrgios has to be committed to change in order for it to happen, though now might be the moment when he is finally ready to commit. He is no longer the young hot shot to watch. A younger Alexander Zverev has passed him in terms of both ranking and success at the Masters. With his win last week in Paris, Karen Khachanov has the attention of many, as does up-and-comer Stefanos Tsitsipas. Kyrgios is not even the top-ranked player in his home country, with that honor now belonging to the teenager Alex de Minaur. As a man who tends to thrive in the limelight, the fact that a number of other young guns are starting to overtake him could just be the catalyst he needs to start taking his career more seriously.
For his own sake, hopefully, this will evolve into a turning point for the better in the Australian's career. It is not the first time he has looked to be turning over a new leaf only to revert back to his bad habits, but fans should still look on his latest move with cautious optimism. After all, Andre Agassi is a man that never loved the game and endured a very public downward spiral only to rise up and become one of the sport's most beloved champions. Kyrgios may not be an Agassi, but there is no reason why with his talent he could not find a way to right the ship in a similar manner to maximize his potential and reach the heights so many believe him capable of. It should be interesting to see how he looks in the opening weeks of next season, and if they go well, then perhaps he will be right back in the mix to make for a very entertaining 2019.