Nick Kyrgios: A Precarious Place

The final major of 2019 may be in the books, but players are still aiming to put together one final push through the autumn in an effort to end their seasons on a high note with a look to the next. For Nick Kyrgios, how and when his 2019 ends and possibly when his 2020 begins may not be up to him. The mercurial Australian finds himself on thin ice as there is once again talk about a potential ban for Kyrgios.
Kyrgios is apt to be the first name that comes to the mind of many who are asked to name one of the bad boys of tennis. Even in the most mundane and routine of victories, he can often find a way to generate controversy. As a result, he has incurred numerous fines and served periods of probation. While these measures might be enough to change the behaviors of others, that does not seem to be the case with the Kyrgios. On the contrary, these efforts seemed to have amounted to little more than a slap on the wrist, and the proof can be seen by his behavior throughout this season.
During the spring clay swing, he actually tossed a chair across the court in disgust. When upset with what he deemed unsatisfactory officiating, he insinuated that, at least to some degree, the match was fixed and then lashed out at the umpire when he cautioned the Australian about going any further with that line of rhetoric. Fast forward to this summer. He actually appeared to potentially be back on the right path with a great week that culminated with a title in Washington DC only to completely implode a few weeks later in Cincinnati.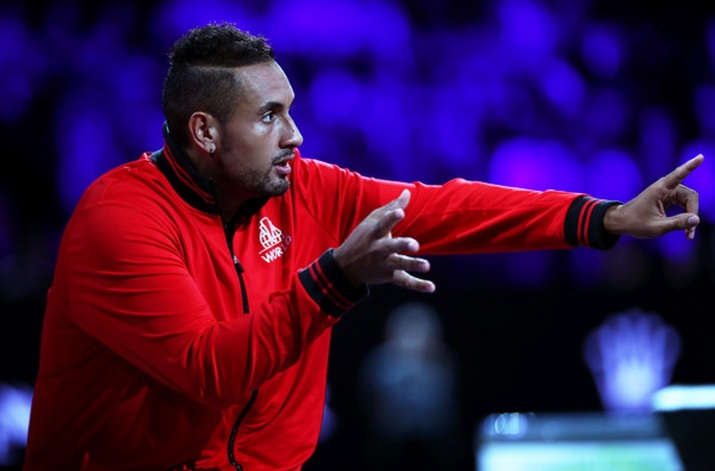 There in the Queen City, he proceeded to leave the court and smash rackets in the hallway, cross the line in arguing with the umpire, and then tanked the third set. His actions saw him hit with a record fine. When he arrived at the US Open and was asked about the fine he had received following his departure from Cincinnati, he suggested he was not really concerned with it given how "corrupt" the ATP is. It was that last statement that now has the ATP looking into whether or not to mete out a more serious punishment to Kyrgios.
Whether or not Kyrgios's statement of corruption – one that he has since tried to walk back – is the last straw remains to be seen, but it definitely should be. In a sport that has been cracking down hard on match fixing and the use of banned substances, the last thing it needs is one of its more recognizable players suggesting that there is corruption and possible fixing whenever he runs into something he does not like. Additionally, Kyrgios does not seem to comprehend just how poor his behavior can be. Although he has acknowledged some of his behavior has been unacceptable, his comments suggest he is treated unfairly compared to others who have engaged in intolerable antics. But the fact is, his behavior tends to cross a line and does so with greater frequency than others. Furthermore, based on his snide retort to Patrick Rafter when the Hall of Famer questioned why Kyrgios had not already been slapped with a ban, he seems to think the crowds he can generate is justification for being given a pass. He is not wrong in that crowds do turn out to see him play. He is an immense talent, who has no qualms about pulling out the kind of trick shots that are usually reserved for the practice court or exhibitions. And yes, undoubtedly there are plenty who come to see if they will witness one of his infamous temper tantrums. But at a certain point, allowing that kind of behavior to continue is detrimental. It shows his lack of respect for himself, his opponents, the fans, and the sport as a whole. No one player is bigger than the sport either. There are plenty of other talents able to fill a stadium without being an insufferable spoiled brat, and they can be found among the legends at the top as well as the next generation that is right there with him.
In short, Kyrgios needs tennis more than tennis needs him. The fines and probationary periods are not doing the trick, and if anything, he is only getting worse. He is acting like a petulant child, and the ATP would actually be acting like good parent if it were to impose a ban on Kyrgios. He needs an attitude adjustment, and since he is clearly incapable of doing it himself, the ATP should just bench him and do it for him. The constant talks over whether or not it's time to impose harsher penalties is getting old. It is time to fish or cut bait, and for benefit of all, it is time Kyrgios was told he currently belongs on the sidelines more than he does on the tennis court.