Nick Kyrgios: Enough is Enough

Thursday at the Italian Open was supposed to be a spectacular day of tennis, and for the most part, it was. Following a washout on Wednesday, all of the big names were guaranteed to be in action at least once with odds favoring, they would be taking to the court a second time later in the day. Yet for all of the great tennis on offer, the day is apt to be most remembered for the shenanigans of Nick Kyrgios. The mercurial Australian put on a substantial temper tantrum that ended with him being defaulted from the match and left many wondering what the extent of his punishment would be following this latest incident.
Kyrgios is no stranger to controversy. If anything, he seems to thrive on it. He has been known to tank matches, trade verbal jabs with spectators, get colorful with his language, and make crude remarks to his opponents. He is unlikely to have earned any new friends in the locker room either, as he ripped a number of his fellow competitors in a recent podcast, including Rafael Nadal and Novak Djokovic.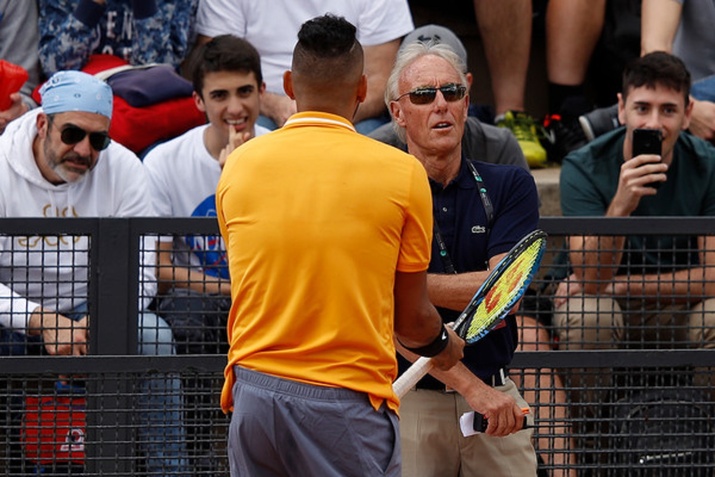 Not that the Australian is likely to be concerned about what other players think of him. He has made it clear he really does not care one way or the other for the opinions of others as far as his own game is concerned, whether they are other players or fans. He has flat out stated he did not feel any obligation to give everything in a match, as he did not ask the spectators to pay to watch him. While some have found this "bad-boy" attitude a breath of fresh air in today's game (at least in small doses), what occurred on Thursday really should be a tipping point for more drastic action to be taken.
For his actions on Thursday, Kyrgios will forfeit his prize money and ranking points. With all due respect to Roger Federer, who feels that punishment should be sufficient, an argument can and should be made that it is not. As noted, Kyrgios has a track record of poor behavior that has resulted in fines, probation, and even a short suspension. It is clear, however, that these punishments have not had a sufficient impact.
The lack of impact can be seen in Kyrgios's comments and his continued controversial behavior. For example, he may not have asked fans to come, but he needs to recognize he has chosen to be a professional tennis player. Those fans who turn out in person and tune in on television help in some way, shape, or form to fund the sport he is fortunate enough to play for a living. He should be putting forth a full effort when he plays a match. And while he is certainly entitled to his opinions and is free to speak his mind, that does not make him free from the consequences of those words. He is not the first player to be heckled, and he will hardly be the last. But his actions and words certainly invite fans to interact with him more than other players whether for better or for worse. And lastly, if his opponent in Thursday's match, Casper Ruud, is to be believed, there are a number of players sick of putting up with his behavior. That does not seem like a stretch based on the comments from others, including Nadal. It is one thing to put up with the quirks of an opponent, but it is something else entirely when facing an opponent who comes across as disrespecting you, the fans, and the sport in general.
It will be intriguing to see what additional action, if any, will be taken against Kyrgios and where he goes from here. But there is no question that something has to be done soon. His temper tantrum on Thursday went to a new level with him throwing a chair and ultimately getting defaulted from the match. He has a boatload of talent, and when he is firing on all cylinders and mentally engaged, he can be thrilling to watch. But no one player is bigger than the sport, particularly one who has underachieved and seems intent on squandering the opportunities his talent affords him like Kyrgios. Tennis does need him. There are plenty of legends still in the game and some promising young guns coming up the ranks, all of whom are dedicated to doing their best and representing the sport in the best light possible. Kyrgios should be forced to take some time to sit on the sidelines and determine if he wants to be a part of that group by living up to his potential and more consistently behaving in a professional manner. It is his prerogative whether or not he opts to go that route, but if it is the latter, administrators are going to have to take more drastic measures. Tennis deserves better than a juvenile Kyrgios.
(Photo Source: Adam Pretty/Getty Images Europe)