News & Views // Announcements, Gossip, Quotes & More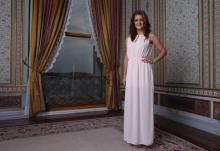 Big things come in small packages when you're referring to world No. 4 Agi Radwanska, the 5-foot-8, 116-pound Pole. She may be slight of frame, but she's a celebrity powerhouse, ranking first in Forbes list of most powerful Polish show business stars.
Andy Murray revealed he's been working with a sports psychologist to improve his mental game and focus; a new Andy Murray biography hit the shelves in Britain last November.
Caroline Wozniacki suggested that her increased promotional duties and off-court responsibilities contributed to her decline in the rankings. Some have whispered that dating Irish golfer Rory McIlroy added an element of distraction, as well, and may have contributed to falling from No. 1 to No. 10 in 2012.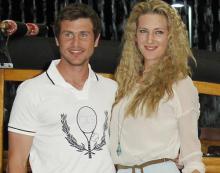 Sergei Bubka, Jr., the boyfriend of Victoria Azarenka, suffered multiple fractures after falling three stories from a Paris apartment November 2. Reportedly, he was locked inside a friend's bathroom; when he crawled out the window to escape, he fell. Bubka, who turns 26 on February 10, ended 2012 ranked 186 and is expected to recover from his injuries.
With over $4-million in career prize money, Gisela Dulko of Argentina retires from the tour at age 27. Dulko, who married Argentine footballer Fernando Gago in 2011, said a shift in priorities lead to her decision. She quits with four singles titles and 17 doubles titles to her name.
Roger Federer celebrated 300 weeks at No.1 last October. The ATP says "he has lost no more than 10 matches as World No. 1 in any single season except 2008."
Malia Obama & Tennis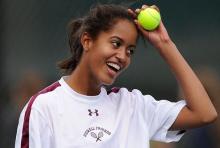 First Daughter Malia Obama, who is a lanky 5-foot-9, is a budding tennis star. The 14-year-old freshman at Sidwell Friends School in Washington, DC, plays position No. 1 on the varsity tennis team and has an excellent record. At one point, Malia allegedly tried to abandon the sport, but her mother refused to let her quit. First Lady Michelle Obama's told BabyCenter.com: "It's not about you being a good tennis player. It's about teaching yourself to do something hard and getting better at it. Because that's what life is."
Kim Clijsters will lend advice and mentorship to fellow Belgian Kirsten Flipkens, whose 2012 year-end ranking was No. 54. The two women, who have known each other 20 years, say they are like sisters.
Samantha Stosur posted a photo on her Facebook page showing that even though she was the No.1 seed at the Kremlin Cup, she wasn't given transportation and had to walk from the event to her hotel at 1am.
Max Mirnyi and his father opened a junior tennis school, Mirnyi Sport, in Belarus. Incidentally, Max scored 600 doubles wins recently and captured Gold at the 2012 Olympics in mixed with Victoria Azarenka. At 35, Mirnyi says his career on the tour is winding down.
Rowdy Bernie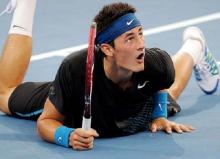 Australian Bernard Tomic is no stranger to the law. Earlier in 2012, he was fined $1,000  for driving infractions then vowed to be more careful. "I was young and immature and that's what you do at a young age. I've had my fun the last year or two, but I have to step up." But, more recently, during his October 21st birthday celebration where he turned 20, Tomic got into hot water when police were called to break up a fight between him and a friend. Former Australia Davis Cup captain Roger Rasheed publicly advised the promising player to take a break from tennis to find his head.
No USA man finished in the Top 10 last year, the first time an American man was absent in the history of the ATP rankings (39 years). Andy Roddick's absence is already being measured.
Federer Death Threats
An anonymous blogger made death threats to Roger Federer on a Chinese website before the Shanghai Masters tournament. A person using the name "Blue Cat Polytheistic Religion Founder 07" wrote, "On October 6, I plan to assassinate Federer for the purpose of tennis extermination," and posted a picture of a decapitated Federer kneeling on a tennis court.
In response, tournament director Yang Yibin contacted local police and upgraded security for Federer, as well as the other players. Meanwhile, Federer admitted to being a little distracted, but said it's the price of fame. The anonymous poster eventually apologized for the threat. "I'm terribly sorry. I was arguing with Federer fans and then I wrote something stupid… I hope that the organizers can understand me, forgive me, and if possible send my apologies to Federer and his family."
Musical Grunt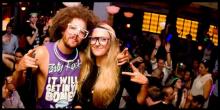 Redfoo, an American entertainer who became famous as half of the musical duo LMFAO, has struck up a friendship with World No. 1 Victoria Azarenka. Vika was asked to explain rumors that she is featured on his upcoming tracks.
"When you're going to hear the song featuring my voice you're going to laugh really hard, too. So I would love to keep it as a surprise," she said. Pressed for more details, she revealed that Redfoo is using her grunt in a song. "There you go. It's becoming more and more famous."
Under Scrutiny
Starting in 2013 for both the ATP World Tour and ATP Challenger Tour, a time violation between points (25 seconds) will be penalized in the first instance with a warning. For the second and all subsequent violations, the penalty will be a fault for the server and a point awarded to the receiver. Currently, the rule is a warning and then point penalty against the server and in favor of the receiver.
The ATP Board also approved a three-month trial elimination of the service let on the ATP Challenger Tour. The change is expected to improve the flow of the match.
Djokovic's Regret
Novak Djokovic has earned his spot at the top of tennis, but he also wants to be head of the class, saying he regrets not attending university. "I really like the idea of educating yourself and being a part of a group of students."
The World No.1 didn't have a traditional educational experience as a child, but did have the opportunity to learn several languages. "The good thing about the Serbian school system is you need to have two languages in your primary school. English is the obligatory one, then the second one you can choose. I had German. It was worth it because I was living in Germany. And English, everybody speaks more or less in Serbia."
Prized Possessions
Venus Williams captured a victory over Monica Niculescu in Luxembourg, ending a 32-month tournament victory dry spell. The October win gave Venus her 44th WTA title. "My main goal coming here was to make the top 32 and be seeded going into the Australian Open. But wherever I end up, it's just very rewarding to win here after facing a lot of challenges." Venus was diagnosed with Sjogrens Syndrome in 2011, an immune system disorder where its two most common symptoms are dry eyes and mouth. Incidentally, the 32-year-old finished last season ranked No. 24. And also if you couldn't guess, aside from her recent trophy, the American's other prized possession is her 5-year-old Havanese, Harold.
Maria's Story
Maria Sharapova says she loves to write and would consider penning an autobiography. She says her journal entries from childhood would come in handy. "I can't wait to have the time to really put the effort into really writing something about my life. I think there is just a lot of things that maybe my fans and people that have not exactly known about the way I grew up and the way I came to be a player and so and so.
Ferrer Nickname
"I'm not a big fan of 'warrior' or 'gladiator'. I think they're a bit simplistic and not really my style. However, I do like 'Ferru,' it's a mix of my name and the word for 'iron' in Spanish. It means I'm resistant," he told the ATP.
Relationships
MATRIMONY
Robby Ginepri wed girlfriend Josephine Stafford September 29 in Atlanta. In attendance were friends and fellow players, including James Blake, Bobby Reynolds and Ryan Sweeting. // James Blake wed longtime gal pal publicist Emily Snider November 14 in Del Mar, California. Guests included Andy Roddick, Mardy Fish, John Isner and Sam Querrey. The couple have a five month old daughter, Riley Elizabeth. // Mike Bryan of the world No. 1 Bryan Brothers double team, tied the knot with Brit Lucille Williams November 25, 2012.
BABIES
Robin Soderling, who didn't play in 2012 due to illness, announced October 12 that his wife Jenni Moström had given birth to daughter Olivia.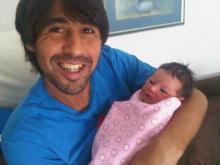 Marcos Baghdatis was in the locker room on October 20 when he received a call that his wife, WTA player Karolina Sprem, was in labor – a week early! He left the event and took a flight from Stockholm to Croatia to meet his new daughter Zahara, Greek for "sweet."
COACHES
Gilles Simon parted with his coach of six years, Thierry Tulasne, and will compete without a permanent coach until further notice. // Ryan Harrison splits with coach Grant Doyle while Christina McHale leaves USTA Player Development coaching to reunite with coach Gordon Uehling; Alexandr Dolgopolov splits with coach, Jack Reader.
IN MEMORY
Margaret Osborne duPont, 94, the winner of more than 30 Grand Slam singles and doubles titles that spanned three decades, died October 24. // Mary Laver, 84, the wife of tennis great Rod Laver, died November 12 after a long-term illness. The couple was married 46 years.
Money Matters
Ellison's Offer Nixed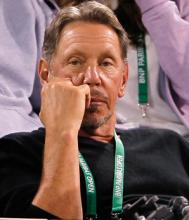 How do you figure, the ATP Board of Directors actually turned down an offer from Larry Ellison, the owner of the BNP Paribas Open, to increase prize money by $800,000  in Indian Wells? Roger Federer said he was surprised with the news and will investigate matters. The ATP explains that the event is proposing a distribution not in line with the ATP rules. Currently enforced is a distribution model designed to protect the middle-ranked players' share of prize money, and more evenly distribute prize money throughout every round.
More Moola Down Under
The Australian Open will increase prize money about 15 percent (4.15 million), the largest increase in the history of the sport. ATP players had threatened to boycott the AO in 2013 if prize money demands were not met. Players are reported to be pleased with the new spike in income.
Farewell Los Angeles
The longest-running annual pro sporting event in Los Angeles, the Farmers Classic, has come to an end. Played every year since 1927, and held on the campus of UCLA since 1984, the event attracted celebrity spectators such as William Shatner and Sharon Stone. Despite its glamorous location and perfect weather, the LA Open struggled to sell tickets. The tournament reported significant losses after it stopped offering appearance fees in 2011 and a player field was decimated by the 2012 Olympics. Reportedly, the event is moving to Bogota, Colombia.
This article is from the Jan/Feb 2013 issue

SOLD OUT

Subscribe now and you'll never miss an issue!