Newport Beach Showcases The Past, Present, And Future

The past, present, and future of tennis were on display at the Oracle Challenger Series in Newport Beach last week. Some players chased the sun straight from summer in Melbourne to the warm winter of Southern California: Bianca Andreescu, Taylor Fritz, Genie Bouchard, and Mackenzie McDonald, for example. Players both known and unknown had a chance to earn some ranking points and nab some prize money, with over $160,000  up for grabs in both the men's and women's draws. Also on hand for a special one-night event were four popular legends of the game: Andy Roddick, James Blake, Tommy Haas, and Mardy Fish.
In the women's final, eighteen-year-old Andreescu recovered from the slow start of a dreaded bagel to finish with a 0-6, 6-4, 6-2 victory. As a result, she jumped 38 spots in the WTA rankings to a career-high No.68 and replaced Bouchard as Canada's No.1 female player. American Fritz, age 21, defended his 2018 Newport Beach title and rose 10 spots to a career-high No.40 in the ATP rankings.
The Oracle Challenger Series, also dubbed The Road to Indian Wells, began in late 2017 as a way to promote US player development. The top two American female and male point earners from the series receive wildcards into the main draw of the BNP Paribas Open in Indian Wells - a pretty alluring reward for up-and-coming players.
"Tennis players in the United States need more chances to compete at home and more chances to earn a living from the sport. These events are designed to provide opportunities for players to make meaningful gains in both prize money and ranking points on their home soil," Oracle CEO and dedicated tennis fan Mark Hurd told Tennis View.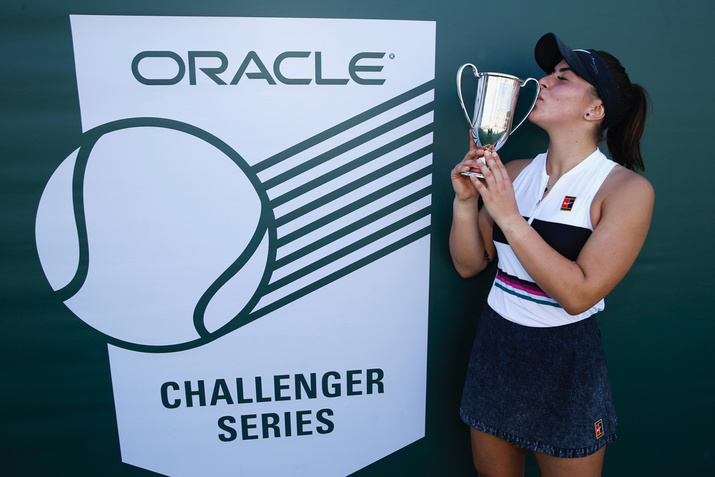 Mardy Fish, former ATP World No.7 and newly appointed Davis Cup captain, agreed with the value of showcasing the sport in the United States: "These are big events in the challenger series, and anytime you can get these in the States it's great for tennis as well."
The joint ATP Challenger Tour/WTA 125K Series events, also held in Chicago and Houston last year and later this year in Indian Wells, are free for spectators. Hurd spoke previously about why he found it important not to charge for tickets to the Oracle Challenger Series, saying, "We're trying to give more people exposure to American players and give more American players the opportunity to play in front of fans. We also hope this will inspire kids and their parents to look at the sport. We want to increase the accessibility of tennis to as many people as possible."
The Road to Indian Wells leaderboard currently has Lauren Davis, Jessica Pegula (2019 Newport Beach runner-up), and Sachia Vickery in the top three spots on the women's side. For the men, Taylor Fritz and Bradley Klahn are tied for the top spot, but both have already secured direct entry into Indian Wells; after them are Reilly Opelka and Roy Smith (tied), followed by Donald Young. The Indian Wells event, which starts February 25, will determine the wildcard recipients.
Tommy Haas, former ATP World No. 2 and current Tournament Director for the BNP Paribas Open, told Tennis View how much he likes this method of selecting the wildcards: "Now you can actually have it in your own hands if you play in these series challengers and accumulate enough points to get straight into the main draw, which is absolutely fantastic. What Oracle is doing is phenomenal." Andy Roddick agreed, saying, "I'm always a fan of people playing for their spot."
James Blake, for ATP World No. 4, emphasized how impactful the Series can be the players who earn wildcards into Indian Wells: "If they get into that event and they make a little noise, win a few matches there, that's going to make their entire year and could really jump start their career. It's a big opportunity for them."
This year's Australian Open offered early evidence of the Oracle Challenger Series' success as American Danielle Collins, last year's Newport Beach women's champ and one of the 2018 wildcard recipients into Indian Wells, made a stirring run to the semifinals. Taylor Fritz, who also won the men's title in Newport Beach last year, advanced to the R32 in Melbourne before falling to Roger Federer.
Although no American man has won a grand slam singles title since Andy Roddick at the 2003 US Open, Frances Tiafoe's impressive performance to get to the quarterfinals at the Australian Open offered a glimmer of hope for the future of US men's tennis. James Blake said that he's excited about the current crop of young players, specifically mentioning Frances Tiafoe, Taylor Fritz, Reilly Opelka, and Bjorn Fratangelo. "As much as it seemed easy, I feel like tennis fans here in the States got a little spoiled with the Sampras, Agassi, Chang, Courier era. There's a lot of guys who have a chance to do well. And they're starting to succeed," Blake said. "It's just taking a little longer these days, I think because of the physicality of the game, so it takes longer for guys to grow into their bodies. I'm excited about the possibilities. Seeing how well Frances and Taylor played down there in Australia, I think these guys are really getting close to being ready to make the next big step."
Andy Roddick told Tennis View that he thinks the dominance of the Big Four has played some role in the lack of US men winning grand slam singles titles. "I think there haven't been a lot of majors to go around outside of the guys that have been there. I kind of choose optimism and I think we actually have some good young players who have had a recent result in Australia not too long ago, so I think that should probably deserve more of the focus as opposed to looking in the rearview," he said, adding, "I just hope these guys want to continue to improve. I hope they treat it like a job, where when they wake up in the morning, they have a goal that they want to get better every day."
Even as they talk about their excitement for the future of tennis, these retired pros still sell out tickets when they face off against each other. The night before the Newport Beach Oracle Challenger Series finals, fans packed the seats of the Newport Beach Tennis Club for the Oracle Champions Cup, a special Invesco QQQ series event.
In the first match, Tommy Haas didn't miss a step as he made quick work of Mardy Fish in a 6-2 win, racing out to a 3-0 leave with an early break, then breaking Fish again to clinch the set.
In the next match, Andy Roddick defeated James Blake 6-3. Blake's daughters, ages 6 and 4, were waiting to in the stands to give him a hug as he left the court. Earlier in the day, Blake had talked to Tennis View about how his focus has shifted to his kids: "They keep me on my toes, and every little stage they go through is a new challenge, a new perspective, something I can learn from. I'm always trying to get better and improve at everything I do, even more so in being a parent, because to me it's the most important job I've ever had."
Haas and Roddick faced off in the final, and while Andy always wins the battle of wits with plenty of sarcastic jokes throughout his matches, Tommy pulled out a 7-6 victory on the court. After the match, Haas said, "I got off to a good start, somehow broke Andy's serve quite early. Ended up being in a tie break all of a sudden. I had a few match points at 6-5, but he served his way out of it. I stayed calm and stayed focused and was able to finish it off today."