Nakashima Defeats Dimitrov In Straight Sets In New York

Nakashima defeats Dimitrov 7-6, 7-5, 6-3 to reach US Open 3rd round
Dimitrov, the former world #3 and 17th seed, led the head-to-head 1-0 having defeated the American in straights on the dirt in Rome this past May. The thirty-one-year-old Bulgarian was hoping for another deep run having reached the semis in 2019 but faltered the past two years in the second.
Brandon Nakashima, the twenty-one-year-old from California, is currently ranked #69 but reached a career-high of #49 this past July. Today on Court 17 however, in the blazing midday sun, he competed like a top-twenty player.
Dimitrov won the toss and chose to serve. He made 3/6 first serves and hit two groundstroke winners to hold at 30 for 1-0. Nakashima committed three unforced errors and faced break point but with three massive serves – two at 121mph – held to level.
Dimitrov with fluid strokes and a powerful serve, opened the third with two consecutive aces – the first at 132mph – and held to 15 for 2-1 with a blistering crosscourt backhand. Nakashima missed 5/10 first serves and donated three unforced errors but with two winners including his first ace, held for 2-2.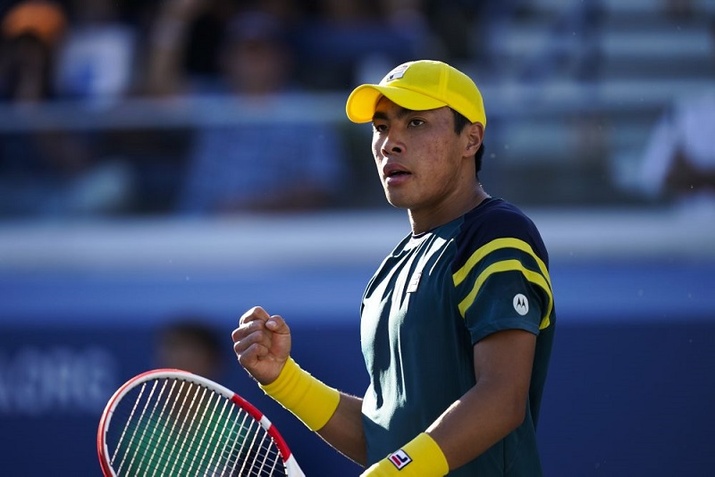 (AP Photo/Julia Nikhinson)
Dimitrov opened the 5th with a 126mph ace up the tee and despite gifting a double fault, held to 15 for 3-2 with a brilliant backhand down the line while Nakashima seemed to settle in as he held at love for 3-3 with an ace out wide.
Dimitrov opened with an unforced error but with a splendid crosscourt forehand winner and a 114mph serve out wide, held to 15 for 4-3. The American, serving with new balls, opened with a huge ace up the tee but following three consecutive backhand errors, faced break point yet held with two consecutive well-struck serves. After battling to hold for 4-4, the crowd began chanting "USA" up until Dimitrov stepped to line the serve.
Dimitrov responded well, holding at love for 5-4 while Nakashima upped the ante, holding at love with a 127mph ace up the tee and a deft crosscourt forehand swing volley on the last two points.
Dimitrov made it a hat-trick holding at love for 6-5 with a marvelous backhand down the line pass. Nakashima once again served to stay in the set. He opened the 12th with a crisp crosscourt forehand and a 120mph ace up the tee for 30-0 and held to 30 to force the tiebreak.
Dimitrov served first in the breaker and gifted his opponent with a netted forehand. Nakashima led 3-1 but after four unforced errors, was level at 5-5. Dimitrov's serve went m. i. a. as he donated three consecutive double faults to lose the breaker 5-7.
Nakashima served first in the second and held at love for 1-0 with an ace up the tee. Dimitrov hit a sweet crosscourt backhand swing volley and held to 15 for 1-1 with an ace out wide. Nakashima made 3/5 first serves and held easily to 15 while Dimitrov, serving with new balls, hit aces on the first two points and held to 30 for 2-2. Nakashima overcooked a lob, netted a makeable forehand, and faced break point and deuce but held for 3-2 with a 122mph ace out wide and a fantastic forehand inside-in.
Although Dimitrov made 7/12 first serves, he committed three unforced errors and faced two deuce and two break points yet held. Nakashima held easily to 15 for 4-3 while Dimitrov once again struggled to hold missing 9/12 first serves including another double fault. Despite facing two deuce and a break point, he held for 4-4 when his opponent netted a forehand.
Nakashima pummeled a forehand inside-in off the return to reach 40-0 and then held for 5-4 when his opponent went wide with the forehand. Dimitrov opened the 10th with an error but held to 15 to level at 5-5 with a monster serve and crosscourt forehand.
Nakashima continued to cruise on serve and apply the pressure as he once again held at love to lead 6-5. Dimitrov, serving to force the tiebreak, dumped serve following a slew of errors and a colossal backhand down the line from Nakashima to secure the set 7-5.
The American opened the third with new balls and though he faced a break point, held with a 126mph ace up the tee and an unreturnable on game point. Dimitrov remained calm despite losing the first two sets. He opened with a wonderful backhand volley winner and held at love for 1-1 when his opponent mishit a forehand.
Nakashima made 4/5 first serves and held comfortably to 15 for 2-1 while Dimitrov struggled, facing two deuce and three break points yet held with aces on the last two points.
Nakashima opened the fifth with a spectacular inside-out forehand and held at love for 3-2 with a 115mph ace up the tee. The Bulgarian hit a 130mph ace up the tee and another out wide, but it was all for naught as he donated three unforced errors to drop serve.
Nakashima with the crowd firmly behind him, struck two additional aces, the last at 122mph on game point for a commanding 5-2 lead. Dimitrov, serving to stay in the match, showed his competitive spirit striking a 126mph ace up the tee and held at love for 3-5.
The young American demonstrated incredible poise and resolve throughout the match. Serving for a spot in the third round, he stepped to the line and quickly reached 40-0, triple match point and clinched the game and match when he ripped an inside-in forehand off the return.
After 2 hours and 24 minutes at his home slam, Brandon Nakashima reached the third round at the US Open for the first time. He was so impressive on serve and return despite the velocity and placement of his opponent. While they both finished with 12 aces, Dimitrov gifted five double faults.
Nakashima won an impressive 80% of first and 61% of second serve points and saved all five break points he faced. He won 22% of first serve return and close to 50% of second serve return points.
Awaiting in the third round is the 11th seed, Jannik Sinner. The 21-year-old Italian made the quarterfinals at the Australian Open and Wimbledon and the 4th round at the French this season. This will be their first tour-level meeting and one to watch.