Nadal Escapes To Reach Australian Open 2nd Round

Nadal escapes 7-5, 2-6, 6-4, 6-1 to reach second round at Australian Open
While Rafa Nadal may have the most grand slam titles with twenty-two, he has more than a title to defend down under having lost six of his past seven matches. The aura of the former world #1 and two-time Australian Open champion may have dimmed a bit since his fourth-round loss to Frances Tiafoe at the US Open. He has endured an inauspicious start to the season having lost both matches (Norrie & de Minaur) at the inaugural United Cup.
Jack Draper, the twenty-one-year-old lefty from Briton, has continued his rapid ascent up the rankings following a standout 2022 season during which he scored notable wins over then world #5 Stefanos Tsitsipas and then world #8 Felix Auger Aliassime.
Last week he reached the fourth round at Adelaide 1 losing to world #20 Karen Khachanov and just two days ago at Adelaide 2, lost in the semis in three tight sets to eventual champion, Soon-woo Kwon. He began last season ranked #265 and is currently at a career high of 38!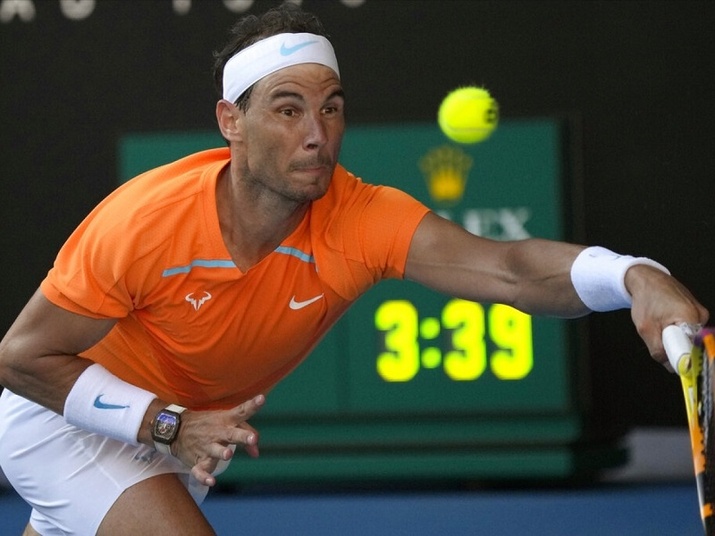 Photo: AP
This was their first tour level meeting. Draper won the toss but elected to receive. At just shy of 3pm on Rod Laver Arena, the defending champion stepped to the line and with an ace up the tee, held at love.
Draper opened with two well-struck serves including an ace and held easily to 15 to level. Nadal made 3/4 first serves and once again held at love. The 2022 NextGen ATP semifinalist won a serve and volley point to reach game point and secured the game with another ace.
The 2-time Australian Open champion made 4/5 first serves including an ace out wide on game point to lead 3-2. Draper an efficient mover at 6'4, crushed a forehand down the line off a deep return and held to 15 to level when Nadal netted a forehand.
Nadal held to 15 for 4-3 despite donating a double fault while Draper serving with new balls, struck two additional aces but faced break point when he netted a makeable backhand. The Brit reached game point following two mishit forehands from Nadal and held for 4-4 with a fantastic inside-out forehand.
Nadal opened the 9th with a spectacular forehand down the line and with his third ace, held at love for the third time. Draper serving to stay in the set, showed grit and guile hitting two additional aces, the last on game point to level.
The #1 seed committed two backhand errors and faced deuce but held for 6-5 when his opponent butchered two makeable forehands. Draper once again served to stay in the set but capitulated with another poorly executed drop shot.
Nadal served first in the second and dumped serve following four uncharacteristic forehand errors and a crisp crosscourt forehand volley winner from Draper to convert. The Brit demonstrated he was not intimated by the legendary Spaniard as he held to love to consolidate the break.
After another brief rain delay, Nadal opened the third with a netted forehand and dropped serve following a brilliant inside-in backhand from Draper. The NextGen phenom continued his assault striking an exquisite lob, forehand volley winner and his 7th ace to consolidate the break for a commanding 4-0 lead.
Nadal serving with new balls continued to struggle with his timing and court position. Following three consecutive unforced errors, the defending champ faced two break points yet held as he upped the velocity on his groundstrokes.
Draper did well to not dwell on those missed opportunities as he held easily to 15 for 5-1. Nadal serving to stay in the set, opened with an overhead smash and with a forehand winner and well-placed serve up the tee, held for 2-5. The Brit's serve served him well as he made 4/5 first serves including his 8th ace to seal the set 6-2.
Nadal served first in the third and with a backhand down the line and overhead smash, held to love for 1-0 while Draper held easily to 15 with an ace out wide on game point. The former world #1 opened the third with this third double fault and held to 30 for 2-1 following two mishit forehands from Draper.
Draper unquestionably suffering from intermittent leg cramps, missed 7/12 first serves including two double faults, the last while facing a fourth break point.
Draper was seen by the trainer during the changeover and it was revealed by the ESPN commentator that he had suffered with the flu for three weeks prior to his arrival in Australia. Having never contested a best of five match, it was unclear if Draper would continue.
Nadal 15 years older at thirty-six, gifted two unforced errors but with an overhead smash consolidated the break for 4-1. Draper missed 5/5 first serves yet held for 2-4 with two stunning winners off the ground. Nadal hit his fourth ace but with the unforced errors continuing to accrue, dumped serve when he mishit another forehand.
Draper with an ace out wide and a remarkable crosscourt backhand, consolidated the break to level at 4-4. Nadal opened the 9th with an extraordinary forehand down the line and following two consecutive errors from his opponent, held for 5-4.
During the changeover Draper saw the trainer for the third time. Serving to stay in the set, the young Brit struck his 11th ace and two volley winners but it was all for naught as he faced two set points and surrendered the set when he overcooked a backhand.
Nadal served first in the fourth and while he raced to a 40-15 lead, faced three break points following four unforced errors and dumped serve when Draper pummeled the backhand pass. Draper opened with an ace and followed with his third double fault. He faced two break points after another ill-timed, poorly executed drop shot and gave back the break with an errant forehand.
Nadal missed 3/4 first serves yet held to love for 2-1. Draper struck his 12th ace but once again struggled with cramps. Following an extended and enthralling rally won by Nadal to earn break point, Draper received a time violation for delay of game. The Brit fatigued and frustrated, missed the first serve and with a weak second, dumped serve with a mishit forehand.
Nadal smelling blood, struck three consecutive winners including two aces the last on game point to consolidate the break at love for 4-1. Draper not thinking clearly, once again employed the drop shot and once again paid the price; Nadal ripped a forehand down the line to earn break point and converted when Draper overcooked a forehand.
After close to 3 ¾ hours, the 22-time grand slam champion served for the match and though he faced two deuce and two break points, crossed the finish line when Draper shanked another forehand.
Draper despite the physical limitations he withstood, acquitted himself admirably in his first best of five contest. He served incredibly well striking 13 aces to just 3 double faults and won 63% of first and 56% of second serve points and converted 4/11 break points.
The Brit must improve his fitness, court positioning and shot selection in order to reach the upper echelons of the sport. Fortunately, at just twenty-one, he has ample time to make the requisite adjustments.
Nadal won 73% of first and 51% of second serve points while converting 6/12 break points. Customarily lethal on second serve return points, the Spaniard converted less (44% to 49%) than his opponent. While Draper's future looks exceedingly bright, sunny skies for Nadal are far from guaranteed.
He will need to drastically minimize the unforced errors if hopes to progress to the third round. Waiting in round two is Mackie McDonald who dispatched an in-form Brandon Nakashima in an all-American five set duel.