Nadal Continues To Roll In New York

Rafa Nadal has remained healthy and prolific this year claiming his 12th title on the terre battue at Roland Garros in addition to 2 Masters 100 events and has a win/loss record of 43-6. This 4th round match marked their 9th meeting on the ATP Tour, eight of which have been contested on hardcourts. The world #2 led their head to head 6-2 having last played a year ago in the quarters at the Rogers Cup going the distance; Nadal, after dropping the first set prevailed 2-6, 6-4, 6-4.
The same cannot be said for his opponent, Marin Cilic, who saw his ranking plummet from a career high #3 just 18 months ago to his current ranking of #23. The 6'6 Croatian, barely over .500 for the season, won his lone slam 5 years ago at the US Open and made 2 additional grand slam finals in recent years but has not won a title since June 2018.
The 33-year-old Spaniard has won this title three times, the last in 2017. Cilic, who will turn thirty-one at the end of the month, has not reached the final eight since 2015. Last evening in a packed Ashe Stadium, Nadal required close to three hours and four sets to subdue the 2014 US Open champion.
Nadal served first and despite missing 3/5 first serves and donating a double fault, held to 15. Cilic served big right out the gates, including an ace out wide and held at love for 1-1. Nadal struck his first ace of the match in the following game and held easily to 15.
Cilic came under pressure in the fourth game opening with a double fault and dropped serve following 3 unforced errors off the ground on consecutive points. Nadal, serving at 3-1, opened with a double fault and though he struck an ace on the next point, gave back the break following 2 unforced errors and a fantastic forehand down the line from Cilic.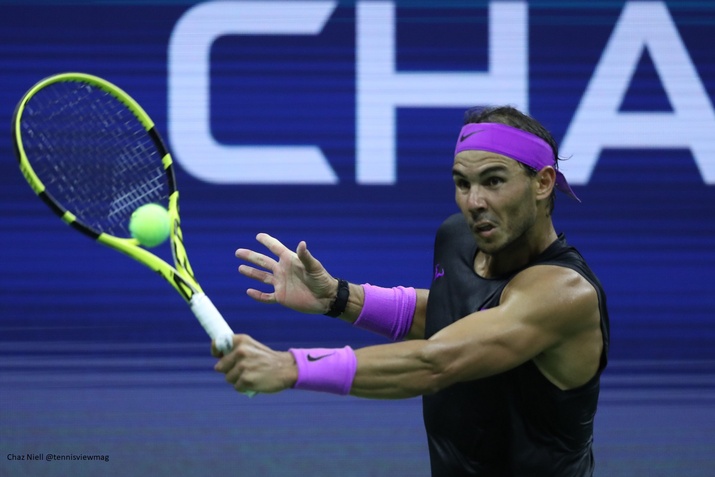 Cilic was unable to consolidate the break as he overcooked the forehand and netted a volley. Nadal serving up a break at 4-2, served another ace and double fault yet managed to hold to 30 with a good serve out wide.
Cilic, serving to stay in the set at 2-5, hit 2 aces, one on game point and held to 15. Nadal served for the set and while he continued to miss on the first serve, held to 15 to close it out 6-3.
Cilic attempted to stay loose while Nadal left the court following the end of the first set. Cilic served first and held to 30. The 18-time grand slam champion continued to have issues with the serve but held to 30. Cilic began to find his range off the ground, striking his forehand and backhand with authority and held to 15 with his 4th ace to lead 2-1.
Much to Nadal's dismay, his opponent at 6'6 had little difficulty hitting balls at shoulder height. Cilic earned double break point as he unloaded on the forehand, drawing errors from Nadal. The Spaniard's mood continued to deteriorate as he was issued a time violation and dropped serve as the unforced errors continued to accumulate.
Cilic, serving at 3-1, consolidated the break as he continued to rip the forehand both inside-in and inside-out and serve big.
Nadal, renowned for his tenacity and confidence, buckled down and held to 15 with a formidable forehand down the line winner and two aces.
What was conceivably the best point of the match, two heavy hitters in an extended crosscourt rally, punctuated by a brilliant forehand half-volley winner from Cilic who went on to hold for 5-2 with another ace out wide.
Nadal, serving to stay in the set, held to 15 with an outstanding inside-in forehand winner, forcing Cilic to serve it out. The Croatian was up for the challenge, earning double set point as he continued to hit freely, painting the lines and corners and secured the set when Nadal's return went wide.
Nadal, determined to make a statement as he opened the third set, did just that by holding to love. His opponent did not get off as easily, struggling to hold despite leading 40-15. Although he faced 3 deuce and break points, Cilic held with and ace on game point.
Nadal continued the pattern of serving a double fault and an ace and held to 15 for 2-1. Cilic, not as fortunate, faced triple break point and dropped serve when he threw in a double fault.
Nadal, serving at 3-1 held to 30 as his opponent continued to miss off the ground. Cilic, down 1-4, faced break point following another double fault and dropped serve when Nadal struck an incredible forehand down the line winner.
The Spaniard smacked an extraordinary forehand down the line, two aces and an unreturnable on game point to close out the set 6-1. He made significant progress on Cilic's serve by moving closer to the baseline on second serve points, robbing his opponent of time and options.
The Croatian served first in the 4th and quickly faced double break point despite opening with an ace and dropped serve with another double fault. Nadal, weathering the theme of the evening, opened with an ace and despite donating another double fault, held to 30 for 2-0.
Cilic, desperate to reassert himself, continued to miss off the ground and was broken when his backhand found the net. The world #2, serving at 3-0, went down 0-30 following some heavy hitting from Cilic including an amazing crosscourt backhand winner. The Croatian continued to apply the pressure earning a break point when Nadal netted a slice backhand.
Nadal held for 4-0 with a backhand down the line and an ace on game point. Cilic, hoping to avoid the bagel, labored to reach game point as he double faulted, faced four deuce and one break point yet managed to hold when Nadal whiffed a backhand on game point.
During this protracted game, Cilic employed the serve and volley and won the point. Had he utilized that tactic more frequently throughout the match given Nadal's deep return position, the outcome might have been different.
Nadal up 4-1, held to 15 serving big and dominating with the forehand. Cilic, serving to stay in the match struck his 10th ace and a remarkable forehand down the line to hold for 2-5.
Nadal serving for the match, threw in another double fault and as in previous games, another ace. A point surely to make the highlight reel, an astounding stab, crosscourt backhand volley from Cilic came roaring back as Nadal tracked it down and drove the forehand winner around the net post for match point.
The crowd erupted into cheers and applause, urging the Spaniard to cross the finish line. With a good serve and a crosscourt forehand winner, Nadal closed out the game, set and match to reach the quarterfinals for the 9th time in his distinguished career.
A win is always a win but Rafa Nadal undoubtedly is not thoroughly satisfied with this performance. He may have finished with more aces than Cilic, but he also donated more double faults. He produced 26 unforced errors to 38 winners though he was highly proficient at the net, winning 7/8 points.
Normally a powerhouse on percentage of 2nd serve points and receiving points won, he fell below 50% on both metrics. This will not suffice against his next opponent, the #20 seed, Diego Schwartzman, renowned for his returning prowess. The 27-year-old Argentine, having never reached a grand slam quarterfinal, will be highly motivated to keep the ball rolling.