Nadal Battles Into Mexican Open Final

Rafa Nadal defeats Grigor Dimitrov 6-3, 6-2 to reach final at the Mexican Open
Rafa Nadal, the world #2, is competing in his first tournament since losing to Dominic Thiem in five sets in the quarters at the Australian Open. His opponent, Grigor Dimitrov, currently ranked #20, was hoping to continue his upward trajectory following an impressive semifinal run at the 2019 US Open.
Nadal had not dropped a set en route to this semifinal encounter and led their head to head 12-1. Dimitrov's sole victory was 3 ½ years ago on an outdoor hardcourt in Beijing.
Rafa Nadal's straight sets victory was anything but straight forward. The thirty-three-year-old Spaniard donated three double faults – one when serving for the match – and faced six break points during this entertaining semifinal.
Nadal served first and held to 15 for 1-0. Dimitrov, returned the favor, holding to 15 with an ace down the middle. Nadal faced triple break point following two unforced errors and dropped serve when he double faulted.
Although the 28-year-old Bulgarian was moving with urgency and purpose, he was unable to consolidate the break as Nadal unleashed on the forehand while his own found the net.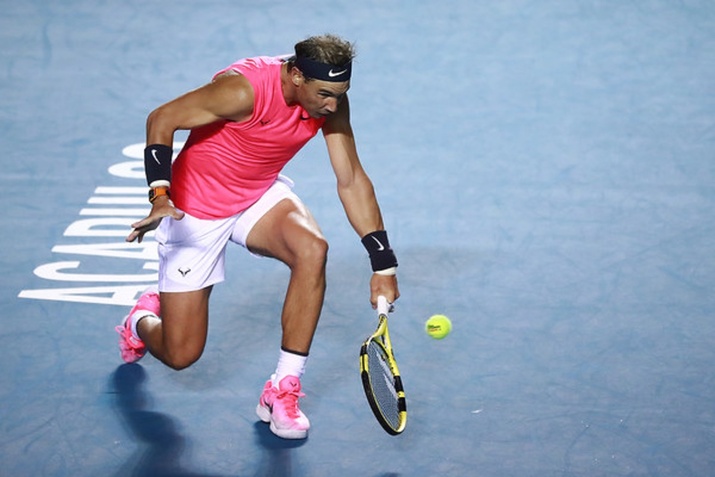 Nadal held to 30 for 3-2 following an ace and a backhand down the line pass on consecutive points. Dimitrov faced two deuce points and a break point when his forehand went wide and dropped serve when his backhand found the net.
The 19-time grand slam champion, serving up a break at 4-2 went down 15-30 following a superb crosscourt backhand volley winner from Dimitrov. The Spaniard's troubles continued to mount as he faced four deuce and three break points but managed to hold with a well-placed serve and a forehand down the line winner.
Dimitrov, serving down 2-5 and with new balls, regrouped nicely as he held to love for the first time in the set, dictating with the forehand and an ace down the middle. While Nadal's backhand often missed the mark and fell short, he closed out the set with a monstrous forehand winner down the line.
Dimitrov served first in the second and held to 30 when Nadal shanked a forehand wide. The Spaniard under the gun once again, faced break point following another double fault, two deuce points and dropped serve when Dimitrov crushed the forehand crosscourt.
The Bulgarian, serving with a break at 2-0 would fail to win another game as Nadal immediately broke back and never looked back though the view was often precarious. While he closed out the set 6-2, it was anything but easy as he faced a break point in the fourth game and threw in a double while serving for the match.
The world #2 will need to cut down on the unforced errors if he hopes to claim his third title at the Mexican Open where he will face an in-form and confident Taylor Fritz. Fritz, from San Diego, California and just twenty-two years of age, is looking for his second ATP title. This will be their first tour level meeting with a trophy and 500 ranking points on the line.
(Photo Source: Getty Images South America)