Murray's GS Mission: Complete

US Open Men's Singles | Andy Murray V. Novak Djokovic
Mission Complete. After losing his first four major finals, Andy Murray ended Great Britain's 76-year dry spell for a men's Grand Slam champion when he triumphed over Novak Djokovic at the US Open. The men played their final on Monday, September 10, instead of a day earlier, the scheduled Sunday, because bad weather caused several rain delays over the weekend. While winds ripped and swirled through Arthur Ashe Stadium, Murray won the second-longest final in tournament history, lasting 4 hours, 54 minutes, 7-6(10), 7-5, 2-6, 3-6, 6-2.
"I don't know how I did it. There were incredibly tricky conditions," said Murray, referring to the gusty winds. "After the third and fourth set, it was tough mentally. Novak is so strong; he fights to the end in every match. I've had some long, tough matches in the past with Novak, I just managed to get through it."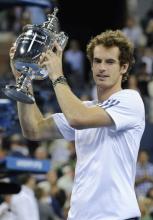 Djokovic was defending the title he won a year ago, with the Serb having won four Grand Slam titles since the start of 2011. "It wasn't meant to be," said Djokovic, who came back from two sets down to force a fifth set. "I want to congratulate Andy and his team. He absolutely deserves this. I tried my best," he said.
The Scot's victory was a fitting end to his summer of success after playing the Wimbledon final against Federer and then beating the Swiss in the Olympic gold medal match. Murray is the first male player to win the Olympic tennis tournament and the US Open in the same season.
"I think the last few months have been great for me, but, you know, there is more to the tennis tour than just the Grand Slams," said Murray. "You know, Novak has played great tennis in most of the Masters Series, as well. Roger has got himself back to No. 1. You know, I think it is important to remember the tennis season – it starts in January, finishes in November, there is four slams, but there are also many other tournaments to get to No. 1 in the world, which I think if you're No. 1 you deserve to be the player of the year."
With Murray's major championship, each of the ATP's top players, Federer, Djokovic, Nadal and Murray, has won a Grand Slam title this year. After success in New York, Murray's ranking improved one spot to world No. 3. Now he says his next goal is to conquer the No. 1 spot.
Andy Murray [GBR] d.
Novak Djokovic [SRB]
7-6 [10], 7-5, 2-6, 3-6, 6-2
Duration: 4 hours, 54 minutes
This article is from the Nov / Dec 2012 issue

SOLD OUT

Subscribe now and you'll never miss an issue!