Melbourne, Australia

Most to Gain
---
Rafael Nadal

The 13-time major champion withdrew from the 2013 Australian Open as he recovered from the most recent of his knee injuries. Since Nadal has no points to defend there in 2014, he can consolidate his rankings lead over defending champion Novak Djokovic and ensure that he stays No. 1 for many weeks to come. While even a respectable result would achieve that goal, Nadal also would tie Pete Sampras for second all-time in major titles if he captures the Australian Open crown. And plenty of evidence suggests that he can. Nadal authored a 30-match winning streak on hard courts in 2012-13 that spanned three Masters 1000 shields and his second US Open title. Moreover, victories over Djokovic at two majors last year snatched back the momentum in that rivalry at the summit of the ATP. The main concern for Nadal, as usual, lies in the sustainability of his health. Sandwiched between his 2009 title run and 2012 finals appearance in Melbourne were two quarterfinal exits blighted by injury. His fate at the 2014 Australian Open will hinge as much on that factor as on anyone he faces Down Under. After all, no man in the top 30 holds a winning record against Nadal.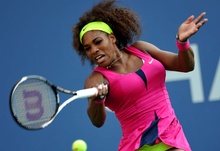 Serena Williams
Like Nadal, the women's No. 1 eyes a tie for second place on her Tour's major titles list if she can seize the Australian Open one more time. Still lethal at age 32, Serena would equal Chris Evert and Martina Navratilova with 18 majors. No player, man or woman, has won more often in Melbourne than she has, and her six titles there comprise her highest total from any of the four majors. But Serena did not enjoy her last two visits Down Under, which ended in pre-semifinal losses to heavy underdogs Ekaterina Makarova and Sloane Stephens. A string of similar disappointments at Roland Garros did not dim her determination to set the record straight last year, so she should arrive at the 2014 Australian Open with her intensity and competitive desire redoubled. Even more than in Nadal's case, health looms as large for the 17-time major champion as any opponent. A career year in 2013 that sprawled across more than 80 matches may have taken its toll on her aging body. While Serena fell to main rival Victoria Azarenka twice on hard courts last year, she has not lost at a major to anyone in the current WTA top 10 for nearly a decade.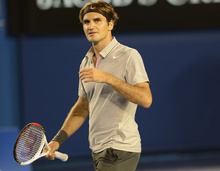 Roger Federer
The same age as Serena, her fellow 17-time major champion stands in a very different position from hers entering 2014. Federer reached the semifinals at last year's Australian Open, but his results spiraled downward swiftly from there. Stunned by Sergiy Stakhovsky in the second round of Wimbledon and Tommy Robredo in the fourth round of the US Open, he ended a season without a major final for the first time since 2002. Expectations have dwindled accordingly as the new season awaits. This slump looks ominously like a terminal decline to most observers, but Federer has proven them wrong before. Two and a half years, a much longer span than the current drought, separated his 16th major at the Australian Open in 2010 from his 17th major at Wimbledon in 2012. Unlikely to defeat a healthy Nadal in a best-of-five format, Federer probably will need some help from his draw. An 18th major would gain him insurance against being eclipsed by his Spanish archrival as the greatest player of all time. Still, Federer need not lift the trophy to reassert himself. A deep run and a victory over a significant rival would restore him to relevance and silence the doubters for the foreseeable future.
Petra Kvitova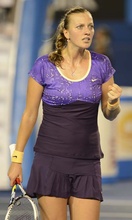 Since her triumph at Wimbledon in
2011
, Kvitova has not returned to Grand Slam glory. Underachieving at majors in
2013
, she won just one match at the Australian Open before exiting to rising star Laura Robson in a cascade of double faults and mangled forehands. So why should we expect anything better from the floundering Czech this time? Always a momentum player, Kvitova gave her fans hope during the fall season in Asia when she surged to a Premier Five title in Tokyo and plowed deep into the draw at the Premier Mandatory tournament in Beijing. Those results marked her brightest successes since her initial breakthrough. When Kvitova last shone in the fall, winning the
WTA
year-end championships in
2011
, she carried that form through the offseason into an Australian Open semifinal (and nearly a final) appearance. Her game veers between extremes too wildly to consider her a perennial threat, but a strong fortnight would revive the confidence that fuels her best tennis. Less intense than other majors, the relaxed atmosphere of the Australian Open might allow Kvitova to find her groove and vault from dark horse to true contender where it matters most.
Most to Lose
---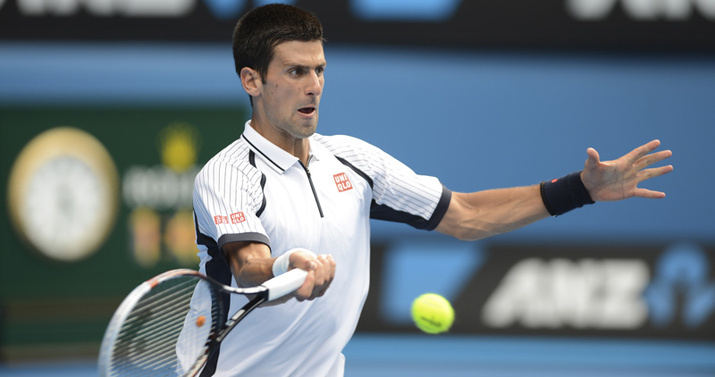 Novak Djokovic
The first man in the Open era to win three straight Australian Open titles, Djokovic has claimed four of his six majors Down Under. While he receded at other majors in 2012-13 after his career year in 2011, the Serb continued to burst out of the gates in Melbourne with his fiercest form. Turning the Australian Open into his central citadel makes any setback there more damaging than at other tournaments. His fans may feel some tremors of uncertainty after Djokovic offered little resistance in finals at Wimbledon and the US Open against his two main rivals, Nadal and Andy Murray. Two years ago, moreover, he came within six points of falling to Nadal at the Australian Open in the longest major final ever. Losing the No. 1 ranking in October may motivate Djokovic in the new year. He thrives when he has a goal to seek or a point to prove, and the medium-speed hard courts at this major suit his game more than any other surface. Still, a title defense in Melbourne would merely maintain the status quo rather than change the landscape atop the ATP. Anything less would change that landscape decisively.
Victoria Azarenka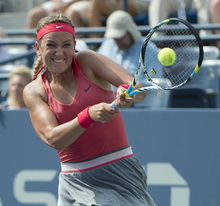 Strikingly similar to Djokovic's situation is the position where Azarenka finds herself. Consecutive titles at the Australian Open in
2012
-13
revealed how much the tournament rewards the hybrid style of transitions between defense and offense that she shares with the Serb. By contrast, Azarenka has not yet won a title at any of the other three majors despite two finals appearances at the
US
Open. Combined with that history, her strong preference for hard courts over clay and grass enhances the Australian Open's significance in her season. Already far behind Serena in the rankings, Azarenka could not regain No.
1
for a long time if she does not defend most of her
2,000 
champion's points from
2013
. The Australian Open offers her the best chance to secure that elusive first win at a major against Serena, while a loss to her there would leave the momentum in their rivalry squarely in the American's corner. After the
US
Open, Azarenka's fragile body betrayed her again when an illness contributed to early stumbles at key tournaments. She will have welcomed the offseason as a respite to regroup for the test of fitness posed by the Australian summer heat.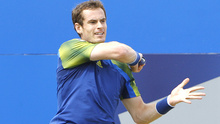 Andy Murray
The Scot has tasted three flavors of heartbreak in Melbourne over the last four years, finishing runner-up twice to Djokovic and once to Federer. But Murray freed himself from his relentless demons at Wimbledon last summer, so he should believe that he can conquer the most obdurate obstacles. His balanced game and superb fitness have thrived in these courts and conditions, but Murray must shake off any lingering rust after cutting short his 2013 campaign for back surgery. If he falls short of defending last year's finals appearance at the Australian Open, Murray could fade even further behind Djokovic and Nadal in the rankings. His career losing record against each of those champions would not bode well if he needed to defeat both of them to win a major, which could prove the case as long as he ranks outside the top two. More broadly, Murray must capitalize on early hard-court tournaments such as the Australian Open to build momentum for his Wimbledon title defense, since clay will offer him few rewards. He will hope to avoid an explosive shot-maker in the early rounds as he regains his timing.
Maria Sharapova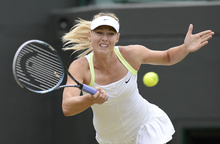 Among all majors, the Australian Open has witnessed Sharapova's most consistent results: six semifinals, three finals and the
2008
title, the best fortnight of her career. More recently, the four-time major champion opened
2013
by winning her first
28
games of the tournament. She will need to continue that steady production when she returns to Melbourne, defending semifinal points. Sharapova played just three matches after Roland Garros last season, where her finals appearance capped an outstanding first half. Overtaken by a shoulder injury in the second half, she also endured coaching turmoil when she parted with long-time coach Thomas Hogstedt and abandoned a one-match experiment with Jimmy Connors. That instability, combined with her injury rehab process, shrouds projections for early
2014
in a veil of uncertainty. Sharapova regrouped from an ankle injury that curtailed her
2011
season to blast through the
2012
Australian Open, halted only by Azarenka in the final. But she has traced a slower route back from previous shoulder injuries. And, if she falters early, a ranking comprised almost entirely of first-half points will start to totter because she lacks any margin for error.
This article is from the Jan/Feb '14 - Maria Sharapova issue

SOLD OUT

Subscribe now and you'll never miss an issue!