Medvedev Rolls Into US Open Final

They split their two previous meetings, both during the 2017 season. They were playing for their first career grand slam final. Each had overcome major obstacles to reach the semifinals.
Grigor Dimitrov, a former world #3 whose ranking has plummeted to #78, demolished the 5-time US Open champion Roger Federer, in 5 sets. Daniil Medvedev battled not only his opponents on the court, but those in the stands and along the way, dismantled the 2016 US Open champion and former world #3, Stan Wawrinka.
The fortnight, for both, has been exceedingly momentous but only one would play for the title on Sunday. Medvedev, the #5 seed, earned that chance by defeating Dimitrov 7-6, 6-4, 6-3 in 2 ½ hours under a closed roof in Ashe stadium.
Dimitrov served first and was immediately broken following 4 unforced errors off the forehand. Medvedev, donated 2 double faults in his opening service game and faced double break point but held hitting an ace and a brilliant backhand down the line for 2-0.
Both hit the ball crisply, alternating between topspin and slice, including Medvedev's squash-shot forehand that he has habitually employed to great effect the past two weeks. Dimitrov held for 1-2 with a huge serve on game point.
At times Medvedev is too casual on the approach and volley and it cost him when he got passed with the crosscourt forehand on break point. Medvedev changed racquets following two consecutive backhands in the net.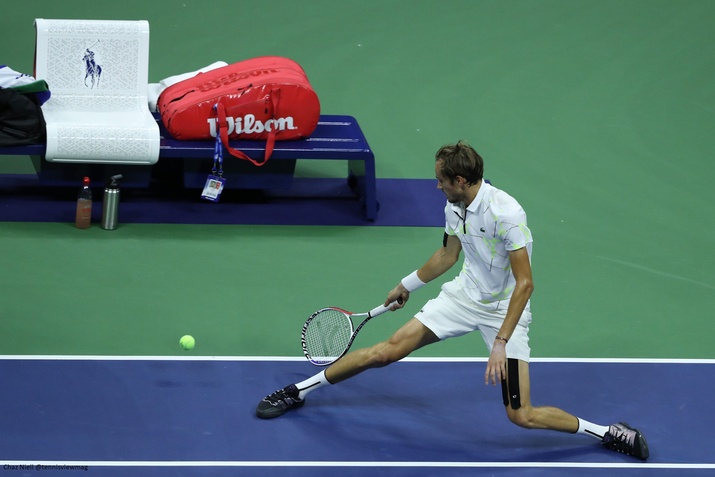 Dimitrov held to 15 following an exceptionally hard-hitting rally that ended with an overhead smash. Medvedev, serving at 2-3, held to 15 when his opponent missed the return.
Level at 3-3, Dimitrov faced break point when following an extremely long and electrifying rally, he missed wide with the inside-in forehand. The twenty-eight-year-old Bulgarian earned game point with a sweet, backhand slice drop shot and closed it out with an ace.
They remained on serve thru twelve games, including a love hold for Dimitrov and a break and set point for the Bulgarian in the eleventh game but Medvedev served a 126mph ace to hold and force the tiebreaker.
Both players going for broke, painted the lines and found the acute angles. Dimitrov served first in the breaker and went up 2-0 following an unforced error from his opponent and a fantastic backhand drop volley.
The momentum quickly shifted as Medvedev took the lead 4-2 when his opponent donated two unforced errors. Medvedev returned the favor, throwing in a double fault for 4-3. Dimitrov, not to be outdone by his opponent, donated a double fault on a 69mph second serve for 3-5.
Level at 5-5, Medvedev reached set point following another slug fest that showcased every shot in the book, when his opponent netted a forehand. The 23-year-old Russian closed out the breaker and the set when Dimitrov overcooked another forehand.
Medvedev served first in the second and opened once again, with a double fault. Despite serving an ace out wide and a 122mph unreturnable, he dropped serve following multiple errors off both wings.
Dimitrov, serving at 1-0, faced triple break point and dumped serve following four unforced errors off the ground. Back on serve, Medvedev opened with an ace and held to 30 when his opponent's inside-in forehand went wide.
Dimitrov faced two deuce and two break points in his following service game and was broken when Medvedev struck an outstanding backhand down the line pass that seemed to skim the net.
Medvedev, up 3-1, was unable to consolidate the break as he quickly faced triple break point following multiple unforced errors. Dimitrov earned another break point when Medvedev donated another double fault. As the partisan crowd erupted in cheers and applause, the Bulgarian converted when he ripped the forehand down the line.
Both held serve thru the next four games. Level at four apiece, Medvedev would do what he does best – steady the ship when the water gets rough. More often than not, the pain is self-inflicted, yet he remains afloat with his bountiful bag of tricks.
The 9th game was no different as Medvedev faced 4 deuce points. Despite the magnitude of the moment, both produced magnificent shots from the back and forecourt including a tremendous backhand volley winner which earned Medvedev game point. Following one of the longest games of the set, the Russian held for 5-4 with an ace out wide.
Dimitrov served to stay in the set and soon found himself facing two deuce points, one following another deft backhand stab volley by Medvedev. The Russian, just two points from a commanding 2 sets to love lead, earned a break point when he unloaded on another backhand down the line and converted when Dimitrov netted another backhand.
Medvedev served first in the third, hitting back to back aces and held at love. His opponent returned the favor, thrashing forehands and an outrageous sky-hook overhead on game point for 1-1.
Medvedev held to 30 in the next game while his opponent faced double break point following multiple errors and a double fault and dropped serve when he butchered a forehand.
Medvedev consolidated the break holding easily to 15 for 4-1, just two games from the final. Dimitrov responded by playing more aggressively, hitting the forehand and volley with conviction and held to 15.
Although he missed 5/6 first serves, Medvedev held with sensational crosscourt forehands and an overhead smash for a commanding 5-2 lead.
Dimitrov served to stay in the match and force his opponent to serve it out but faced 2 match points as he struggled to find his first serve and forehand. He saved both match points when his opponent missed off the ground and the return and held when Medvedev's forehand sailed long.
Medvedev served for the match up 5-3 and reached double match point when his opponent's backhand sailed long. He went big on the second serve as he often does, and it paid off as Dimitrov's return went long and conceded the match in straight sets.
Daniil Medvedev finished with 10 aces, 8 double faults and won 75% on first serve and 48% on second serve points. That will not get it done against his final opponent, world #2 Rafa Nadal. While he does play a high-risk game, he struck almost twice as many errors than winners though he did convert 5/9 break points.
The world #5 has now reached 4 consecutive hardcourt finals, winning the Masters 1000 title in Cincinnati. This final, indisputably, is the biggest of his young career and while mentally, he seems well-prepared for the task at hand, it remains to be seen how the body holds up.
Medvedev most certainly is a thinker and problem solver with remarkable defense as well as offense and will need all that and more if he hopes to prevent Nadal from claiming his 4th US Open title on Sunday.