Medvedev Rolls Into The Australian Open Finals

Medvedev dismantles Tsitsipas 6-4, 6-2, 7-5 to reach Aussie Open Final
Daniil Medvedev, the #4 player in the world, has miraculously sustained the momentum he gained last fall in winning the Paris Rolex Masters and Nitto ATP Tour finals. The 25-year-old Russian defeated the top three players in the world (Novak Djokovic, Rafa Nadal & Dominic Thiem) to claim the season-ending championships at the O2 arena London.
He is undefeated in 2021, assisting Team Russia en route to victory at the ATP Cup and an impressive straight-sets win in the quarters over world #8 and countryman, Andrey Rublev.
His unorthodox but highly entertaining style of play helped him reach the US Open final in 2019, forcing Nadal to finish him off in five grueling sets.
Stefano Tsitsipas, the world #6 from Greece, has fond memories of Australia having beaten Roger Federer in the 4th round in 2019 before losing to Nadal in the semis. The 2019 Nitto ATP Finals champion is just twenty-two years of age and striving for his maiden grand slam final.
Although Medvedev led the head-to-head 5-1, every match has been highly contested and contentious as Tsitsipas has described his opponent's game as boring. The atmosphere this evening in Rod Laver arena, however, was anything but as Tsitsipas dabbled in some gamesmanship. The chair umpire, while not oblivious to the on and off-court shenanigans, chose not to address it, whereas Medvedev clearly made his feelings known.
Tsitsipas served first and held easily to 15 for 1-0. Medvedev returned the favor holding to 15 for 1-1 with an incredible inside-in backhand. Tsitsipas, visibly the more nervous of the two, repeatedly misfired off the backhand but managed to hold to 30 for 2-1.
Medvedev opened the fourth with a brilliant backhand down the line following a remarkable 25-shot rally and held to love for 2-2. Tsitsipas quickly went up 30-0 following two huge serves up the tee but soon faced two break points and dropped serve as Medvedev maintained his baseline assault.
The 6'6 Russian consolidated the break with another love hold hitting two aces on consecutive points. Tsitsipas struck his first ace of the match and held easily to 15 for 3-4. Medvedev continued to swing freely on serve and off the ground and held to 30 with a fantastic forehand crosscourt on game point.
Tsitsipas, serving to stay in the set at 3-5, donated a double fault and two errors off the ground yet held for 4-5 with an outstanding backhand down the line and big serve up the tee.
Medvedev, serving for the set, opened with an ace and despite throwing in his first double fault, converted his fourth set point with a monster serve up the tee.
Tsitsipas, noticeably a bit flat throughout the opening set, hit three errors off the ground but held for 1-0 with a spectacular forehand swing volley. These errors, especially off the backhand side continued to mount as Medvedev, playing poised, strategic tennis, held to 30 for 1-1.
Tsitsipas, ever more irritated, failed to find his range from the baseline as he repeatedly lost a majority of the extended rallies. Following three deuce and one break point, the #5 seed dropped serve as his opponent struck three extraordinary forehand winners on the last three points.
The Russian, in the zone, once again held at love to consolidate the break. Tsitsipas seemed incapable of stopping this runaway train and although he donated another double fault, he struck a 124mph ace out wide and a sweet forehand drop volley winner on game point for 2-3.
Medvedev continued to breeze through his service games, hitting two additional aces as he held to 15 for 4-2. Tsitsipas, serving with new balls, quickly faced triple break point as his opponent unleashed a torrent of winners off both wings, including an astonishing inside-in forehand return winner to secure the break. The #4 seed, serving for a two sets to love lead opened with an ace and closed with one and held at love to take the set 6-2.
Tsitsipas, in a move presumably intended to thwart his opponent's momentum, left the court for approximately five minutes yet did not appear to have changed his clothes! Medvedev, categorically unhappy with his opponent's tactics, did not let it impede his concentration. He earned a break point following a scintillating crosscourt backhand pass and crosscourt forehand winner on the run and converted when his opponent's backhand went wide.
The Russian is an exceptional mover given his stature and more often than not, puts him in a winning position. Medvedev, upped the ante as he once again held at love to consolidate the break. Whether inside or on the baseline, he continued to dictate off the ground, seemingly striking winners at will.
He approached the chair umpire to inform him that Tsitsipas's father, who is also his coach, was talking too much and possibly deriding him. It is no secret that his father is often warned and fined for on-court coaching. It was not clear at this point if Tsitsipas was given a soft warning or called for a coaching violation.
Tsitsipas held easily to 15 for 1-2 as Medvedev donated four unforced errors. The Russian struck two aces and held easily to 15 with a massive inside-in forehand. Tsitsipas was determined to hold serve and extend the match. Although he faced two break points, he held for 2-3 with an ace, an overhead smash, and an exceptional inside-in forehand.
Perhaps Medvedev succumbed to the pressure of being within reach of a grand slam final as he uncharacteristically struck four unforced errors including a double fault to drop serve for the first time in the match.
Tsitsipas, level at 3-3 with the crowd cheering boisterously, felt the momentum shift as he struck an amazing forehand crosscourt volley winner and held to 15 when his opponent netted the return.
Medvedev struggled yet battled admirably, hitting three aces including one to save break point, and held when Tsitsipas whiffed the backhand return. Tsitsipas, going for broke, opened the ninth with a serve and volley. Despite donating another double fault and reaching deuce, he held for 5-4 with a colossal forehand down the line and drop volley winner.
Medvedev, undoubtedly still rattled by the abrupt change of events, composed himself after facing 0-30 by going big on first and second serves and held for 5-5. Tsitsipas, with a must hold, soon faced triple break point as Medvedev smelled victory. Following an outstanding inside-out forehand to earn triple break point, he converted with an astonishing backhand down the line winner on the run. The crowd, even those who had unfailingly rooted for Tsitsipas, erupted in applause at the brilliance and improbability of the shot.
Medvedev, serving for the match and the Australian Open final, converted his first of two match points with a well-struck and well-placed crosscourt backhand. After a little over 2 hours, the world #4 finished with 17 aces to 3 double faults and won 88% of first serve and 50% of second serve points.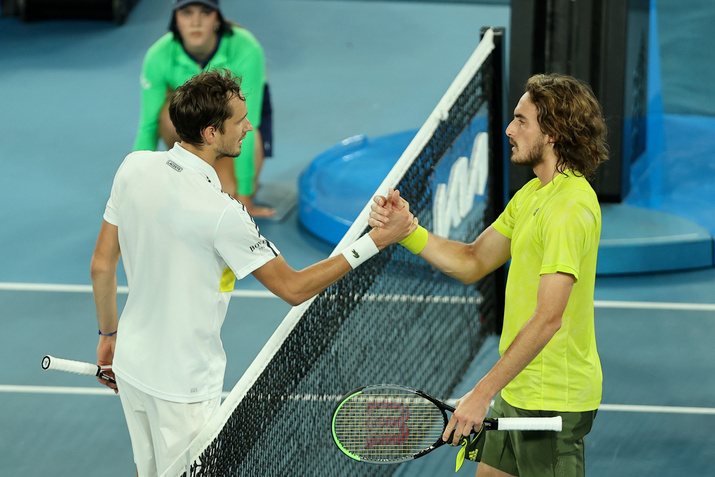 He struck more than double the winners to unforced errors (46/21) and converted 5/9 breakpoints. It was a spectacular, sublime performance, one he will need to replicate against the world #1 if he is to win on Sunday.
While Novak Djokovic leads the head-to-head 4-3, Medvedev routed him in straights last fall at the Nitto ATP Finals. Their only grand slam match – won by Djokovic- was two years prior in the fourth round at the Australian Open.
The Russian is looking to win his first grand slam title while the Serb is attempting to win his 9th Australian Open (3rd in a row) and 18th grand slam overall, just two from equally Roger Federer and Rafa Nadal.
Medvedev has won twenty matches in a row including 11 versus the top ten. Will he be able to summon the magic on Sunday for lucky number 21? I cannot wait to find out!