Medvedev Captures ATP World Tour Finals Championship

Medvedev defeats Thiem 4-6, 7-6, 6-4 to claim ATP World Tour Finals
Although this was the last season-ending championships to be contested at the O2 Arena, the future of tennis was on display as the 2019 US Open finalist took on the 2020 US Open champion.
Daniil Medvedev, the #4 player in the world, accomplished one of the hardest feats in tennis: defeating Novak Djokovic and Rafa Nadal in the same event. In addition, he did not lose a match en route to the final.
Dominic Thiem, the #3 player in the world did the same, taking out Nadal in two, tight, scintillating tiebreak sets and Djokovic in three en route to his second consecutive finals appearance in London.
He defeated Stefanos Tsitsipas in the opening round, exacting revenge for that grueling loss in last year's final. His only loss this week came at the hands of Andrey Rublev, world #8 and the most successful player on tour this season with five titles.
Although Thiem led the head to head 3-1 including a straight-sets victory in the semifinals of the 2020 US Open, Medvedev was up a break in both the second and third sets losing both in tiebreakers.
Thiem won the toss but elected to receive. Medvedev reached 30-0 with a sweet backhand drop volley winner and despite donating a double fault, struck two consecutive aces up the tee for 1-0.
Unlike his opponent, Thiem had an extremely difficult time in his opening service game. Although he faced five deuce and two breakpoints, the twenty-seven-year-old from Austria, held for 1-1.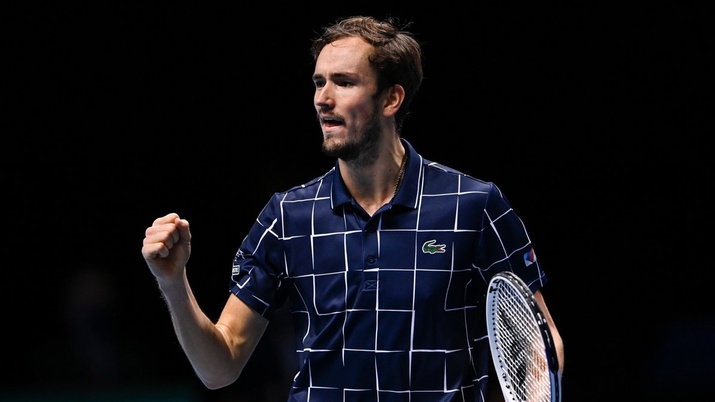 Medvedev from Russia and three years younger than his opponent, threw in another double fault but struck his third ace and held to 30 for 2-1. Thiem, finding his groove on serve, held to 15 with an ace out wide.
Level at 2-2, The 6'6 Russian struck his 4th ace to go up 40-0 but faced breakpoint following an exquisite inside-out forehand drop shot winner from Thiem and dumped serve with his second double fault.
Though down a break, the Russian played more aggressively than Thiem, dictating a majority of the points from the baseline. Thiem consolidated the break for 4-2 despite facing two deuce points as Medvedev continued to unload on the return.
Medvedev kept it close, hitting volley winners as he continued his forays to the net. With his 5th ace and an unreturnable out wide, he held to 15 for 3-4.
Thiem, serving with new balls, held to love for the first time in the match. Medvedev returned the favor, holding at love for 4-5, forcing his opponent to serve for the set.
The Austrian, renowned for his powerful and penetrating one-handed topspin backhand, repeatedly employed the slice as did his opponent. Medvedev, with a seemingly endless array of backhands at his disposal, including the flat, topspin, and scoop two-hander, continued to go to the slice often to great effect.
Medvedev continued to tee-off on the return, extracting errors from his opponent. Thiem, serving for the set, had all he could handle at 30-30 but reached set point following a netted return and much to Medvedev's dismay, secured the set with a net cord winner.
Medvedev served first in the second and held easily to 15 for 1-0 while Thiem held to 30 for 1-1. The Russian continued to strike the ball with authority off both wings and held for 2-1 with a blistering backhand down the line winner.
Thiem not to be outdone, held at love for 2-2 with a brilliant backhand down the line winner and drew first blood in the following game, earning a breakpoint at 30-40 as Medvedev's backhand went wide.
After four deuce points, the Russian managed to keep his nose out front with a huge serve down the middle. Thiem, serving at 2-3, once again held at love striking his 4th ace and a monster serve up the tee on game point.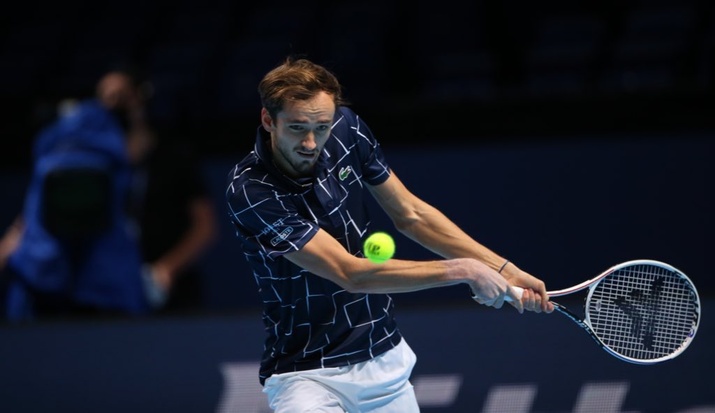 Medvedev would once again be tested as he donated another double fault and faced three deuce and two breakpoints yet held for 4-3 striking two more aces, the last on game point. It was Thiem's time to feel pressure as he fell trying to track down a forehand pass and faced breakpoint following a barrage from his opponent that included a lob, moonball, and crosscourt forehand winner.
Following an enthralling backhand slice to backhand slice rally, Thiem held for 4-4 when Medvedev's backhand found the net. The Russian wasted no time, holding to 15 for 5-4, forcing his opponent to hold to extend the set. Thiem, despite donating his first double fault, returned the favor, holding to 15 for 5-5.
Medvedev continued to confound his opponent, sneaking into the net, and hitting volley winners off both wings. With his 9th ace of the match, he held for 6-5, just four points from the set.
Thiem, serving to stay in the set and force the tiebreaker, made 4/5 first serves and held to 15 following a shanked forehand from his opponent.
Medvedev served first in the breaker and never looked back as he employed offense with exceptional defense and serving, including an ace on set point to seize the breaker 7-2 and force a deciding set.
Thiem served first in the third and with a forehand drop volley winner held for 1-0. Medvedev keeping his foot on the gas, extracted errors from his opponent and held for 1-1.
As the match progressed and the points became more physical, it was Thiem who appeared to be running on fumes. Although serving with new balls, he quickly faced triple break point following three consecutive unforced errors. With a fantastic forehand down the line and a well-placed serve, Thiem escaped the noose and held for 2-1.
Medvedev, deceptively agile and quick for his size, opened and closed the fourth game with an ace and held at love for 2-2.
Thiem, under pressure from his opponent's relentless ground offensive, faced four deuce and three break points and dropped serve following another outstanding crosscourt forehand volley winner from Medvedev.
Medvedev, ever so close to the winner's circle, consolidated the break for 4-2 with spot serving and well-struck approach shots. Having appeared a bit dejected and deflated, Thiem dug deep and held at love for 3-4, striking his fastest serve of the match at 134mph.
Medvedev returned the favor, holding at love for 5-3 with an astonishing backhand stab volley winner on game point. Thiem, just four points from defeat, walked the wire as he reached 40-30 and held for 4-5 with a potent serve and inside-out forehand winner on game point.
Medvedev, serving for the match and year-end glory, went for broke on the second serve for 15-0 followed by an even bigger serve for 30-0. Thiem reached 30-30 with a monster backhand down the line and an error from his opponent but failed to reach deuce as he donated two backhand errors on consecutive points to concede the match.
Daniil Medvedev defeated the top three players in the world and went undefeated to claim the season-ending championships for the first time is his burgeoning career. The twenty-four-year-old remained poised and confident throughout the nearly three-hour match against a most worthy opponent. He clearly had a game plan which he so brilliantly executed.
He finished with 12 aces to 3 double faults and won 77% of first serve and 55% of second serve points. Although he was 1/9 on breakpoints, he saved 3/4 and notably won 56% of second-serve return points.
While this year and season were overwhelming, unpredictable, and heartbreaking, the future of men's tennis seems to be in capable hands.