Medvedev Battles Into His First Slam Semifinal

This quarterfinal match was as perplexing as it was riveting. A see-saw battle with predictable shifts in momentum punctuated by intermittent jeers from fans whenever Medvedev missed a serve or double faulted.
While the chair umpire tried to quell the crowd and diffuse the acrimony, it was Medvedev's variety of shot and steadfastness that eventually won them over. The twenty-three-year-old Russian and #5 seed recently took a walk on the wild side, choosing to embrace the negativity his on-court behavior has elicited rather than try to defuse it.
Stan Wawrinka, 34 years old and the 2016 US Open champion, was unquestionably the crowd favorite but on paper, as the #23 seed, was the underdog. The 3-time grand slam champion from Switzerland reached a career high ranking of #3 in 2014 and is currently ranked #24 as he continues his resurgence following knee surgery in 2017.
Wawrinka served to open the match and produced 4 unforced errors on consecutive points to drop serve. Medvedev opened with an ace, but it was not exactly smooth sailing as he donated 3 double faults and faced break point. His single-minded focus was stellar as the pressure mounted and the crowd booed. He consolidated the break following an unforced error from his opponent and a huge, unreturnable serve on game point.
Wawrinka held to 15 for 1-2 as he hammered the first serve. As if on cue, Medvedev self-sabotaged as he donated 2 more double faults and faced 2 deuce points but held with a first-rate overhead smash.
Wawrinka easily held to 15 striking a superb serve out wide on game point. The Russian, up a break at 3-2, continued to miss off the ground and threw in another double fault and faced two break points. He once again held with 2 powerful serves on consecutive points.
Wawrinka held to 15 with an ace for 3-4. Medvedev took a medical time out during the change over which might explain the plethora of double faults. From my vantage point it was difficult to assess but it appeared to be the right thigh.
Serving with new balls, Medvedev opened with a double fault but finished with an ace and an unreturned serve to hold for 5-3. Wawrinka, serving to stay in the set, continued to uncork on the serve and rip the forehand both crosscourt and down the line and held for 4-5, forcing his opponent to serve it out.
The Russian was unable to secure the set, overcooking the forehand on consecutive points. Despite hitting a brilliant inside-out forehand winner and an ace out wide, he dropped serve when he netted a backhand.
Much to the amazement and delight of the partisan crowd in Ashe stadium, they were level at 5-5. Wawrinka, missing 3 of 6 first serves, held when his opponent dumped 2 consecutive returns.
Medvedev had to hold to force the tiebreaker and instead of collapsing under the pressure facing 0-30, he embraced it even while donating yet another double fault.
The crowd erupted in applause as he executed 3 stab volleys, one behind his back before he pummeled the overhead smash. Medvedev held to 30 following a forehand volley winner and let cord from Wawrinka that went wide.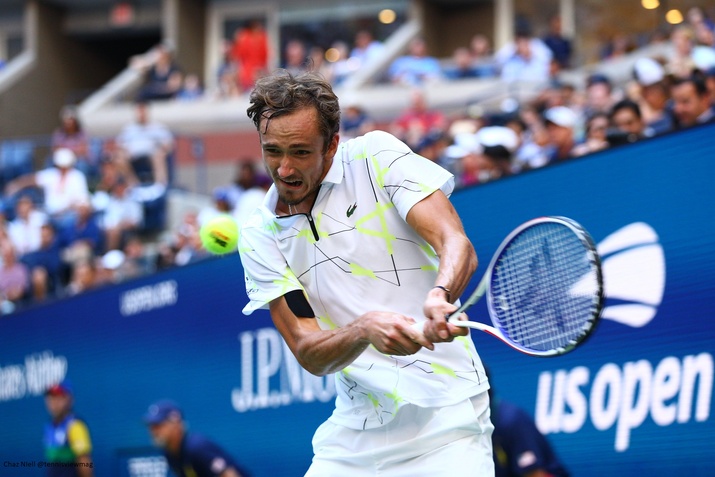 Wawrinka served first in the tiebreak and gave up the mini-break following another superb overhead from Medvedev. The Russian quickly went up 5-2 following a forehand volley winner, ace and another overhead smash.
Wawrinka reached 5-5 when Medvedev's return sailed long. The crowd, urging on Wawrinka, was ecstatic as Medvedev slipped on the approach giving the Swiss set point on his serve.
The Russian, though on life-support, was still kicking as Wawrinka missed wide with the forehand. Level at 6-6, they changed ends with Wawrinka to serve. He conceded the point when he butchered the approach, giving Medvedev set point at 7-6. The Russian took the breaker and set when his opponent's return went long.
Medvedev served first in the second and unlike the first set, did not double fault and held at love. Wawrinka returned the favor, holding at love with a huge serve and inside-in forehand winner.
Medvedev finally finding his rhythm on serve, fired 2 aces, one on game point for 2-1. Wawrinka, however, continued to labor on serve, missing 5/8 first serves and was broken when he overcooked two forehands on consecutive points.
Medvedev consolidated the break without donating a double fault while Wawrinka held for 2-4 with an ace. The Russian taking very little time between points, benefited from his opponent's unforced errors and held for 4-3.
Despite missing 3/5 first serves and donating a double fault, Wawrinka hit two amazing forehand swing volleys and an ace on consecutive points to hold for 3-5. The Russian, serving for the set, opened with an ace and finished with an unreturnable serve for a commanding two sets to love lead.
At times Wawrinka appeared shell-shocked as did most of Ashe stadium. Medvedev won their only previous tour level match in 2017 at Wimbledon. How was it that this lanky, slim young man, who could not buy a first serve in the first set was leading by two sets?
Medvedev had no difficulty absorbing Wawrinka's pace, matching him shot for shot off both wings. He took advantage of most short balls, moving forward to finish points off at the net.
Wawrinka served first in the 3rd and with a sweet, backhand drop volley held at love. Medvedev seemed to have hit rewind, all the way back to the first set as he donated 2 double faults and dropped serve when he netted a forehand slice.
Wawrinka held to 15 with an ace to lead 3-0. The Russian served slightly better and held to 15 when his opponent missed the return. Wawrinka, clearly in the zone, once again held to love with an incredible forehand down the line pass. Medvedev, serving at 1-4, displayed unbelievable resolve as he held to love with an ace.
Wawrinka, quick to move forward when presented with a short ball, held to 30 for 5-2 with an unreachable forehand down the line approach. Medvedev, serving to stay in the set, held at love, striking an ace on game point.
Wawrinka, just 4 points from the set, had to dig himself out of a hole as he faced 6 deuce and 4 break points. After another extended and amazing rally, Wawrinka secured the set when his opponent netted a backhand.
Medvedev served first in the 4th and held with an exceptional backhand drop shot and forehand down the line pass. Wawrinka faced triple break point in his opening service game and dropped serve when he netted a backhand volley.
Medvedev, up 2-0 faced a break point when he missed an inside-out forehand but held despite facing two deuce points by employing the forehand squash shot and an acutely angled crosscourt backhand. The Russian's tremendous versatility on full display was something to see.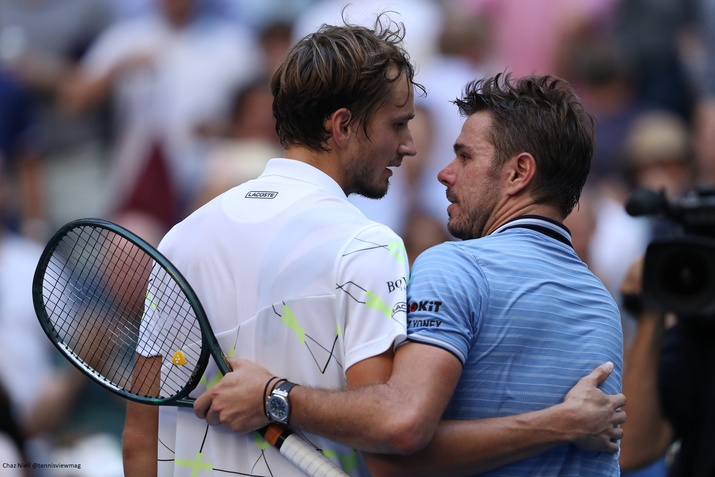 Wawrinka, serving at 0-3, opened with a double fault but held to 15, hitting his signature one-handed backhand both crosscourt and down the line. The Russian held for 4-1, utilizing his formidable two-handed backhand both inside-in and down the line.
Wawrinka, on the brink of defeat, faced double break point and dropped serve when his crosscourt backhand went wide. Medvedev, served for the match at 5-1, wasting no time hitting 2 consecutive aces and a magnificent lob on match point that landed on the baseline.
Although the Russian finished with 36 winners and 36 unforced errors, he converted 4/8 break points and won 15 of 22 at the net. He served 11 aces and 12 double faults yet managed to win 73% of 1st serve and 58% of 2nd serve points.
Wawrinka also finished with an equal number of winners and unforced errors but fell short on break points, converting just 2/8. While he won 78% of 1st serve points, he won a scant 38% of 2nd serve points.
Next up for Daniil Medvedev, a semifinal showdown with former world #3 Grigor Dimitrov, who defeated the 5-time US Open champion Roger Federer in 5 sets.