Marvelous Ms. Marble

For those passionate about history, Alice Marble is a towering figure in women's tennis. She achieved the number one ranking in 1939, was the top-ranked American player from 1936-1940, won eighteen grand slam titles – 5 singles, 6 doubles, 7 mixed, and was inducted into the International Tennis Hall of Fame in 1964. Unbeknownst to most, she also was a World War II spy and hero.
Born in 1913 in Beckwourth, California, she grew to love sports, excelling in baseball, basketball, and eventually tennis. Marble won the US Championships – now the US Open – four times in singles including three straight (1938-1940).
During that same period In New York, she claimed four titles in doubles with Sarah Palfrey Cooke and four in mixed with iconic players including the first calendar-year grand slam champion Don Budge, the legendary Australian player, and coach Harry Hopman and the infamous but immensely talented, Bobby Riggs.
She was equally successful at the All England Club, winning the singles title in 1939 in addition to two consecutive titles in doubles with Cooke (1938, 1939) and three in a row in mixed (1937-1939). Marble was an exceptional athlete with a formidable serve and volley and aggressive mindset.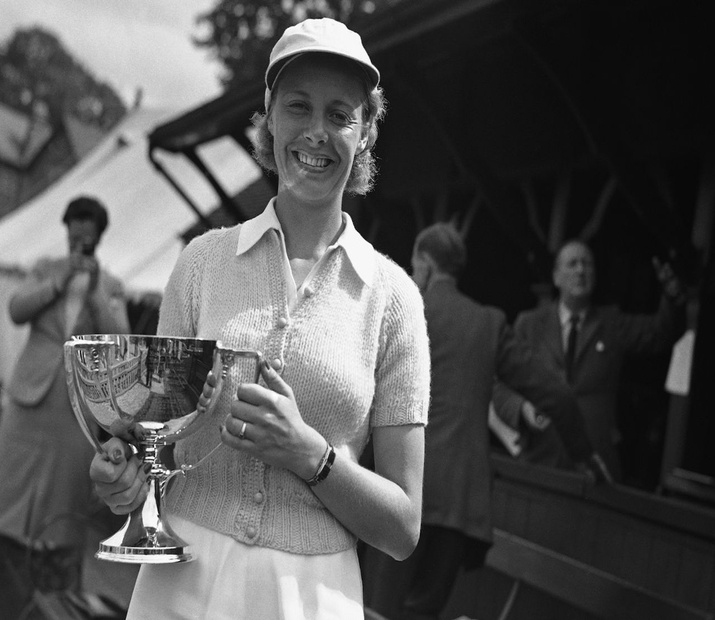 In 1940 she turned professional, earning in excess of $100,000  (equivalent to two million today) traveling the world playing exhibitions.
Marble added to her illustrious accomplishments after retirement, working on the editorial advisory board of DC Comics and as associate editor on Wonder Woman, creating the "Wonder Women of History" for the publication which featured prominent women in history in comic form!
These laudable achievements would ultimately pale in comparison to the undercover and dangerous work she assumed during the height of the second world war. During this time, she married Joe Crowley, a WW2 pilot killed in action over Germany. Just days prior to his death, Marble suffered a miscarriage following a car accident and attempted suicide.
In 1945, following her recuperation, she agreed to work for US intelligence. She was instructed to reach out to a former lover, a Swiss banker, and procure crucial Nazi financial data. As if adhering to the plot of a spy novel, Marble was shot in the back by a Nazi agent as she fled on foot following a high-speed car chase.
While she recovered from her injury, the facts and circumstances surrounding this operation have not; many journalists and authors have been unable to corroborate this period in her life. Many have intimated that perhaps the "Swiss banker" was in fact a Nazi, something she would have tried to conceal.
While we are left to question the veracity of these claims, no one can dispute her advocacy of
desegregating the sport of tennis. Marble wrote an editorial piece in the July 1950 issue of American Lawn Tennis imploring the powers that be to permit the African American tennis player, Althea Gibson to compete at the highest levels of the sport.
Marble asserted that if Gibson, then 23 years of age, were prevented from competing, she would be exceedingly ashamed. Two months later at the US Championships, Gibson became the first African American player – man or woman – to compete at a Grand Slam tournament.
Living in Palm Desert, California, Alice Marble continued to pay it forward, teaching tennis until her death in 1990. One of those fortunate students would become a tennis and human rights maverick. Her name – Billie Jean King.