Maria Sharapova All Business
Sugarpova was founded in her decision for new challenges

From the time Maria Sharapova lifted the Wimbledon trophy nearly a decade ago, fans have been smitten and her every move documented. And there's plenty to detail as she juggles tennis, modeling, romance, charity work and, relatively new to her list, business.
Founded in her decision for new challenges, Maria launched and runs Sugarpova. As she pushes to take her venture to the next level, she embraces the unchartered territory.
The way Maria Sharapova says it, Sugarpova is her "baby." After sixteen months on the market, her premium candy company has experienced steady growth. It launched in August 2012 with 12 styles of gummies and chews in mouth-puckering sweet and sour flavors. Maria says Sugarpova is her own business, her own investment, her own money and her most exciting project to date.
"In regards to commitment, I put my heart and passion into all of my projects and activities, from time on the court to developing Sugarpova," she told Tennis View.
That enthusiasm, the same enthusiasm that helped her win four major titles on the tennis court, has fueled the company's growth. To no one's surprise, Maria is in complete control, a hands-on owner involved in all aspects of the business. Under her guidance, the enterprise has expanded to include 15 candy styles and an accessories collection of tank tops, t-shirts, hats, jewelry and cosmetic clutches.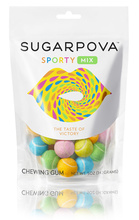 In the first year alone, more than 2 million bags of candy were sold. The sweets are available around the world in a long list of major cities. The accessories are also available at select retailers.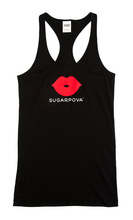 Voluptuous puckered lips are stamped on the Sugarpova packaging and are fast becoming associated with the brand. It's an attention-grabbing label that Maria says represents youth, fun and her sweet side.
As Maria works to expand her brand beyond athletics, the 26-year-old tells Tennis View that she has a game plan and is focused, no different than how she approaches all her on-court competition.
Teresa Thompson: Congratulations on the success of Sugarpova and expanding the brand beyond sweets.
Maria Sharapova: Thank you! Sugarpova has been a very exciting adventure for myself and my team. We have really tried hard to do traditional and non-traditional tactics to build the brand that includes expanding the original product offering from candy to accessories.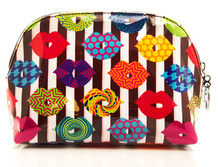 TT: Will the accessories take precedence over the candy and dominate your focus now?
MS: No, not at all. At the heart of the brand, it's all about candy.
TT: Starting a business is quite impressive at such a young age. I'm curious how your tennis career helped you prepare for this endeavor?
MS: My career is to play tennis, and like any job or career, you have to use the same skills of discipline and focus in any environment. I may not be in a traditional office, but those same fundamental skills that I use in my tennis career are applied to all of my partnerships.
For the complete exclusive interview, where Maria Sharapova talks about her biggest surprise in business and how she plans to approach tennis in 2014, order the January/February 2014 while supplies last.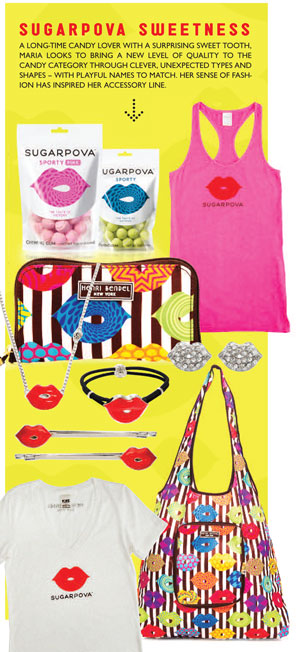 Sugarpova Sweetness
A long-time candy lover with a surprising sweet tooth, Maria looks to bring a new level of quality to the candy category through clever, unexpected types and shpaes – with playful names to match. Her sense of fashion has inspired her accessory line.
This article is from the Jan/Feb '14 - Maria Sharapova issue

SOLD OUT

Subscribe now and you'll never miss an issue!