Mannarino Takes Sofia Open Title

Two lefties battled in Bulgaria for the trophy at the Sofia Open
Mannarino prevails 7-6, 2-6, 6-3 at the ATP 250
Jack Draper from Britain, just twenty-one years of age, reached a career high rank of #38 at the start of the season. His ranking dropped precipitously outside the top 100 due to a shoulder injury but after reaching the round of 16 at the US Open, and winning a challenger title in Bergamo, Italy, he is currently ranked #82.
Adrian Mannarino the tour veteran from France, has had an outstanding season winning two titles – Newport on grass and Astana on indoor hard – and at #25, is close to replicating or surpassing his career high rank of #22. At this ATP 250 event, the thirty-five year old was seeking for his 40th match win of the season.
This was their first tour level meeting and their last event of the season. Mannarino won the toss and elected to receive. Draper missed 5/6 first serves, gifted two backhand errors, and dumped serve while Mannarino missed 3/5 first serves, donated two backhand errors, and gave back the break.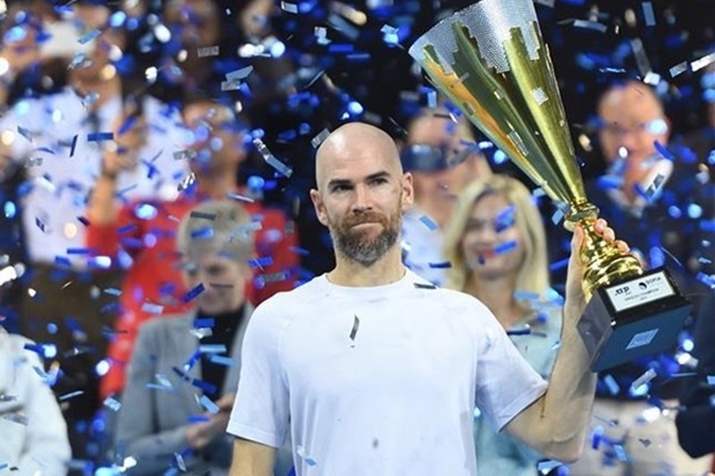 [image: epa]
Draper struck three winners including an ace on game point to hold at love for 2-1 while the Frenchman pummeled a forehand down the line and held easily to 15 to level. Draper made 3/5 first serves and with a forehand inside-out off a weak return, held easily to 15 for 3-2.
Mannarino continued to serve well, holding to 15 for 3-3 and Draper returned the favor, making 4/5 first serves and holding to 15 for 4-3. Mannarino serving with new balls, hit his first two aces, the last on game point for parity. The Brit made 4/4 first serves including his second ace and held at love for 5-4.
Mannarino serving to stay in the set, missed 5/9 first serves and faced deuce but with two consecutive well-placed serves, held for 5-5. The NextGen phenom maintained scoreboard pressure as he once again held easily to lead 6-5. Mannarino serving to stay in the set and force the breaker, missed 5/6 first serves but with his sublime ground game and stellar defense, held to 30 for 6-6.
Draper continued to unload on serve going up the tee to great effect. They changed ends level at 3-3 in the tiebreak. The Frenchman took the lead with an ace up the tee but the Brit leveled with a forehand winner off a let cord. Mannarino reached set point at 6-5 following a crosscourt forehand winner and a monster serve out wide.
Draper refused to yield and leveled at 6-6 when Mannarino overcooked the forehand return. Once again they changed ends and Draper blinked first; with two unforced errors off the ground, he lost the breaker and set.
Mannarino served first in the second and dropped serve following two forehand errors and a forehand winner down the line from Draper. The Brit continued to unleash off the ground and consolidated the break with his third ace.
The Frenchman made 4/6 first serves and with a spectacular forehand down the line, held to 30 to get on the board while Draper hit three winners including his fourth ace on game point for 3-1.
Mannarino opened the fifth with a mishit backhand and dropped serve following a blistering forehand down the line from the Brit. Draper with easy power and exceptional court coverage, struck two additional aces and consolidated the break for 5-1.
Mannarino serving to stay in the set, gifted two unforced errors but managed to hold for 2-5 with a fantastic crosscourt forehand. Draper opened the eighth with this seventh ace and with a love hold clinched the set 6-2.
Mannarino served first in the decider and held to 15 for 1-0 while Draper held to 30 with an incredible inside-out forehand. The world #25 missed 3/4 first serves yet held to love for 2-1 while Draper opened and closed with aces to level.
The Frenchman serving with new balls held at love for 3-2 with an ace up the tee while Draper struggled missing 5/8 first serves including a double fault and dropped serve when Mannarino crushed a forehand return down the line.
Mannarino missed 3/6 first serves but with extraordinarily acute angles off the ground and his fourth ace, consolidated the break for 5-2. Draper intense yet remarkably poised, showed astonishing resolve by holding at love with his tenth ace.
The most difficult game to win is the last. Serving up 5-3, Mannarino hit his fifth ace but faced double break point after Draper ripped another forehand down the line. With a colossal serve up the tee, the Frenchman saved the first and reached deuce when Draper netted a backhand.
Mannarino, two points from his third title of the season, reached match point when Draper missed wide with a crosscourt backhand and secured victory when his opponent overcooked a forehand. Mannarino was crowned the Sofia Open champion despite winning eight fewer points!
It was an exceptionally high-quality, hard-hitting final from two worthy combatants. The Frenchman, fourteen years older than his opponent, was keenly aware that opportunities dwindle with each passing season.
He battled not only Draper but himself and utilized his experience to raise his level and forge ahead. He finished with six aces, zero double faults and won 73% of first and 59% of second serve points. He saved 3/6 break points while converting 2/2.
A spectacular conclusion of the season for both and while the Frenchman is entering the final phase of a brilliant career, the young Brit has only just begun.