Mannarino Manages Shelton For Miami Open Third Round

Mannarino manages Shelton 6-4, 3-6, 6-1 for Miami Open third round
Two lefties squared off in the second round in south Florida. One a tour veteran at thirty-four, the other, a twenty-year-old college superstar now ranked 39 on the ATP Tour and seeded for the first time at Masters 1000 event.
Adrian Mannarino the crafty and deceptively offensive Frenchman with two career titles was just over 500 this season with a win/loss record of 7-6 while his younger opponent posted five wins from nine.
Earlier this month at the season's first Masters 1000 event in Indian Wells, Mannarino the former world #22, dispatched former #3 Dominic Thiem and #18 Lorenzo Musetti before falling to #11 Jannik Sinner in two tight sets.
Ben Shelton was born in Georgia but resides and played college in Florida. Last year as a Gator and sophomore, he won the NCAA championships. Shortly after upsetting then world #5 Casper Ruud on a hardcourt at the Cincinnati Masters, the son of former world #55 Bryan Shelton, turned pro.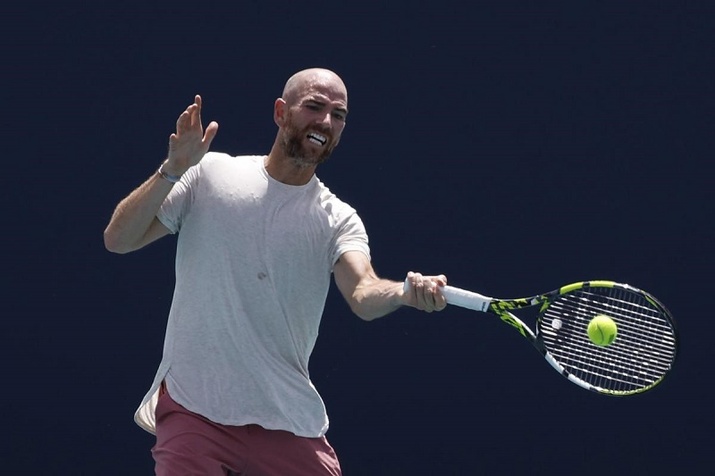 (G. Burke/Presse Sports)
This was their first tour level meeting. Shelton the 32nd seed, served first and though he missed 3/5 first serves, held easily to 15 while Mannarino donated two forehand errors but held to 30 to level.
Shelton struck his first ace and held to love for 2-1 and Mannarino with his first ace, held to 15 for 2-2. The American opened the fifth with a fantastic slice backhand approach and backhand volley winner and held to 15 for 3-2. The Frenchman struggled off the forehand with his seventh unforced error and though he faced deuce, held for 3-3 with an ace up the tee.
Shelton hit his second ace but it was to no avail as he dumped serve following four unforced errors including a double fault. Mannarino serving with new balls, unleashed a blistering backhand down the line and his third ace to consolidate the break at love.
Shelton with the late-night crowd urging him on, threw in his third ace and held to 15 for 4-5. Mannarino struck three consecutive winners including another ace and after thirty-eight minutes, secured the set when Shelton overcooked the return.
Shelton served first in the second and following a slew of unforced errors, dumped serve. Mannarino gave back the break with two unforced errors and a stunning crosscourt forehand stab volley winner from Shelton.
Level at a game apiece, Shelton with the partisan crowd fully engaged, hit his fourth ace, and held at love to consolidate the break. Mannarino opened the fourth with three winners including two additional aces and held at love for 2-2 and Shelton returned the favor holding at love for 3-2 with an ace up the tee.
Mannarino missed 3/5 first serves and it cost him as he dropped serve with a mishit backhand. While the Frenchman chirped towards his box, the Miami crowd chanted "let's go Ben." Young Shelton feeding off the buzz struck two additional aces and with a serve and inside-in backhand volley winner, held to 15 to lead 5-2.
Mannarino serving to stay in the set, hit two consecutive forehand winners - down the line and inside-out - and held at love for 3-5. Shelton hit two consecutive aces and while he lost the next two points off the backhand, clinched the set when Mannarino netted one.
Mannarino served first in the decider and with a spectacular forehand volley winner and an ace out wide, held to love and Shelton returned the favor, holding at love courtesy of his opponent's unforced errors.
Mannarino with an overhead smash, ace out wide and a forehand down the line on game point, held to 30 for 2-1. Shelton opened the fourth with a crisp crosscourt backhand volley winner and his tenth ace but with four errors, faced three deuce and three break points and dumped serve when he missed wide with a forehand.
Mannarino almost 15 years older than his opponent, effortlessly transitioned from defense to offense. He made 5/5 first serves and with a backhand volley winner and a crosscourt forehand put-away, held to 15 for 4-1.
Shelton struck four winners including two consecutive aces but missed 6/8 first serves and following two deuce and two break points, dumped serve. Mannarino serving with new balls quickly reached triple match point and secured victory with an extraordinary backhand down the line.
It was a masterful performance from the Frenchman. He finished with 8 aces, 0 double faults and won 77% of first and 61% of second serve points. He won 27% of first serve and 52% of second serve return points while converting 4/9 break points.
Awaiting in the third round is 2021 Miami Open champion Hubert Hurkacz. The 8th seed is 12-5 on the season and leads the head-to-head 2-1 with both wins in straights on indoor hard. Mannarino won the outdoor hardcourt and sole grand slam encounter in straights at the 2022 Australian Open and this upcoming third round battle should not be missed.