Making the (Average) Grade: Defending Champion Andy Murray Reaches Quarterfinals

The casual tennis fan could be forgiven for thinking that the fourth-round match between Andy Murray and Denis Istomin would be a blowout. There is no comparison between the two in terms of career achievements. Murray, the defending US Open champion, has two majors to his name, multiple Masters 1000 shields, and the world No. 3 ranking. Istomin is a journeyman who has struggled to string together matches. He is currently ranked No. 65, never has won a title, and has reached only two singles finals in his career. But ardent tennis fans knew that, despite the disparity in accolades, this match had the potential to be a captivating affair.
That is because, as hardcore fans know, Istomin is the type of player that can catch lightning in a bottle and make life difficult for his higher-ranked opposition. He showed this three years ago when he took on Rafael Nadal in the opening round of the 2010 US Open, pushing the Spaniard 2-6, 6-7, 5-7 before Nadal could advance. As recently as this past summer, he forced Novak Djokovic to a final set in Montreal and had some nice wins over Nicolas Almagro and Andreas Seppi to reach the second week of this year's US Open. Clearly, there was always reason to suspect he could make a match of it against the Scot.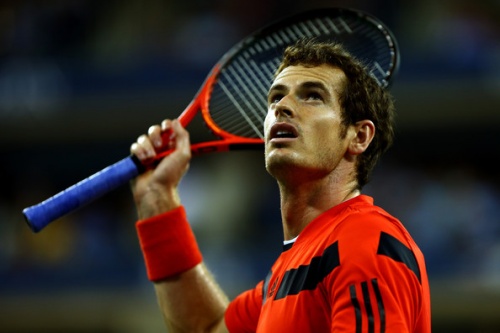 Murray's play following Wimbledon also indicated that this clash would not be as straightforward as it appeared on paper. It was only natural that Murray would experience a letdown after the emotional high of ending the British male title drought at Wimbledon, and his results during the summer hard court season suffered for it. He went out early in both Montreal and Cincinnati, and he had not been particularly dominant in New York coming into the matchup with Istomin. He played a few close sets en route to the second week and even dropped a set to Argentine Leonardo Mayer in the second round.
All of these various factors were on full display in the opening set of the match. Istomin had his game firing on all cylinders, and Murray looked a little lackadaisical. Istomin also appeared to be the more aggressive of the two from the start, moving Murray around and drilling his forehand up the line. That offensive approach nearly paid off for the man from Uzbekistan as he broke Murray to go up 5-3 and serve for the set. That is when his inexperience seeped through, however, and after a horrendous game Murray was back in the thick of it. It was only fitting that the first set ended in a tiebreak that, much like the rest of the set, was a see-saw battle. Murray overcame falling behind early to carve out a 5-3 lead before his nerves and Istomin's clutch play got the better of him and the set was lost. In the end, it came down to Murray hitting just four more unforced errors than his opponent and one costly double fault at 5-4 in the tiebreak that tipped the opening set in Istomin's favor.
But the honeymoon period was short-lived for Istomin. Murray was quick to get the match back on track and broke the Uzbekistani early for a 2-0 lead at the start of the second set. He also did a superb job of taking control of the point when the opportunity presented itself, which helped him raise his points won on first serve by more than 20 percent and forced Istomin into errors right and left. It was a set that went the way that one would expect when a player of Murray's caliber takes on a player the caliber of Istomin, and thus Murray quickly secured it by an emphatic score of 6-1.
As the third set got going, it seemed like it might go the same way as the second. After both players held serve to start, Murray earned an early break for a 2-1 lead. He followed that up with an easy hold and looked almost certain he would extend his lead to 4-1 after a breathtaking lob midway through the fifth game. Istomin had other ideas, however, and clawed his way to a hold to keep the deficit to one. The comeback from Istomin may have rattled Murray, who threw in a few loose errors in his own following service game. A couple of scorching winners from Istomin saw him break Murray and level the set at 3-3. Once again, however, Istomin's joy was cut short. In a long seventh game that saw him save a couple of break points and endure multiple deuces, he yet again surrendered the break to the superior play of Murray. This time, Murray would protect that coveted break and tuck away the third set.
If Murray was hoping that taking a 2-1 set lead would break Istomin's spirit, he was disappointed. To his credit, Istomin continued to compete hard and take care of his own serve. Unfortunately for him, he never got much of a sniff at breaking Murray. When the chips were down at 4-4, Istomin blinked, and Murray seized the break. Murray held his nerve to hold his serve in the next game, and the match was his.
Ultimately, this was a match of peaks and valleys. For every moment of brilliance, there was one that deserved a cringe, but as expected, Andy Murray's consistency, variety, and experience won on the day. It was hardly inspiring tennis from the Scot, but it was solid enough. And, as Murray will attest, it does not matter how you do it as long as you get the win. He accomplished that, which means a quarterfinal berth where he will need to raise his level if he hopes to continue his progress and possibly repeat as champion.