Longines Future Tennis Aces Promotes Young Players

Luxury watch brand Longines has hosted an annual tennis tournament for talented juniors under age 13 since 2010, alternating boys and girls each year. As the Official Partner and Official Timekeeper of Roland Garros, Longines is looking to develop players who could become French Open champions ten years from now. Things are looking pretty good in that department, considering that the 2016 French Open Boys' Singles Champion, Geoffrey Blancaneaux, was the runner-up in the inaugural Longines event eight years ago. "To participate in the Longines Future Tennis Aces is a basis to start a career. It is working," Juan-Carlos Capelli, Vice President of Longines, told Tennis View. Capelli sees this as an opportunity to instill good values in young players: "Performance is important, but never forget that fair play and respect is the base of the sport."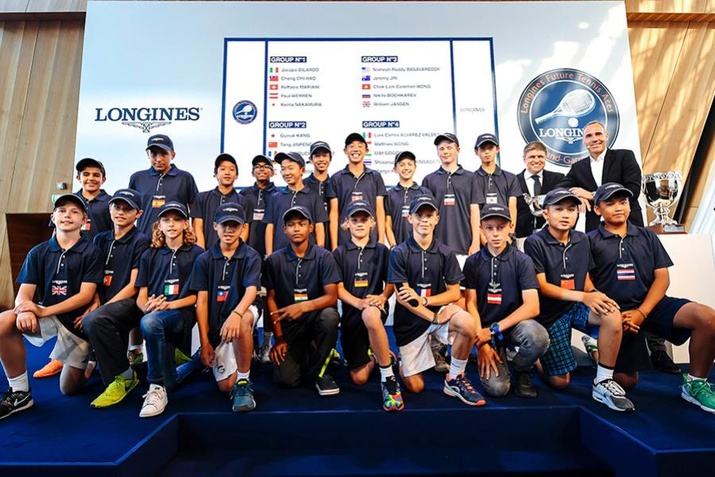 Longines Future Tennis Aces Expands in Its 8th Year
This year, Longines added four countries for a total of 20 players representing their nations on red clay at Parvis de la Défense, the esplanade in the heart of Paris' business district. While Roland Garros got underway on the terre battue across town, a group of talented tweens received training and mentorship before starting a round robin competition, a new format introduced this year. Longines hosted boys from Austria, Australia, China, France, Germany, India, Hong Kong, Italy, Japan, Korea, Mexico, Poland, Russia, Singapore, Spain, Switzerland, Taiwan, Thailand, the UK and the United States for a special trip to Paris that included sightseeing and a day at the French Open. But tennis was the main event, and the players showed the focus and determination that led to their selection for the tournament.
The Importance of Attitude
After a couple of days of training, the players attended a glamorous draw ceremony in a room inside the Eiffel Tower. Two-time French Open finalist Àlex Corretja, this year's event patron, spoke to the players about the importance of attitude, a point he re-emphasized when speaking with Tennis View later in the week: "If you have a good attitude in life, you can go anywhere. You can be very good, have a lot of talent and good skills, but if you don't work them, it's a waste," he said. "It's good to try to squeeze all the juice out of your mind and your body, otherwise when you get older you will regret a lot of things."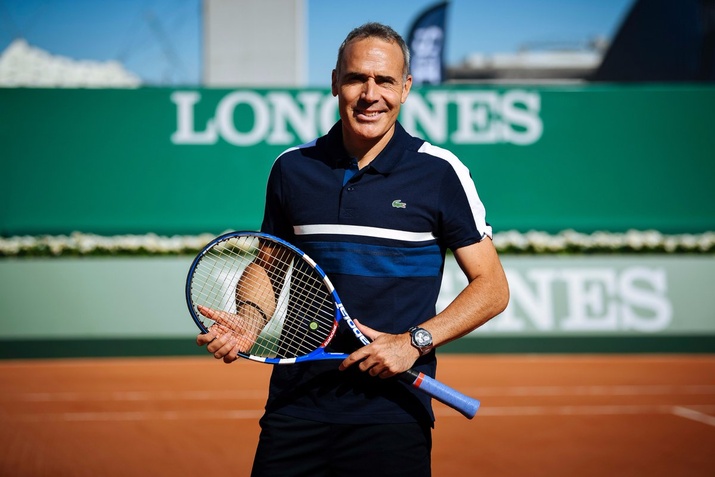 Corretja's emphasis on attitude aligns with the Longines motto "Elegance is an attitude." And on the tennis court, American Nishesh Basavareddy embodied this ideal with a calm demeanor: aside from a few understated fist pumps, the young player gave no indication of whether he was winning or losing a match. The twelve-year-old from Carmel, Indiana, won the "Little Mo" Golden Slam in 2013, and captured the USTA Boys' 12s Winter National title last year, among other accomplishments. He earned his spot representing the United States in Paris this year by winning a qualifying tournament at the Delray Beach Open in February, just one week after he returned from seven months of rehab to recover from knee surgery.
The seventh grader is currently doing tenth-grade geometry in school, and he uses his math skills on the tennis courts by thinking about angles for his shots. "I like the competitiveness of the sport and to solve problems on the court," he says. Those are the same qualities he enjoys in math, as well: "I like solving equations and problems and trying to do it faster." Nishesh started playing around age six with his dad and older brother. Now he trains six days a week at a local tennis club, spending two hours on the court and one hour doing conditioning drills. Next year he'll add weight lifting to his program.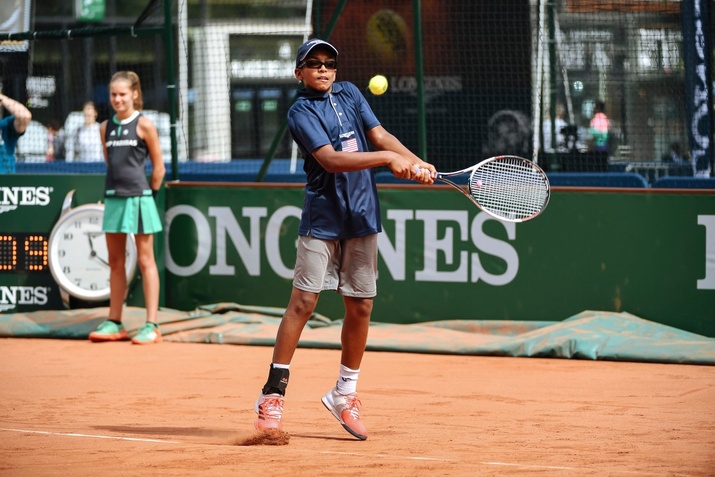 "When I'm ahead in a match, I just tell myself to keep doing what I've been doing because that's been working and not get carried away," he says. And if he's trailing in the score? "I try to find different ways to play that opponent and see what works." In Paris this year, Nishesh frequently unleashed an effective drop shot-lob combo that helped him sweep his group in round robin play, earning him a spot in the quarterfinals. He lost a hard-fought match to the eventual champion, Martyn Pawelski of Poland.
Andre Agassi's Advice for Young Players
Longines ambassador Andre Agassi attended the final, to the delight of the crowd and all the young players. After the tournament concluded, Agassi and Corretja took to the court for some exhibition matches with Pawelski and runner-up Chak Lam Coleman Wong of Hong Kong. While watching the final, Agassi was struck by the boys' intensity on every point. His advice for kids playing tennis was to avoid unnecessary pressure by not getting hung up on success. "Tennis is a great sport because it's a lot about life, and a lot about problem-solving. So my suggestion would be: don't value the winning and losing, value the learning and the growing and the making yourself better," he said. "I just would emphasize to focus on today and making yourself a little bit better and if you can do it and win at the same time, great; if you lose, use that too."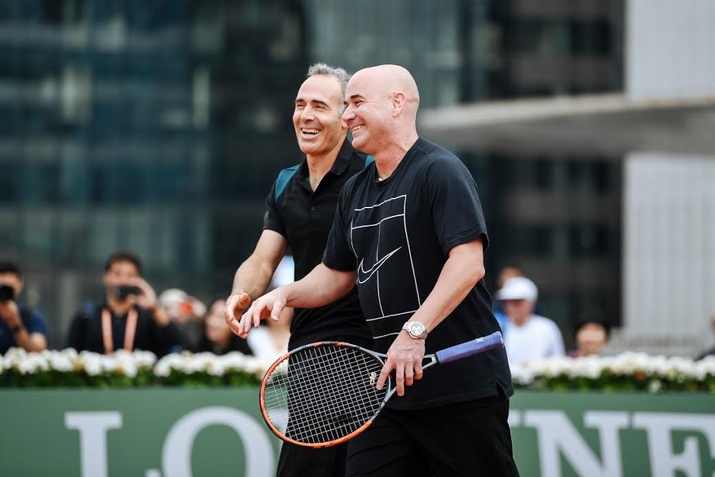 The value of the Longines Future Tennis Aces tournament is measured not only in the player development and unique experience it offers, but in the friendships formed by all the participants. These young men bonded during their time together in France, including during their trip to Roland Garros to watch their idols play on the Court Philippe Chatrier, where they hope to compete one day. Who knows? Maybe ten years from now they'll see one of their Longines pals across the net.
Longines, the official timekeeper of Roland Garros, created a special watch to honor the French Open: The Conquest 1/100th Roland-Garros. The elegant timepiece keeps precision time to one one-hundredth of a second, with hints of reddish-orange to reference the striking color of the clay courts.