Live Tennis Returns To The United States

Due to the COVID-19 pandemic, professional tennis has been on hiatus since early March. Today, in West Palm Beach, Florida, professional men's tennis returned albeit in a format tailored to replicate and maintain strict social distancing as prescribed by the CDC and WHO.
The UTR Pro Match Series is a two-day round-robin competition with prize-money and will count towards a player's Universal Tennis Rating or UTR.
This event and those that follow, aim to demonstrate how tennis can first be played locally and safely as the global community begins to end forced lockdowns amid the pandemic.
While the list of safety precautions is long and detailed, the match was short and somewhat sweet. Played on a hardcourt on private property, Hubert Hurkacz from Poland defeated the American Tommy Paul 4-2, 4-0.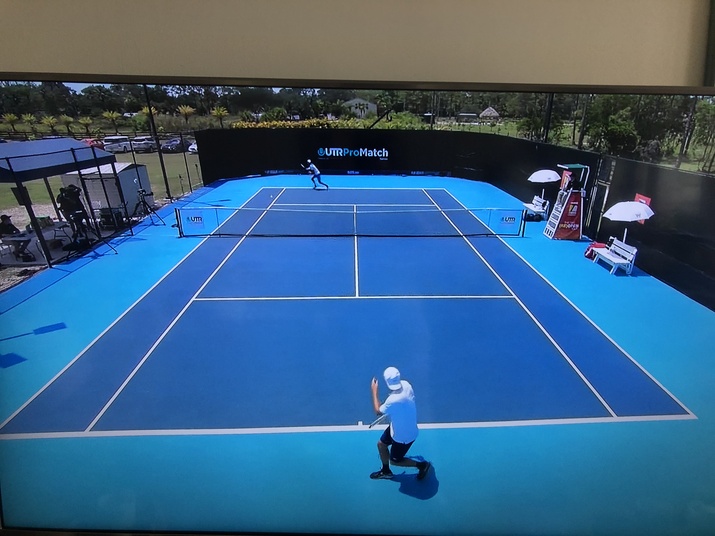 This best of three set match was played according to Fast 4 rules. The first player to reach 4 games wins the set but if both win three, a 7-point tiebreaker is played. There is no-ad scoring and the receiver gets to choose where to receive serve when the score reaches deuce.
In addition to the abbreviated format, each player serves with his own tennis balls previously marked with a sharpie and will call their own lines except for the service lines.
There is a chair umpire and one linesman sitting outside the fenced-in court calling the service lines. There are no ball kids or spectators and each player is required to bring his own towels and beverages.
Hurkacz, just twenty-three years of age and ranked #29 in the world, served first and held to 15. Paul, a year younger, currently ranked #57 – a career-high – struggled on serve and faced double break point but held with two huge forehands on consecutive points for 1-1.
Hurkacz, missing with the first serve, faced two break points, and dropped serve when he donated a double fault. Paul was unable to consolidate the break and dumped serve as the unforced errors mounted.
Level at 2-2, Hurkacz opened with a monstrous forehand down the line and closed with an unreturnable serve. Paul, serving to stay in the set at 2-3, succumbed to the pressure as he repeatedly missed the first serve and whiffed his groundstrokes. Hurkacz broke serve and secured the set when Paul's forehand went wide.
Hurkacz served first in the second and held to 30. Paul, despite serving significantly better, dropped serve due in large part to repeated errors off the ground. Hurkacz consolidated the break and held at love with an ace down the middle and a brilliant crosscourt forehand winner for a commanding 3-0 lead.
Serving to stay in the match, Paul missed the first serve and netted a backhand volley. He would win just one point en route to dropping serve, the set, and match 0-4.
The other two competitors in the round-robin are Reilly Opelka and Miomir Kecmanovic. The second day of competition will feature a third-place match and the championship match. In two weeks' time, the women will compete in a similar format and like the men's matches, will be televised on the Tennis Channel.
Watching this match was somewhat akin to watching a junior match on a side court at the US Open. While I tried to focus on the tennis which often was error-strewn as one would expect given the extended layoff, I found myself contemplating the future and whether I was looking at it. Could this be the new normal?