Lindsay Davenport, Anything but an "Unlikely Champion"
A Special 2014 Hall of Fame Inductee Tribute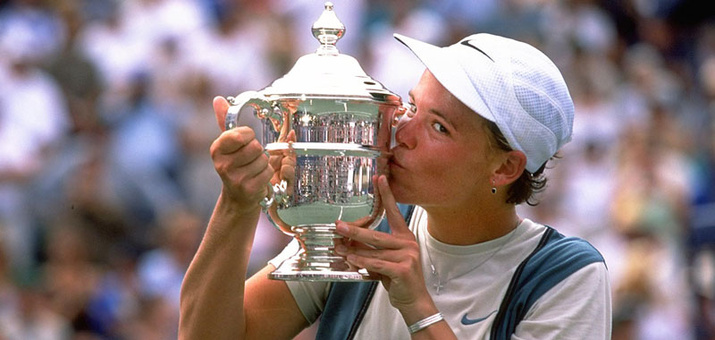 Three-time Slam winner and Olympic gold medalist Lindsay Davenport has a lot to be thankful for. Not only for her 17 years of on-court accomplishments, for which she will be inducted into the 2014 International Tennis Hall of Fame, but also for her life off the court. A mother of four, her life no longer revolves around practicing groundstrokes and picking up tennis balls.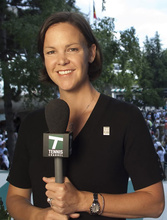 Instead, she focuses on her children. In 2007 while seven months pregnant with her firstborn, Davenport missed the tour and had a "huge desire" to return to competitive play. Totting around her three-month-old son Jagger, she went on to win Bali, listing it as her greatest accomplishment thanks to the fond memories of having her family with her.
Now, with a house full of kids, the only respite she occasionally gets is while traveling for Tennis Channel commentating coverage. Traveling solo, she wisely used her free time in Paris for the French Open to craft her Hall of Fame acceptance speech.
A role model for many while she played professionally, Davenport's life after tennis has been just as inspiring and exemplary.
---
Teresa Thompson: Congratulations Hall of Famer Lindsay Davenport! That has a nice ring to it, doesn't it?
Lindsay Davenport: Thank you! It's a wonderful feeling.
TT: Can you describe the moment – what you were doing and your reaction – when you first heard about your Hall of Fame nomination and then when you were accepted?
LD: I was first told last August that I had been nominated for the Hall of Fame. I was working in the Tennis Channel studio in Los Angeles. It was obviously an exciting moment. When I found out I had been accepted, it was actually pretty funny. I was at the very end of my pregnancy and since it was my fourth child, my doctor was having me checked very regularly. My doctor had just sent me to the hospital to be monitored more closely and my husband and I were in the room awaiting to hear if our baby was going to be delivered. Mr. Clouser [chairman of the ITHOF] called. We couldn't answer at that moment but we were both very happy when we heard his message. Our baby was born later that night and I touched base with Mr. Clouser two days later.
TT: How important was the acknowledgement, professionally and personally?
LD: The award is of the highest honor and extremely humbling. I never grew up thinking about the HoF, but became very aware of the possibility during my career. I believe there is no higher honor in this sport and I'm looking forward to making it official in July.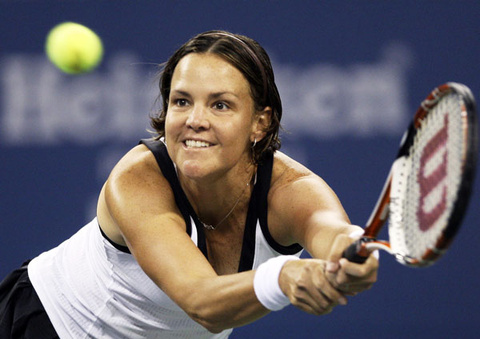 TT: What's the message you want to get across in your speech to your fans and the tennis industry?
LD: Well, I'm not really concerned about the industry. I want it to come from my heart and I think it will be fun. This is a time for me to show my love to the sport that has truly given me everything in my life, and to everyone who has supported me whether it's been the fans, friends, or family. I just hope I can properly convey all my thanks to those who are in my life.
TT: I know you're used to big stages, but this one is different. How do you think you'll handle it?
LD: Hopefully calmly, but you never know! Who can forget Pete Sampras' speech? There's always a certain level of anxiety when you have to speak in front of thousands of people. It's hard to know exactly the emotions that will be flowing, but I'm sure when I look over and see my four kids, my mom, sisters, nieces, and friends, it will be touching.
TT: When you think of your all-time greatest tennis moment what comes to mind?
LD: My greatest moment on the court was winning the US Open [1998, d. Martina Hingis]. That was the Slam I watched growing up; it was the first one I competed in at the junior level and also the first Grand Slam main draw I played in. My whole family flew in after I won my semi-final match and it was so nice to have everyone there.
TT: And what about your greatest accomplishment?
LD: I believe my biggest accomplishment was winning the Bali tournament in 2007 just three months after my son was born. At about seven months pregnant, I had this huge desire to play again and it was fun to jump back into tennis with my son along. We have some unbelievable pictures from that trip.
TT: You are adored by so many people and on so many different levels. I think part of the attraction is your "girl next door" vibe. Is this perception accurate?
LD: That makes me laugh! I have learned you can't control what people think of you. I have absolutely loved my life since I stopped competing almost six years ago. It can be a tough transition for athletes, but I never liked the attention or scrutiny of what being a top player entailed. My husband and I are loving the years where it's all about the kids. I mean, we have four kids aged six and under, so there's not a lot of time for outside activities. Nothing has given me greater joy than raising my kids with Jon.
TT: Any thoughts on how your next 2-5 years will play out?
LD: I have absolutely loved working for the Tennis Channel. Getting a chance to still be involved with tennis, getting to go back to the Grand Slams with a higher level of appreciation, and working with some of the greatest people has been such a high point. I look forward to continuing that work and look forward to getting this last baby out of diapers!
TT: How would you like to be remembered?
LD: That's really not something that I worry about. I was lucky to find tennis. I was an unlikely champion, and I was in a family that couldn't care less what I achieved or didn't achieve.
---
Career Prize Money
: $
22,166 
,
338
(
4
th in all-time rankings)
Career Record
:
753
—
194
(
79.5
%)
Career Singles Titles
:
55
Singles Slam Titles
:
3
;
1998
US
Open,
1999
Wimbledon,
2000
Australian Open
Career Doubles Titles
:
38
(including
3
Slams)
This article is from the July/August 2014 - Wimbledon issue

SOLD OUT

Subscribe now and you'll never miss an issue!