Lesson Learned

If you caught any sports headlines this week, you might have thought the tennis world was coming to an end. After multiple players who participated in the Adria Tour and some of their team members tested positive for Covid 19 – including tournament founder and current Number 1 Novak Djokovic – the backlash was swift. There has been no shortage of criticism of Djokovic, as some have feared that the nightmare scenario in the Balkans could put the rest of the calendar in jeopardy. But before giving in to all of the doom and gloom, folks need to take a step back, judge it fairly and recognize it for what it ultimately is: a hard-learned lesson.
In fairness to Djokovic, his tour was founded with the best of intentions. It was not simply about getting some players back on the court, but helping the lower-ranked players earn a little income, serve a charitable cause, and promote feelings of unity among a set of countries that a few decades ago were at war with one another. It is also not as though he was the only one promoting a return to tennis. The Ultimate Tennis Showdown has been staged in France the last two weekends, and the women are featured this week in South Carolina. None of the participants in the Adria Tour were coerced into playing either but rather chose to participate knowing the risks involved. And as hard as it may be to fathom for those in areas where Covid-19 struck particularly hard, it is important to remember that the coronavirus did not strike every country equally. Croatia and Serbia were not as severely impacted and had eased many of the lock-down restrictions well before the Adria Tour commenced. As such, everything that transpired during the course of the Adria Tour was within government regulations. ​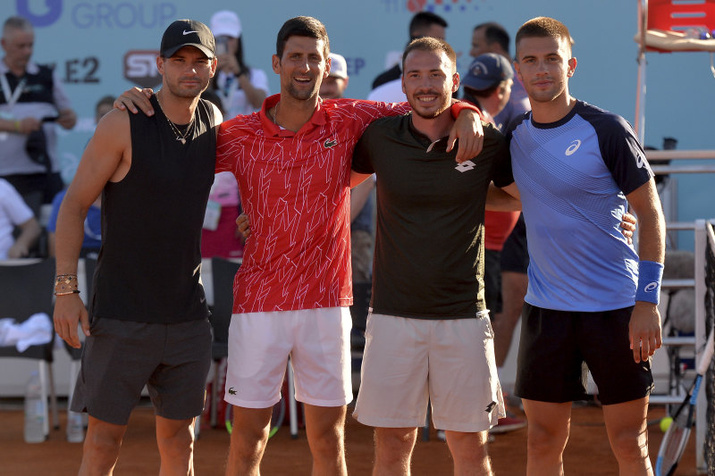 But while some understanding for Djokovic and the others who participated in the Adria Tour is in order, that does not mean that he and all of those involved with it are exempt from criticism. Just as others have to understand his perspective and how Covid-19 affected his area of the world differently, it was naive of Djokovic and others to assume that just because they could play basketball or go out clubbing together, that it was a good idea to do so. This is especially so considering some of the participants were coming from areas that were more severely impacted by Covid-19. All told, it does not matter which player or team member contracted the virus first or exactly how the others got it. The perception and therefore the consensus will always be that a cluster of Covid-19 cases developed there because of the apparent careless actions that were taken over the course of this event, legal or not.
Cooler heads should prevail, however, so no one should be looking at what occurred at the Adria Tour as a reason to forgo starting the season again in August or blocking any future exhibitions from taking place. For one thing, there is no telling what changes in the impact of the virus may arise between now and August when the tours do resume play. Additionally, as Andy Murry pointed out, the tour events will have much stronger social distancing requirements in place. In fact, if anything, the travesty that occurred with the Adria Tour gives a tournament like the US Open even more leverage to insist strict measures are essential for the safety of all. It may even have players like Djokovic, Dominic Thiem, or Simona Halep softening towards playing events in the United States knowing that the proposed precautions do not appear to be overkill but rather a necessary evil at this juncture in time.
No matter how you slice it, Covid-19 makes the resumption of sports difficult and even more so for an international sport like tennis. There is no fully eradicating the risks involved, and there are going to be some stumbles along the way. But finger-pointing and playing the blame game that followed the fallout from the Adria Tour solves nothing. Instead, all should learn from it and remember that for all of the different perspectives shaped by the myriad experiences players and fans have had with viruses, it is always better to be safe than sorry. If people can do that, then the Adria Tour will have served as an important lesson, from which the sport can grow, adapt, and continue to move forward in a more secure way until it is truly safe to return to normal.
(photo courtesy of AP)