Leading the Way
John Isner, the No. 1 ATP American, carries the American flag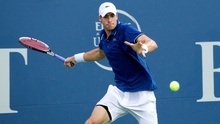 "The thing is, I don't actually follow tennis that much," John Isner says bluntly, as he attempts to evade a series of questions on the future of the American game. It's a surprising admission from a player ranked 11 in the world, but then Isner's path to the higher echelons of tennis has hardly been conventional.
Isner arrived late to the professional game, only committing full time to the sport at the age of 22 after spending four years completing his degree at the University of Georgia. Virtually unheard of until his final year of college, he's slightly bemused to find himself single-handedly carrying the flag for American men's tennis. This unexpected burden involves the rather tiresome task of being repeatedly asked to explain why the nation that produced Pete Sampras, Andre Agassi and Jim Courier now finds itself struggling to get a representative beyond the third round of majors.
"I really don't think it's any of my concern actually. I just worry about myself," he says, a tad wearily, before launching into a defense of some of his younger compatriots.
"I do believe that there's some players behind me in the rankings that are only going to continue to get better; Jack Sock being one of them. He's actually just moved down to Tampa from Los Angeles. I've been spending a lot of time with Jack, and I know how talented he is and he's working hard. He's a guy that you're going to have to keep an eye on along with Steve Johnson, Ryan Harrison. And Sam Querrey, it's only a matter of time before he's gonna turn it around. It doesn't look that good on paper right now, I guess, but really it's not as bad as it looks."
Isner has been a constant source of encouragement and advice to the likes of Sock and Harrison, but there are still fears that the current crop could be something of a lost generation. While the future of American women's tennis is considerably rosy with Madison Keys, Sloane Stephens, Taylor Townsend and Victoria Duval making impressive progress, Sock has yet to prove he can develop into a world-beater, while Harrison has struggled since he burst onto the scene as a precocious teen.
Isner stiffens when asked if the lack of a Sampras or Agassi-like figure harms the growth of tennis in the US. "I don't know. I've done pretty good things. I'm 11 in the world, so it's not too bad," he replies quickly, before revealing that off-court he doesn't follow the sport with the same fanaticism as Andy Murray and Milos Raonic, both tennis anoraks who will happily reel off stats and facts going back decades.
"Of course I follow the results and check out the scores from the latest tournaments or whatever, but I can't tell you who the best 18-year-olds are right now," he says. "I'm actually mainly into American sports. American football, ice hockey, NBA, college basketball and baseball, too. Not so much into track and field, though, but I respect those athletes so much; they're probably the best athletes in the world."
Isner is most animated and engaging when discussing his beloved football teams. He grew up in North Carolina and remains an avid follower of the Carolina Panthers. It was there in his hometown of Greensboro that his fierce competitive instincts were honed.
NOT JUST A 'NICE GUY'
An outwardly placid character, it would be easy to underestimate Isner as one of tennis' "nice guys," a somewhat cruel branding used for players with a perceived lack of killer instinct. But one only has to look at the number of epic five-setters he's won over the years, including his record-breaking three-day Wimbledon battle with Nicolas Mahut, to dismiss that as folly. Beneath the calm exterior, Isner is a ruthlessly tough competitor, a streak that was first forged in the backyard of his parent's house, playing ball games with his older brothers, Nathan and Jordan.
"My fondest tennis memory as a teenager is probably when I was first able to beat Jordan," he said. "I think I was about 14 years old, and he was 17. He didn't like it too much. I wouldn't say I dominated him from then onwards, but eventually I kept getting a little bit better, a little bit better, and we haven't played in quite a long time now! But there was always a little bit of competition there; you always want to try to beat your older brother, whatever it is."
But while the teenage Isner was driven by trying to better his older brothers, he would soon find himself hooked by a far more powerful motivational force. Isner's relish for the team environment began as a freshman playing college tennis for the University of Georgia, and that has continued through to the Davis Cup, where he spearheaded the US past the might of Switzerland and France and into the semifinals last year.
Isner remains a local hero in Georgia, attracting mass crowds whenever he plays the US Open Series tournament in Atlanta, and the stories of his college exploits are now legendary after he led them to the NCAA title in his senior year. He may have competed on the biggest courts in the world including a packed Arthur Ashe stadium, but winning that title in front of 5,000  spectators in his college town remains one of his fondest memories.
COLLEGE HERO
"I've always considered myself a team player, and that's why I enjoyed college tennis so much," said Isner. "I played high school tennis in North Carolina, and the competition wasn't really that great compared to this level. But for me, any time I get to play for someone really other than myself, it suddenly becomes a lot bigger, and the same goes for Davis Cup. It's such an honor to play Davis Cup."
The psychological aspect of knowing that other people are relying on him to deliver seems to have been the key to some of Isner's best performances. "Yeah, I mean there's probably several reasons why I play better as part of a team. You know, the environment's often more rowdy. There's a lot on the line in Davis Cup, there's a lot of pressure and you have to sort of embrace that pressure and go out there and enjoy it. Just like in any match. But when you know that you're doing it for your teammates, your captain, your coach and your country, that makes you dig even deeper."
Isner's coaches have long sought to find a way to take that team spirit and channel it into the often-lonely environment of the ATP Tour. When he first turned professional in 2007, Isner admits that going from the constant camaraderie of college to the harsh realities of life in the cutthroat world of elite sport, was something of a rude awakening. With funds tight, he had to learn quickly how to fend for himself.
"It was a tough adjustment because I was so used to being on a team and really having a lot of stuff just done for me. In college, they really treat you so well, especially when competing for them. Back then, I never had to worry about plane tickets, never had to worry about hotel reservations, this and that. I was always with the team and going out to dinner with friends and stuff. Suddenly I had to learn how to cut corners here and there to pay the bills, but luckily I had a lot of success early on and once I started getting accustomed to the pro tour, it became a lot easier."
Isner made headlines when he reached the final of just his second main tour event as a wildcard entry in the Legg Mason Classic in Washington. His opponent that day was Andy Roddick.
"I was an unknown to pretty much everybody," Isner smiles. "Andy managed to find out a couple of things about me from his brother. But back then, I was just this tall guy with a good serve. I didn't play too much pro tour when I was in college you see. I'd just kind of go back home for the summer instead of going on the circuit."
A few weeks later he found himself in the rather surreal position of playing Roger Federer in the third round of the US Open, just his eighth tournament as a pro. He won the first set before the Swiss learned to tackle the fearsome Isner serve.
"I remember it well," he says. "Roger was at the very peak of his game back then, it seemed like, so it was a neat experience for me. It was a little intimidating, but at the same time, I had nothing to lose. I had a lot of fun out there."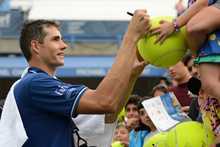 THE US OPEN
"Fun" has always been the way Isner has viewed the US Open, which probably explains the consistency of his performances at Flushing Meadows over the years. It's the only major where he's made the quarterfinals and the scene of one of his finest performances, a five-set win over Andy Roddick in 2009.
"That was a good one, one of my best memories for sure. Andy was top five in the world, I believe, and the No. 1 American at the time, so it was a great one for me. I remember just being on Ashe, and it was a packed house. It was the last afternoon match, but afternoon turned into night and the place started to fill out and it was an electric atmosphere."
Five years on and once again Isner is the only realistic hope of an American presence going into week two. Such a status means he's rarely short of advice. Some have suggested that he copies Andy Murray's approach of gathering together a larger team to try and recreate the environment in which he seems to thrive. From a tennis perspective, his Davis Cup captain Patrick McEnroe has been consistently calling for Isner to show more aggression on the court and try to use his size to impose himself more on opponents.
"I can't see myself copying Andy. It's not quite the same," Isner replies. "It's more like teammates, which makes the difference. I travel with two people, which I think is definitely plenty. Most of the top guys travel with two people, at least the top 30 anyway. It's my coach and my chiropractor, and he's more than just getting me adjusted and what not. He does a lot of good stuff. And Pat's right. For guys like me and Sam (Querrey) and other bigger players, you do have to be aggressive, but it's easier said than done."
The US Open swing always sees more of an enhanced media focus on Isner these days, but he insists it doesn't bother him, even if it feels a little strange.
"The thing is, I was never pegged to be the next great American player," he says. "I went to college for four years. I never actually thought I could do what I'm doing now. I've been four years in a row in the top 20. Didn't think I could do that. I'm doing good things, and I honestly don't care what anyone else says. I'm just trying to do what I can, as long as I can, and that's it."
This article is from the Sept/Oct 2014 - US Open issue

SOLD OUT

Subscribe now and you'll never miss an issue!