Laver Cup Day 2: Medvedev Extends Europe Lead To 9-1

Daniil Medvedev, the recently crowned US Open champion, and world #2, is making his Laver Cup debut on Team Europe at Boston's iconic TD Garden. In New York, the supremely talented twenty-five-year-old Russian flipped the script on world #1 Novak Djokovic, getting revenge for a straight-sets loss in the Australian Open final earlier this season.
His opponent, Denis Shapovalov, was playing the Laver Cup for Team World for the third time. The twenty-two-year-old lefty from Canada, with doubles partner John Isner, got Team World on the board winning the final match on day one.
Currently ranked #12, he broke into the top ten for the first time in September 2020. While he missed the French Open due to a lingering shoulder injury, he performed well at the last two slams, reaching the semis at Wimbledon and the quarters at the US Open.
Shapovalov led the head-to-head 2-1 (all on outdoor hard), but they had not met on tour since 2018. Medvedev won the toss and elected to receive. Shapovalov opened with a serve and volley winner and closed with a spectacular forehand down the line pass for 1-0. The Russian native opened with an ace and despite donating a double fault, held for 1-1 with an ace up the tee.
Shapovalov missed 4/6 first serves and butchered a makeable volley yet held to 30 with a well-placed drop shot while Medvedev held at love for 2-2. The unforced errors continued to mount for the world #12 and despite donating a double fault and facing three deuce and a break point, held for 3-2 with two extraordinary forehands on the last two points.
Medvedev opened and closed the 6th game with an overhead smash to level at 3-3. Shapovalov made 4/5 first serves and held easily to 15 for 4-3. The world #2 committed three forehand errors but with well-struck serves including another ace, held for 4-4.
The Canadian and John McEnroe, the captain of Team World, clearly had a game plan; serve and volley, chip and charge but when the approach was short, it was crushed along with any drop shot not perfectly executed.
Shapovalov repeatedly watched shots whizz by and in the 9th game, faced triple break point and dumped serve when his opponent pummeled a forehand. Medvedev continued to serve big, including another ace, and clinched the set 6-4 with a massive serve out wide.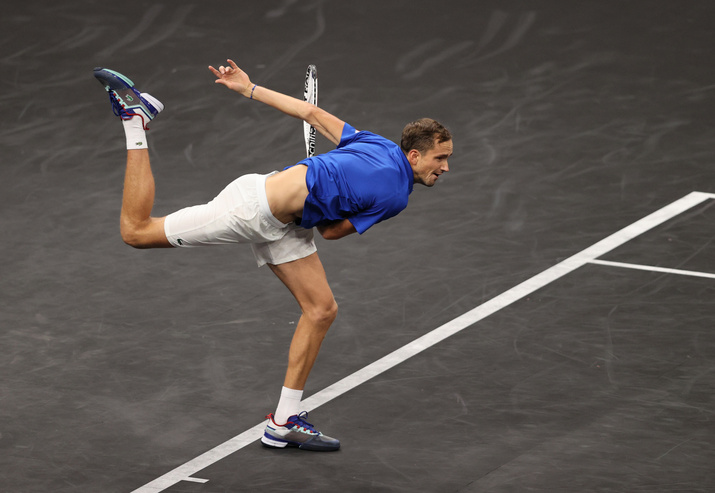 Credit: Getty Images
Shapovalov served first in the second and quickly faced double break point and dropped serve when he mishit a backhand. Medvedev held easily to 15 to consolidate the break for 2-0. Shapovalov gifted his opponent too many unforced errors and it cost him as he once again dumped serve.
Medvedev, on a tear, held at love for a commanding 4-0 lead. Shapovalov continued to move forward but often on the wrong shot. He gifted too many errors while his opponent struck multiple winners. Shapovalov faced three break points and dropped serve for the third time when his opponent ripped a forehand down the line. Medvedev threw in a serve and volley but faced a break point when he whiffed a backhand volley. The world #2 regained focus and converted his second match point with an outstanding inside-out forehand.
Medvedev, with this exceptional performance, earned two points for Team Europe. The US Open champion finished with 4 aces, 2 double faults, and won 81% on first and 68% on second serve points. He converted 4/8 break points and won 24 more points than his opponent (63/39). After an hour and a quarter, Daniil Medvedev proved his too cool for school!