Laver Cup Day 1: Opelka in for a Ruud Awakening

Team World and Team Europe have descended upon the great port city of Boston and TD Garden for the fourth edition of the Laver Cup. This three-day, team competition was scheduled for September 2020 but was canceled due to the global pandemic.
Bjorn Borg, the 11-time grand slam champion and captain of Team Europe, is looking to claim the cup for the fourth time having triumphed in Prague, Chicago, and Geneva. John McEnroe, the 7-time grand slam champion and captain of Team World, is hoping that the home-court advantage will pay dividends.
Casper Ruud, playing for Team Europe, recently broke into the top ten following a stellar season in which he won four titles. The twenty-two-year-old Norwegian is making his Laver Cup debut as is his opponent, Reilly Opelka. The world #19 was 0-2 vs Ruud but hoped his big serve and the home crowd would serve him well.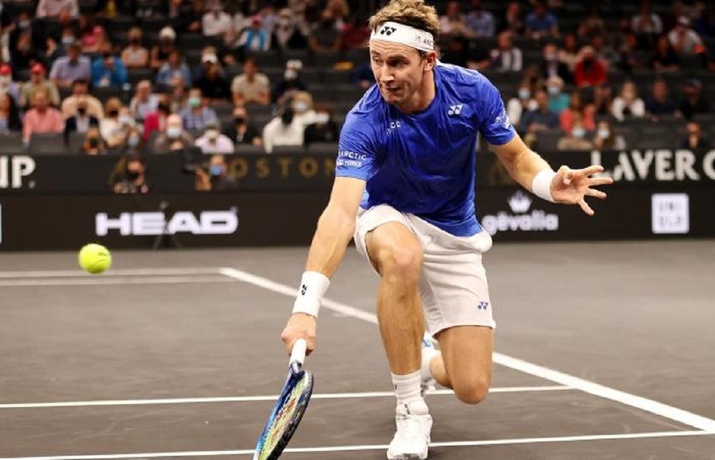 Each match contested on day one is worth one point. For detailed information on the Laver Cup's scoring system, please visit www. lavercup.com/how-it-works.
Opelka served first and held to love with a huge serve up the tee. Ruud opened with a forehand error but held to 15 for 1-1 with a 120mph ace up the tee. Opelka missed 3/8 first serves, donated two backhand errors, and dumped serve when he missed wide with a forehand volley.
Ruud, not known for his serve, hit his spots and with two winners-one off each wing-consolidated the break for 3-1. Opelka dropped the opening point of the fifth game after Ruud crushed an inside-out forehand but held with a 133mph ace out wide and a forehand down the line.
Ruud, with five career titles all on clay, proved he can go toe to toe on a hard court as he continued to play aggressively from the baseline, holding to 15 for 4-2. The 24-year-old American opened and closed with an ace as he held at love for 3-4.
Ruud, serving with new balls, faced his first break point when he mishit an inside-out forehand and despite facing two deuce points, held when his opponent's return went wide. Opelka, down 3-5, quickly faced triple set point and lost serve and the set when he mishit an overhead.
Ruud, not at all distracted by the crowd support for his opponent, maintained his focus and game plan as he held to love with a 121mph serve out wide. Opelka had a much more arduous time in his first service game of the second set as he missed 8/18 first serves including a double fault. Despite facing six deuce and two break points, he held when Ruud missed wide with a backhand down the line. The crowd erupted in applause for they knew had he dropped serve, Ruud might run away with it.
Ruud continued to exhibit remarkable composure as he did not allow those missed opportunities to distract him. He opened the third game with an inside-out forehand winner and closed with a second serve ace.
Opelka, known for his booming serve, continued to misfire yet held to 30 with a well-timed serve and volley on game point. Ruud swung freely including a forehand swing volley winner as he once again held easily to 15 for 3-2.
The crowd, fully engaged, burst into applause as Opelka held at love following a sweet backhand drop volley winner and a 135mph ace up the tee. Ruud missed 4/8 first serves and faced double break point but with an ace out wide and a netted return, held for 4-3. Opelka failed to capitalize on an 87mph second serve on break point but with new balls, once again held at love for 4-4.
Although the world #10 continued to miss with the first serve, he backed it up with formidable groundstrokes as he held to 30 for 5-4. Opelka, serving to stay in the match, made 4/6 first serves and held to 30 for 5-5.
Ruud opened with a 124mph ace up the tee and with a monster serve out wide, held to 15 for 6-5. Opelka struck two consecutive aces, the second 141mph, and held with another well-struck serve to force the tiebreaker.
Ruud served first in the breaker and took the opening point with a deft backhand volley. The Norwegian raced to a 4-1 lead, but Opelka closed the gap to 3-4 with an ace out wide. Ruud unloaded with the forehand to reach triple match point at 6-3 and closed out the breaker 7-4 when Opelka netted a forehand.
It was an incredible display of poise and power from the young Norwegian. He struck four aces, zero double faults, and won 84% on first and 70% on second serve points. He clearly had a game plan and executed it to perfection.