Kvitova Subdues Rybakina 7-6, 6-2 For First Miami Open Title

Kvitova subdues Rybakina 7-6, 6-2 for first Miami Open title
Wimbledon champions took the court in Hard Rock Stadium for the Miami Open final.
Elena Rybakina from Kazakhstan is currently at a career high of #7 and is the reigning Wimbledon and Indian Wells champion. The twenty-three-year-old was attempting to win the sunshine double – Indian Wells and Miami in back-to back Masters 1000 events. Her ranking probably would have been higher but last year the WTA stripped ranking points from Wimbledon in retaliation for barring Russian and Belarusian players.
Her opponent Petra Kvitova is a two-time Wimbledon champion who reached a career high rank of #2 in 2011. Currently ranked 12 and seeded 15, the left-hander from the Czech Republic was seeking her first Miami Open title and 30th overall. Solid on serve with the loss of just six games over five matches, the thirty-three-year-old tour vet was seeking her second win in three matches vs Rybakina.
Rybakina seeded 10th, saved a match point against Paula Badosa in the second round. She missed 5/8 first serves including a double fault and faced double break point yet held while Kvitova struck two winners including an ace up the tee and held at love to level. Rybakina hit two winners including a 116mph ace up the tee and held to 30 while Kvitova faced a deuce point before holding for 2-2.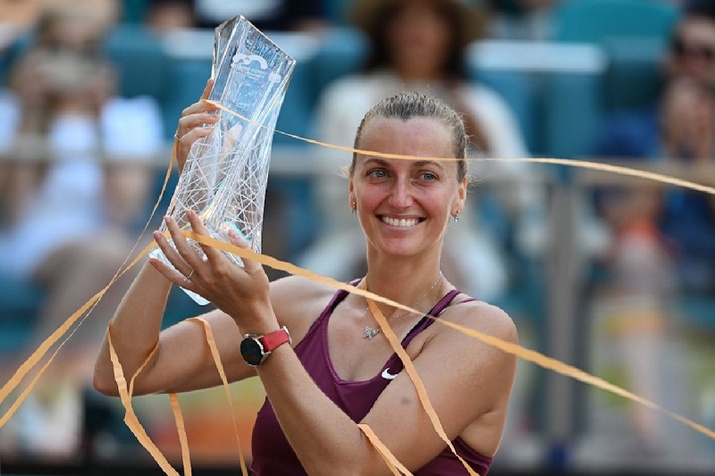 Getty Images
Rybakina hit another ace and an overhead winner for 3-2 while Kvitova ripped a crosscourt backhand and held easily to 15 to level. Rybakina hit an ace out wide on game point and held at love while Kvitova serving with new balls, held to 15 for 4-4.
Rybakina missed 3/6 first serves including a double fault and faced break point and dumped serve after missing a forehand during an extended rally. The two-time Wimbledon champion continued to pummel the ball off wings. Serving for the opening set however, Kvitova donated four unforced errors and third off the forehand to give back the break.
Rybakina gladly accepted the lifeline and with two consecutive aces, held at love to lead 6-5. The disappointment of not securing the set did little to diminish Kvitova's determination as she opened the 12th with an ace and held at love to force the tiebreak which lasted twenty-two minutes!
It was an enthralling, high-quality duel between two hard-hitting, high-risk players. Rybakina hit five aces and led 4-2 before Kvitova leveled with multiple winners. The world #7 had 4 set points but could not convert. Kvitova however, converted her fifth set point and secured the breaker 16-14 when Rybakina netted a forehand.
Kvitova served first in the second and with controlled aggression off the ground, held to 15 for 1-0. Rybakina missed 3/6 first serves and faced triple break point and dropped served when her opponent crushed the backhand return inside-in.
Kvitova faced a break point and deuce but with her fourth ace and a terrific crosscourt forehand volley, consolidated the break for 3-0. Rybakina similarly faced a break point and deuce but with two additional aces, managed to hold for 1-3.
Kvitova while renowned for her explosive power, was equally impressive on defense. Running from side to side, she unleashed a winning forehand down the line from the doubles alley and held to love for 4-1.
Rybakina returned the favor holding at love for 2-4 despite missing 3/4 first serves while Kvitova struck her fifth ace for another love hold.
Rybakina an exemplary competitor appeared to have run out of gas. She missed 4/5 first serves including another double fault and conceded the match with two consecutive unforced errors.
After 1 hour and 40 minutes and thirteen appearances, Petra Kvitova was the Miami Open champion. It was a world-class performance from a magnificent champion. In winning her 30th career title she struck 5 aces, 0 double faults, 29 winners and just 14 unforced errors. She won an astounding 79% of first and 75% of second serve points, 52% of second serve return points and converted 3/8 break points.
On this day in Miami, grit, poise, and a decade of experience prevailed. Let's hope this is not the last time these two great champions do battle for the game's biggest titles.