Kremlin Cup: Konta Fights Through To Semis

The stakes were exceedingly high in Moscow at the Kremlin Cup. Johanna Konta, the former world number 4, battled to reach her second semifinal of the season, while Aliaksandra Sasnovich, competed for a spot in the semis and a chance to play in the final and claim her first WTA tour title. This was just their second tour-level meeting, the first coming last year at the Miami Open which Konta won 6-2, 6-7, 6-4.
Sasnovich, from Belarus and just twenty-four years of age, has achieved a career-high ranking of #30 while the twenty-seven-year-old Brit has struggled to maintain a ranking within the top fifty, currently ranked #44.
Konta's precipitous decline has been inexplicable given the absence of any serious or lingering injury. Perhaps the pressure of being the top-ranked British player rattled her confidence and impeded her focus.
Konta served first to open the match and struggled to find her rhythm facing a break point following an exceptional return winner from Sasnovich. The Brit managed to hold with a well-placed serve and forehand volley winner.
Sasnovich also struggled with her first serve but struck an ace up the middle and held for 1-1. Both sought to control the baseline and with penetrating groundstrokes off both wings, remained on serve through five games.
Sasnovich serving down 2-3, faced triple break point as Konta continued to strike the backhand with conviction. The Brit converted on the third break point when Sasnovich's backhand found the net.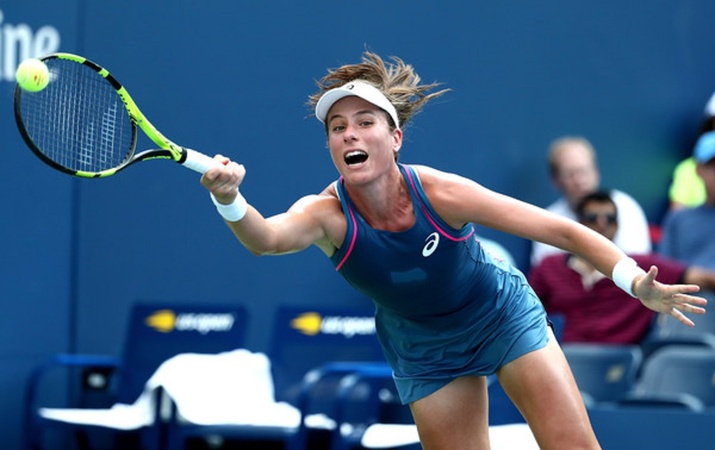 Konta continued to mix up the serve and held to 30 to take a commanding 5-2 lead. Notwithstanding an on-court visit by her coach during the change-over, Sasnovich remained rattled and unsettled and dropped serve and the set 2-6.
Konta opened the second set with her first double fault of the match and it foreshadowed the quandary to come. Despite two aces and nine deuces, she was unable to hold serve; Sasnovich converted her 9th break point when Konta's backhand hit the tape and landed wide.
Sasnovich consolidated the break and earned two break points in the third game but was unable to convert as her forehand deserted her on multiple points.
Konta, serving down 1-3, once again came under fire as she faced triple break point. Sasnovich's formidable shots continued to land deep, rushing Konta and drawing errors the last of which gave the Belarussian the break.
Sasnovich opened with an ace and following an outstanding drop shot and swinging forehand volley winner on consecutive points, held to love for a 5-1 lead.
Konta, serving to stay in the second set, held to 30 with an ace up the middle. Sasnovich, just four points from leveling the match at a set apiece, secured the set 6-2 despite two additional unforced errors off the forehand.
Both utilized their varied arsenal to great effect and maintained their composure when in the lead. In this highly entertaining match, it was impossible to predict with so much on the line, who would strike first and secure the win.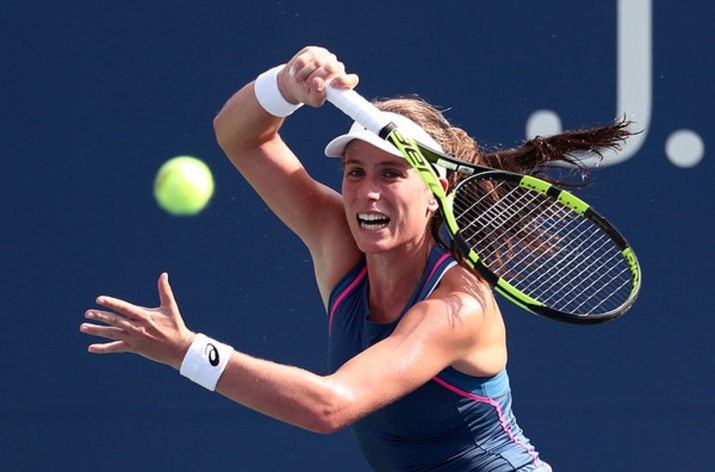 Konta served first in the deciding set and although she threw in a double fault, held following an incredible backhand volley winner down the line.
It appeared as if Sasnovich might succumb to the pressure facing double break point in her opening service game. She, too, threw in a double fault but managed to hold with a swinging backhand volley winner. Although she opened with a double fault, Konta struck her 7th ace of the match and following two consecutive backhand errors from her opponent, held for 2-1.
Sasnovich held easily for 2-2 while Konta suffered to hold serve. The Brit appeared frazzled as her shots repeatedly missed by the smallest of margins and faced double break point when she overcooked a forehand. Despite three deuces and three break points, she held for 3-2 when Sasnovich's forehand sailed long.
Each held to love to level the set at four games apiece. Sasnovich, serving with new balls at 4-5, was two points from defeat for the second time during the game when she threw in a double fault. She got a bit lucky, no doubt, and held when Konta barely missed off the ground on two consecutive points.
Level at 5-5, the Brit regained her composure following another double fault and closed out the game with a swinging forehand volley winner. Sasnovich, having to hold to force a tie-breaker, embraced the pressure and closed out the game with an ace down the middle.
The tie-breaker, unlike most of the match, was not competitive. Konta considerably upped the ante and played even more audaciously taking a commanding 6-2 lead following a scintillating backhand down the line winner, forehand return winner and 9th ace.
Konta secured the tie-break 7-2 when her opponent's return found the net. After a 2 ½ hour battle with 102 versus 100 points won, Johanna Konta reached her second semi-final of the season and will take on the #6 seed, Daria Kasatkina. This will be their third meeting (all on hard court) having split the previous two.