Keys Overcomes Illness And Sofia Kenin In Flushing Meadows

Two young Americans took center stage under the lights in Arthur Ashe Stadium to compete for a coveted spot in the round of 16 at the season's final slam. Despite receiving a medical time-out Keys, defeated Sofia Kenin 6-3, 7-5 in 80 minutes.
Keys, just twenty-four years old and the 2017 US Open finalist, reemerged this summer on the hard courts in Cincinnati where she defeated Kenin in the semis en route to the title. Their only previous meeting was on the clay in Rome earlier this season where Kenin needed 3 sets, including a tiebreaker, to secure the win.
Keys reached a career high ranking of #7 three years ago and is currently ranked #10 while her opponent, a few months shy of her twenty-first birthday, is ranked #20.
Keys served first and that's about all she did; striking three aces to hold to 15. Kenin in her opening service game, held to 15, hitting the ball deep and drawing 0errors off the ground from her opponent.
Keys, finding her rhythm on the serve and forehand, hit her 4th ace of the match and held to 15 for 2-1. Kenin struck an incredible inside-out forehand to go up 30-0 but soon faced break point when Keys ripped a backhand down the line and dropped serve when her netted a forehand.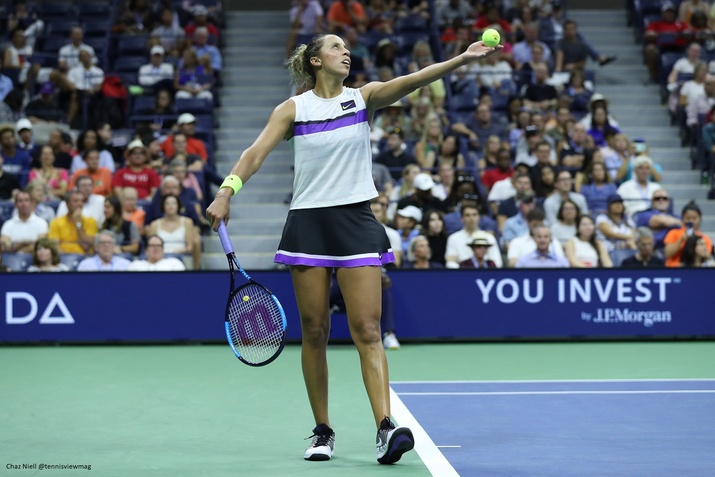 Keys consolidated the break and held at love for 4-1. Kenin, unable to control her opponent's pace was in danger of going down a double break when she netted a forehand. Kenin, showing the grit she is renowned for, saved the break point with an ace down the middle and held for 2-4 when Keys overcooked a backhand.
Keys, closing in on the first set, held easily for 5-2 as her opponent continued to struggle on the return. Kenin, down 0-30 following her first double fault, managed to hold as Keys returns sailed long or found the net. Keys wasted no time closing out the set 6-3 as she hit 3 consecutive aces to hold at love.
Kenin served first in the second set and held to 15, hitting her second ace of the match. Keys donated 2 double faults and faced break point when Kenin passed her with a brilliant forehand down the line. Despite facing another break point, Keys regained control with an amazing crosscourt overhead smash and held when Kenin missed wide with the crosscourt backhand.
Kenin, steadier off the ground, won most of the extended rallies as Keys, frequently went for too much and overhit. Kenin held to 15 for 2-1. Keys struggled to maintain her rhythm on serve, missing 5/12 including a double fault.
Kenin, playing well inside baseline, passed her opponent with the forehand to earn a break point. Keys, under pressure, faced 3 deuce and 2 additional break points but held when Kenin netted the return.
Kenin, despite not breaking in the previous game, appeared to have the momentum and easily held to 15 with a remarkable backhand half-volley for 3-2.
Keys continued to struggle on serve, missing 3 consecutive first serves as her opponent danced around the baseline. Kenin earned a break point when Keys netted a backhand but once again averted trouble and held when her opponent donated 3 unforced errors.
Level at 3-3, they engaged in yet another lengthy slug fest which Kenin won, ripping a forehand behind her opponent. Kenin repeatedly came out ahead in the extended rallies and this pivotal game was no different as she held at love with a tremendous crosscourt backhand winner.
During the changeover, Keys received medical attention for an unspecified illness. She appeared pale and somewhat lethargic as she took the court to serve at 3-4. Keys incredibly, held to 15, striking a huge unreturnable serve on game point.
Kenin, under enormous pressure and keenly aware that time was running out, donated 2 double faults yet managed to hold when Keys whiffed a backhand wide.
Serving at 4-5 and clearly feeling ill, Keys was determined to win the match in straight sets. She opened and closed the game with a potent serve and forehand down the line winner to level the set at five all.
Kenin, unable to find her first serve, faced break point with a poorly executed drop shot that Keys struck for a winner. Her serve once again betrayed her as she threw in her 4th double fault of the match to drop serve.
Keys, up 6-5 was four points from victory and the fourth round. Kenin made her earn it, creating two break points following a double fault and a running forehand that hit the net post.
Keys steadied her nerves and hit an excellent kick serve out wide. Keys reached match point when Kenin dumped a second serve return in the net and closed it out with an extraordinary crosscourt forehand winner.
Sofia Kenin was 0/8 on break points, 20/71 on receiving points won and hit almost three times as many errors than winners. Although Keys donated five double faults, she served 10 aces, won 84% of first serve points and 65% of points at the net.
In the next round, Keys will face world #5 Elina Svitolina whom she leads 2-1 in their head to head. All 3 matches were contested on hardcourts and Svitolina won their most recent meeting this past January at the Australian Open.
Keys will have two days to recover and will need to be at 100% physically against Svitolina who never gives up on the ball.