Kerber Battles Past Kasatkina To Reach Wimbledon Semis

In a remarkable display of power, poise and versatility, Angelique Kerber battled and defeated a worthy opponent on centre court to reach her third semi-final at the All England Club. This was the seventh meeting between the two and they were tied 3-3 heading into today's match. They last played two weeks prior on the grass at Eastbourne with Kerber taking it in a tight three-setter.
Kerber, the #11 seed, and 2016 Wimbledon finalist held serve in the opening game of the match despite facing a break point. Daria Kastakina from Russia, the #14 seed, faced double break point in her opening service game and conceded it following her second double fault.
Serving up a break, Kerber, a native of Germany, held at love to take a 3-0 lead. Kasatkina, just twenty-one years of age, was playing in her second grand slam quarter-final of the season having reached that round at Roland Garros. Kasatkina held for 1-3 following a pair of groundstroke winners and a well-struck serve on game point.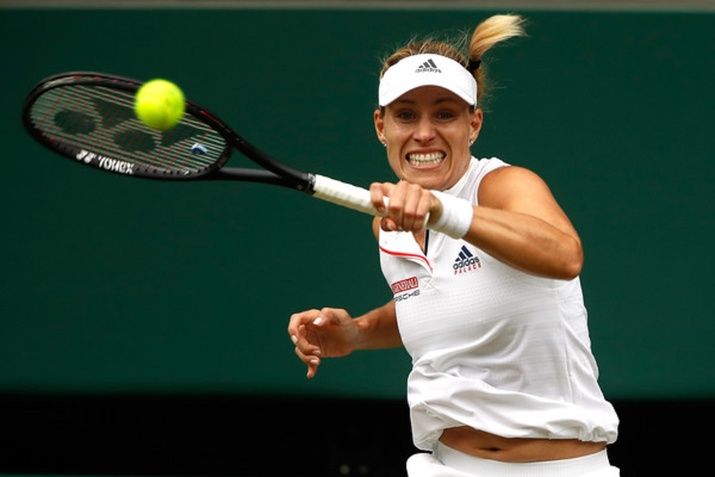 Kerber held easily for 3-1 and in the next game was up double break point following an incredible forehand pass but was unable to convert. Kasatkina saved the second break point and the game with a fantastic leaping two-handed backhand winner down the line.
The German found herself down double break point serving at 4-2 when her forehand went wide. Kerber, who plays left-handed, saved one with a monstrous forehand down the line but was unable to hold when Kasatkina ripped an inside-out forehand winner to convert her remaining break point.
The Russian was unable to consolidate the break and once again served two double faults, the last to hand Kerber the game. Kerber, serving for the set, held her nerve and closed it out 6-3.
Both players continued to go for their shots throughout the second set alternating between power and finesse. Both attempted to draw the other into the net with drop shots that were at times brilliant but often lackluster, either finding the net or hit too deep.
Kasatkina served first in the second set and following an ace up the tee, held at love. Kerber hit an incredible lob to hold for 1-1. Following another double fault and an exquisite cross-court forehand pass by Kerber, Kasatkina found herself down break point. Kerber created then converted another break point opportunity when the Russian's shot sailed long.
Kerber held easily for 3-1 and with consistent and formidable hitting off the ground by both players, Kasatkina held for 2-3. Kerber faced triple break point in the next game as Kasatkina continued to mix it up by coming into the net and finishing off points. Following a huge return and cross-court forehand winner, Kasatkina broke to level the set three games apiece.
Playing high-risk tennis is often a crapshoot as Kasatkina immediately faced double break point following her sixth double fault. Kerber maintained her composure even as winners whizzed by and was able to draw one more error from her opponent and break serve.
Angelique Kerber could see the finish line serving up a set and a break but Kasatkina refused to yield. Although Kerber threw in a double fault and was up 40-15, she was unable to close out the game. Following a spectacular leaping slice backhand drop shot winner and a wicked cross-court forehand winner, Kasatkina converted on her third break point.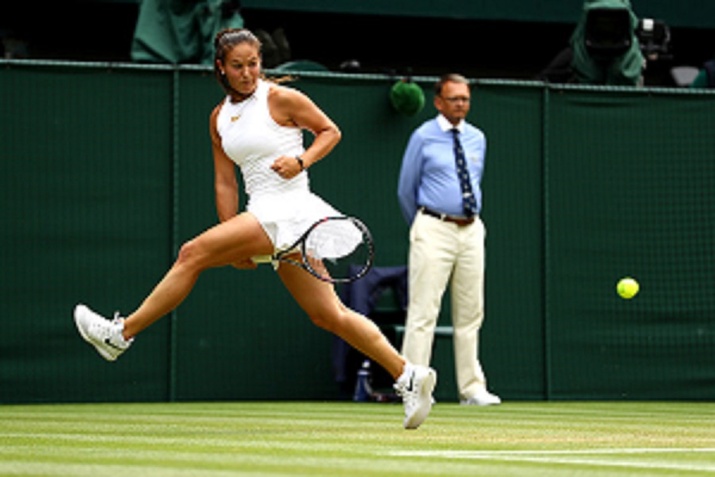 Level at 4-4 in the second set, Kerber drew the error and created a break point following a superb and extremely physical long rally. Kerber continued to rip forehands deep to Kasatkina's backhand, the last of which the Russian could not return and was broken.
Kerber up 5-4 was serving for the match and a coveted spot in the semifinals. The German found herself down 0-30 following aggressive and thoughtful play by the Russian. Kerber struck a second serve ace but on the next point Kasatkina, relentless off the ground, hit a lethal backhand down the line to go up double break point. Kasatkina earned the break when Kerber's shot sailed long.
Now level at 5-5 in the second, Kasatkina served to take the lead. The Russian overcooked two forehands and once again double faulted to face break point. Kerber, now expecting the drop shot, ran down a good one and produced an outstanding forehand winner down the line to break serve.
Kerber, just four points from closing out the match, faced another barrage from the young phenom. Up 40-15 and double match point, Kerber attempted to track down another drop shot but this time, her reply was long. Kerber was denied on her second match point when Kasatkina crushed a forehand for a cross-court winner.
The twelfth game was a microcosm of the entire match: power hitting mixed with slices, lobs, drop shots and volleys. Both players alternated between powerful two-handed backhands and low, sliced one-handed backhands.
The final game of the match went to deuce 5 times and contained the longest rally of the match – 25 shots, which earned Angelique Kerber her 6th match point. Kasatkina, determined to take the set to a tie-breaker, was unable to create a break point opportunity and on her 7th match point, Kerber converted with an astounding forehand down the line.
Next up for the two-time grand slam champion is Jelena Ostapenko, the #12 seed, and 2017 French Open champion. A spot in the Wimbledon final will be on the line for these first-time combatants and it's safe to say, it will be a high-quality, hard-hitting duel.