John Russo, Picture Perfect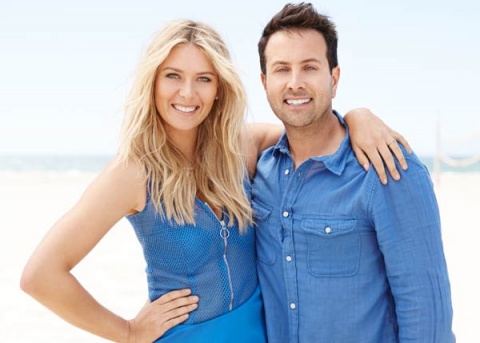 John Russo's professional portfolio boasts magazine covers featuring A-list actors such as Angelina Jolie, Brad Pitt and Julia Roberts, but he has also worked with many top tennis stars.
"I aggressively pursue jobs that will enable me to shoot tennis players," Russo says. "Tennis is my passion."
"Maria Sharapova is absolutely amazing: super nice, very professional. It's really funny, when I was shooting her I noticed she had her fist clenched and I was laughing because it's just one of her idiosyncrasies. The camera loves that girl. At the end of the day, she's an athlete, but she just happens to be beautiful."
Russo began looking at life through a camera lens at age 12, influenced by his father's interest in the medium. After studying photography in college, he moved to Miami then began a successful career in Los Angeles. His years of experience and love for tennis enable him to put athletes at ease on set.
"Some tennis players are not as comfortable being in front of the camera as the actors and the models that I shoot," he explains, but eventually they relax to the process. "They get excited because it's not something that they do all the time."
He photographed Fernando Verdasco, Juan Monaco, Feliciano Lopez and Nicolas Almagro for an Esquire magazine photo shoot held at Larry Ellison's house during the 2013 BNP Paribas Open. "Initially, they're a little awkward, but once you start joking with them and talking…they let their guards down," he recalls.
The process of a shoot starts with a conceptual storyboard detailing the lighting, wardrobe, poses, hair and make up, and environment for the photos. The storyboards are approved by the players' agents beforehand and followed closely during the session.
"Some players like Ana Ivanovic want to talk about tennis, some other players don't want to talk about tennis. We talk about her matches, how to play this person, this person is so hard to play, her head-tohead with this person. Ana Ivanovic, to me, is the ultimate. She looks like a model. When I shoot her for any fashion magazine, people who don't know tennis just assume that she's a top model."
The primary characteristic that Russo observes in all of the players he works with is professionalism. "Just like they are on the court," he describes, "they're the same way at shoots, getting the job done." On set, Russo also focuses on the task at hand, which he says boils down to taking photos and making people look beautiful.
Even still, he forms friendships with the players, jokes with them on Twitter and pays close attention to both the men's and women's tours. "I love watching these people; they entertain me," he says, adding, "It's amazing to become friends with them in real life."
He's been a tennis fan since he was 20 years old, but didn't start playing until he was 30 when his doctor told him he needed a hobby to reduce work related stress. "I'm that person that it's all or nothing, so I got a tennis pro and said, 'I want to win tournaments. I will train with you five days a week,' and that's what I did."
"Novak is a jokester. He's amazing, but totally professional. He shows up on time, asks what we're going to be doing and gets down to business. Novak took time out of his crazy schedule in

L. A.

to shoot for my charity book called

100

Making a Difference. Incredible that this guy who is literally booked every five minutes of his life would block out the time for me to do a photo shoot with him. I was completely honored."
Russo and his circle of friends are so competitive that they track their results against each other all year. He has won three singles and 10 doubles USTA titles and was ranked No. 1 in Southern California with his doubles partner for a year and a half.
His weapon of choice is the Babolat Pure Drive, the same racquet that Andy Roddick used. Russo, a 4.0-level player, compares his game to Caroline Wozniacki and Rafael Nadal. "I torture people," he says. "I track down every single ball. They have to really hit me off the court to win. People say my lob is insane."
Playing tennis keeps Russo in great shape both mentally and physically, but the most important benefit is getting a break from the stress of everyday life and work. "When I go on the court, I don't check my phone, I'm not worried about my American Express bill or my mortgage. I'm only worried about whether I'm going to win each point."
Tennis also helps him break the ice and connect with the celebrities he shoots. The first question he asks them is whether they play tennis, a habit that led to the unexpected phone call his parents received a few years ago: "I called my mom and dad and said, 'Rob Lowe and I are coming over to play tennis. Come out and watch us.'" For the record, Russo says Rob Lowe's game is really good.
Jezebel Atlanta, Dec

2011

, Anna Kournikova photographed by John Russo

John Russo, photographed by Dustin Huntington
This article is from the July/Aug 2013 issue

SOLD OUT

Subscribe now and you'll never miss an issue!