John Isner's Next Step

2012 saw John Isner break into the top 10 for the first time and become the world's top American. In an exclusive interview, Isner tells Tennis View magazine how he's gunning for Grand Slam glory in 2013. Interview By David Cox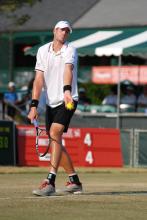 Question: First John, congratulations on achieving your dream and reaching the top 10 last April. What goals do you and your coach have for 2013?
John Isner: Thank you. It has been a goal of mine for a while to break into the top 10, but now that I have done that, both my coach and I know I can go even higher. I feel like if I stay healthy and continue to improve, I can take that next step. That's gonna require maintaining the same focus and intensity week in week out and becoming more consistent. That's what the top guys are all doing.
Your Davis Cup captain Jim Courier said you need to work on your movement, particularly the first step. Would that help build your consistency?
JI: I feel like I am making good strides. I think consistency comes with a combination of experience as well as working on and improving my flaws. My backhand has gotten better, although there are still many things I can improve. I definitely can improve the first step, to make my movement more explosive. It has come a long way, but there is still more work to be done. I have a great fitness regime where I train at Saddlebrook Resort in Tampa, and my movement will be a big focus going into 2013.
Now that Andy Roddick's retired and you're the No. 1 American, do you feel added pressure when competing in Davis Cup and the big events in the States?
JI: First, I'd like to say Andy is a great competitor and had a Hall-of-Fame career. He has always been a guy that all the American players look up to, myself especially. But now he's made that decision, I don't feel any added pressure with Davis Cup. I just want to do what I can to win the match for my team. I love to compete for and represent my country, and even though I am the No. 1 American at this point, it really doesn't affect anything for me on the court.
Speaking of playing for country, how did you enjoy your first Olympic experience last summer?
JI: I enjoyed it very much. I love competing for my country, so in that sense, it was a lot like Davis Cup. I am obviously excited and want to compete in Rio in 2016, but until then, my focus will be on trying to capture a Slam.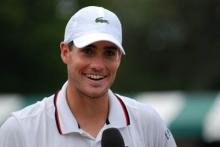 What factors do you take into account when deciding whether to enter a tournament?
JI: The goal for me is to peak at the Slams and having a match count high enough so that I enter the Slams with confidence. There is some tweaking during the season, but we usually know the schedule pretty far in advance, so I know how I'm gonna prepare. I didn't have great Slam performances in 2012. I was very disappointed not to make the second week at any of them, so that's one thing I want to build on this year.
Your serve is still your biggest weapon. Being involved in so many tiebreaks each year, how do you go about approach them psychologically?
JI: Mentally I like to think I have the edge. If I'm serving well, then I like my chances. Not much more to it than that.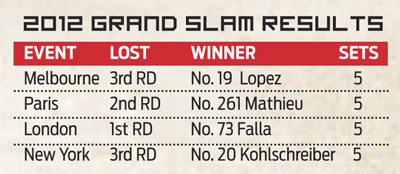 This article is from the Jan/Feb 2013 issue

SOLD OUT

Subscribe now and you'll never miss an issue!