Isner Defeats Nakashima To Claim 6th Title At The Atlanta Open

Two Americans from different generations battled in the heat on a hardcourt in Atlanta with a trophy up for grabs. After losing in straights in the semis last week in Los Cabos, John Isner, former world #8 and 5-time Atlanta Open champion sought revenge against the young upstart Brandon Nakashima.
Just two days from his twentieth birthday, Nakashima is the youngest American to reach back-to-back finals since Andy Roddick in 2001. Seeking his first tour-level title, he held at love to open the match.
Isner struck two aces-up the tee and out wide-and held to 15 for 1-1. Nakashima opened the third game with an ace out wide and struck another up the tee, as he held to 30 for 2-1. Isner held easily to 15 for 2-2, hitting two additional aces and a sensational crosscourt forehand.
Although he donated two errors off the backhand, Nakashima held to 30 for 3-2. Isner continued to unload on serve, striking two more aces, the last on game point for 3-3. Nakashima returned the favor, hitting his third ace on game point for 4-3.
While the majority of points were played from the baseline, they each moved forward when presented a mid-court ball. Isner hit an outstanding inside-out forehand volley winner as he held to love for 4-4. Nakashima opened the 9th game with an ace out wide and held for 5-4 with an ace up the tee.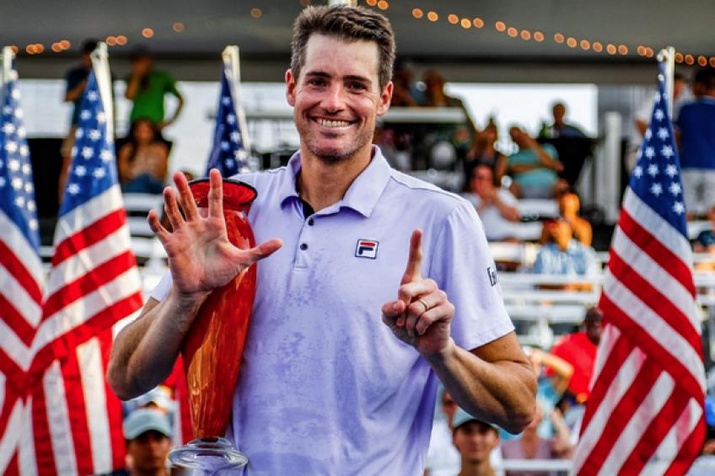 The world #35 served to stay in the set and did, hitting two aces on consecutive points for 5-5. Nakashima once again opened with an ace and held at love for 6-5 obliging his opponent to force the tiebreaker.
Although he hit an ace and earned game point, he faced his first break point of the match which was also a set point! The 15-time titlist dug deep and saved it with a fantastic crosscourt forehand and forced the tiebreaker with his tenth ace.
Nakashima served first and gifted the opening point when his backhand went wide. Isner gave back the mini-break with a double fault. They remained on serve for the next sixteen points but following a netted backhand by the young American, Isner closed it out 10-8 when his opponent's return sailed long.
Isner served first in the second and held to 15 for 1-0 with an ace down the middle. Nakashima, seemingly undaunted by losing the opening set, held at love for 1-1 with an ace up the tee. Isner struck his 12th ace and held to 30 for 2-1 when he ripped a forehand crosscourt.
Nakashima missed 3/6 first serves yet held to 30 with his 10th ace of the match. Isner opened with an ace and closed with another for 3-2. Nakashima missed 3/4 first serves yet held at love for 3-3 with an ace out wide.
Isner opened with a brilliant backhand down the line and hit two more aces on consecutive points as he held at love for 4-3. Nakashima, not to be outdone by the former #1 American, held at love for 4-4 with two exceptional forehands on the last two points.
Isner hit two more aces and a spectacular backhand drop volley on game point for 5-4, just four points from victory. Nakashima, serving to stay in the match, continued to miss the first serve and it cost him as he faced 0-40, triple match point.
Demonstrating incredible poise under pressure, the 19-year-old from San Diego, California, faced four deuce and four match points and saved them all despite donating a double fault. He did not play it safe-he played to win-hitting four remarkable volleys en route to leveling the set at 5-5.
Isner appeared composed but was clearly unnerved by the missed opportunities. He faced double break point following two errors off the ground but managed to hold for 6-5, hitting two additional aces, the last on game point.
Nakashima, serving to stay in the match, opened with a double fault and conceded it with another. It was an impressive performance by the veteran and the NextGen superstar. John Isner at the age of thirty-six, claimed his 16th tour-level title, his sixth in Atlanta. He finished with twenty-one aces to just one double fault and won 81% on first serve and 63% on second serve points.
It was an exceedingly close match as his opponent served exceptionally well throughout and earned three break points. Isner was 1/5 on break points and won just four more points than his opponent (82/78).Nakashima began the season ranked #170; tomorrow he will be #89.
The US Open, the season's final grand slam, will commence in twenty-nine days. While there is a good chance John Isner will be seeded, Brandon Nakashima will be one to watch-not just by spectators- but by all the players in his section of the draw.