Inside Tennis: How Vic Braden Has Shaped the Game

"I got caught stealing balls and was told 'You gotta go to jail or learn how to play.'"
This was how legendary tennis teaching professional, Vic Braden, began his 70-year journey into the tennis world.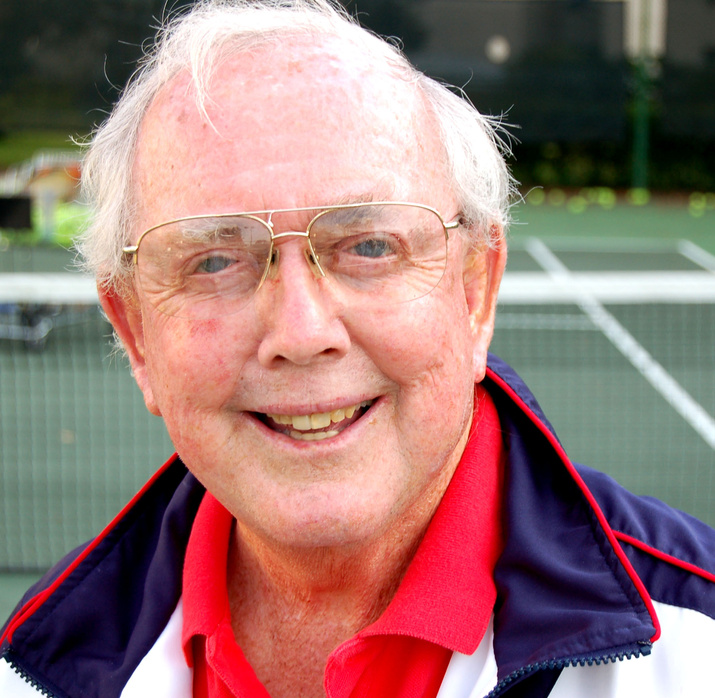 In tennis teaching circles, Braden is unquestionably one of the most iconic figures around. His notable contributions to the game are why many are quick to point to him as one of the key players in the advancement and evolution of the sport.
Former world No. 1, multiple major champion, and Hall-of-Fame inductee Jack Kramer believes Braden may have sparked the curiosity of more tennis players than anyone else.
"One Vic Braden is worth a lot of champions in helping the sport. The (John) McEnroes, (Bjorn) Borgs, (Jimmy) Connors, they've been great. But I don't think any one of them has created the interest in the sport Vic has," Kramer said in 1986 to the L. A. Times.
Vic's gifts to the tennis world can be seen in various shapes and forms. Braden founded numerous tennis colleges and resorts and co-founded the Jack Kramer Tennis Club alongside Kramer. He's also written books and assembled instructional videos to help players learn about technique, strategy, and biomechanics.
Braden is a strong believer in the capabilities of young people, which is evident in a program he initiated called the Junior Tennis Ambassadors. The Junior Tennis Ambassadors is a non-profit organization that teaches underprivileged youth how to teach their classmates the game of tennis for free.
The idea for the organization came from Braden's experience as a school psychologist. He had been working with kids with ADD and ADHD and wanted to see how they would perform if they were teachers of each other. And, despite the fact that Braden was at laughed at for wanting to implement such a program, he remained committed and obtained results.
"Their concentration went up about 300%," Braden said. "If we think that seven and eight year olds aren't smart, why do we ask them to fix our phones and computers?"
The program started when Braden quit his job and began to devote his time to "work with poorer kids in Hispanic communities who couldn't afford a camp and wanted to play tennis."
In line with teaching young people how to teach others, Braden suggests that any coach allow their student to become their own coach out on the court as well.
When asked to describe the value of allowing a player to become their own coach, Braden responded saying "It's everything. That's the beauty of tennis. You have a responsibility for your wins and your losses."
And while the integral nature of individual accountability is something that won't soon change, Braden says we are witnessing a drastic change to the landscape under which this accountability exists. Simply put, the way tennis is played now is nothing like what we saw in the 1970s and the 1980s when the likes of Chris Evert and John McEnroe treated moving toward the net to be as necessary as breathing. Today, as any Novak Djokovic-Rafael Nadal match would prove, baseline play dictated by open-stance hitting has taken over.
"The big thing today is the open stance," Braden said. "They can't make it to the net. That's why the volley has basically disappeared."
From a scientific standpoint, Braden explained the physics behind the limitations of the open-stance.
"People don't realize how important the center of gravity is. You maintain your center of gravity [with an open stance], but you're going in the wrong direction. You're going towards the center of the court rather than the net, so you lose too much time. Now, open-stance players will always go to the net [only] on a really short ball."
Although many believe that the stronger players, superior racket technology, and groundbreaking strategy has made net play entirely obsolete, Braden (below, left) is reluctant to agree.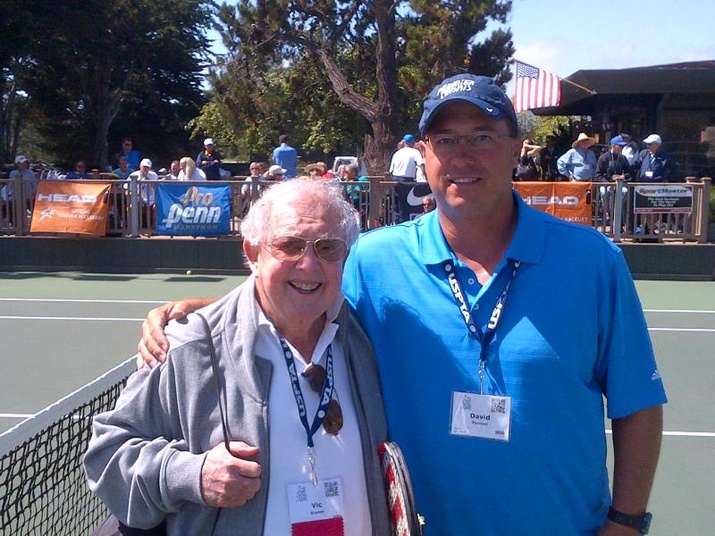 "They only have to play against one style right now, and that style is baseline," he said. "I think it's going to go back to the old style—getting to the net."
All of Braden's beliefs stem from one thing: physics. The one thing he will stress more than anything else is that tennis is a game dictated by the law of physics. To him, there is nothing in the game that can transcend this.
"Tennis is about physics," Braden said. "When the person hits a certain ball, and you hit at a certain angle, and it's coming at a certain speed, you have to do a very particular thing to make the ball land where you want. That's a physics problem."
When he's on the court, Braden incorporates his research into his lessons with players of all ages. "I use exact data," he said. "I find that people are smart—even kids."
At the end of the day, the student's interest is what comes first for Braden. He believes that if a coach needlessly drags a student along his or her path of development, they are doing the student a major disservice. To create the quickest possible route to success for a student, Braden seeks out the ideal intersection of fun and results.
"I know coaches who hang on to kids for 15 years because it's a pay check every week," Braden said. "If I had any kind of legacy, it would be that I helped more kids maximize their performance—and enjoyment."
***
The Tennis View Magazine team would like to thank Vic Braden for allowing us to conduct this interview. Vic is one of the most humble, gracious, and caring individuals our sport has ever had the pleasure of having. He has always put others before himself and has never hesitated to extend a helping hand.
With this in mind, we were recently informed by the Director of Tennis at the Doylestown Tennis Club, Jim Klein, that Vic has been going through extremely difficult medical and financial struggles. A full explanation of Vic's situation can be found here (http://www. vicbraden. myevent.com).
In this page, Jim, who is a very close friend and colleague of Vic's, has set up a donation fund where anyone can lend Vic a helping hand. We hope that you can share this page with others in the hope of spreading awareness of Vic's situation.